All the Presidents Men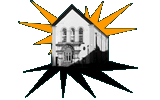 All the Presidents Men was formed by Martin Sketchley in the late 1980s, following advertisements placed in MusicBox and the "rock 'n' roll" section of that music shop that used to be opposite Hamlets.
Details are sketchy (rather than Sketchley), but what is known is that Martin played guitar, someone called Mark played the bass, and a girl called Lorna played the drums. Martin went on to join Emma Gibbs Loves Badges, and Lorna went on to drum with Shock Culture. The fate of Mark the bass player is unknown.
Julie Brain briefly provided vocals (brief meaning one evening), but despite jamming a lot and aiming to play at Tamworth Festival, the band never actually gigged due to problems finding a full-time singer.
The full profile and history of All the Presidents Men has yet to be added to TamworthBands.com Call back soon to read the full band details.
If you have any further information about this band please email: info@tamworthbands.com