Ark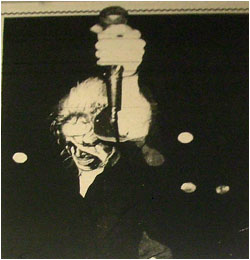 Ark
Photograph courtesy: Tamworth Herald
Musical Genre/Type: Rock
Formed: 1990
Band Members:
Richard Deane - Drums
Gigs:
27/01/90
Ark
Old Liberal House
27/09/90
Ark
Goldwyns
22/11/90
Ark
Quest
Babyface
The Rathole
Tamworth Herald - 26/01/90
Musicbox – SNIPS
Ark are in action at the Old Liberal House, Amington next weekend. They will be playing on Friday night and tickets are now available from Richard Deane at the Tamworth Indoor Sports Centre.
Tamworth Herald - 02/02/90
Musicbox - Ark For Arks Sake!
ARK, one of the few bands with a local connection who can genuinely claim to have an international following, will be making a rare live performance in Tamworth tonight (Friday).

The modern rock band- who claim they can appeal to fans of everything from Metallica to Genesis - are playing at the Amington Old Liberal House with the support of a top Tamworth act.

Ark, who feature Tamworth drummer Richard Deane, have already earned support slots to the likes of It Bites and they have a fan club through out Europe which has been strengthened by continued European gigs.

Tonight the old Ark boys descend on the Old Liberal house and are confident of a big turnout once again.

'We know for a fact that a lot of people will be travelling from around the Midlands for the gig and we are all looking forward to the show.' explained Richard. 'Describing our sound is very difficult but we genuinely feel we can please anyone who likes rock music from metal to progressive sounds. There is something in there for everyone.' he said.

The band who come complete with a very visual stage show as the picture above reveals, will be backed by a leading Tamworth band who have asked to remain anonymous. In case that's got you thinking, suffice to say they are very, very good indeed.

The two band shows kicks off at around 8.30 tonight with the doors opening an hour before that. Get along and groove.
Tamworth Herald – 15/06/90
Musicbox – SNIPS
Ark, the popular rock band featuring our very own Richard Deane, have announced a series of dates. They are one of the star attractions on Friday June 22 at the FOD Promotion Indoor Festival (alongside Risky Business and Virgil Splint) and they follow it with a trek to JB's in Dudley on June 28 and Selly Park Tavern on July 5. On a more global basis, France has requested 1000 copies of the band's CD album and they have been invited once again to play a number of top European shows. Keep your eyes on this lot…
Tamworth Herald – 14/09/90
Musicbox – News, Snips
Ark have announced a major date at Goldwyns in Birmingham at the end of the month. The popular outfit who can claim fans all over the Continent, will be in action in a late-night slot at Goldwyns on September 27.
Tamworth Herald – 02/11/90
Musicbox – Snips
Ark's bassist John Jowitt has left the band in what is described as being an 'amicable split' over the group's musical direction. Any serious bass players interested should contact Richard Deane.
Tamworth Herald – 16/11/90
Musicbox – A fine Rathole collection
The Rathole stages two key concerts this week featuring both modern Indie music and a major rock line-up including one band described as a cross between Guns 'n' Roses and U2.
First of all, on Sunday night we see the Indie team-up of Langfield Crane and the Jain Faith and then on Thursday night is the time for the rock fans to pile into the Rathole for the team-up of Ark, the spirited Babyface and The Quest.
Thursday – Ark/Quest/Babyface
One for rock fans this one, headlined by the increasingly popular Ark who have now moved into waters populated by Guns N Roses and U2. Already a big cult band across Europe, Ark have moved into a more heavy sphere in recent months and now play music which attracts a very wide rock-loving audience. Their frontsman (and they are excellent visually) is described intriguingly as being a mix between Julian Cope and Peter Gabriel and they are certainly a band to watch. Babyface meanwhile recently played an excellent performance in support to Wolfsbane at the Rathole and their glammy style rock tickles many fancies while Quest are another popular and well respected Midlands rock outfit. A good combo for anybody's Thursday night.
The Rathole is planning a 'busker's night' which offers local musicians a chance to get up on stage and jam with a guitar for 20 minutes a time. Regular buskers and individuals from local bands wanting solo expression are urged to ring Neil.