Artful Dodger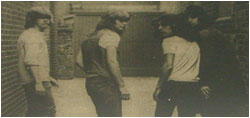 Artful Dodger
Photograph courtesy: Tamworth Herald

The Gallery
Musical Genre/Type: Rock
Formed: 1982
Band Members:
Beaver - Guitar/Vocals
Tim Perks - Rhythm Guitar
Ninzy - Drums
Paul Green - Bass Guitar
Gigs
17/09/82
Bashful Alley
Artful Dodger
Lichfield Arts Centre
18/09/82
Bashful Alley
Artful Dodger
Lichfield Arts Centre
20/04/84
Artful Dodger
One In One
Tamworth Arts Centre
16/12/84
Breaking Point
Artful Dodger
Tamworth Arts Centre
Tamworth Herald – 17/09/82
Musicbox – Artful Dodger's deal
AN INTERESTING new Lichfield band join established Blitzkrieg merchants Bashful Alley for a double-header at the city's arts centre tonight (Friday).
Artful Dodger, an outfit formed four months ago, are playing their biggest gig so far with Bashful Alley.
AD have played a couple of sets at the Bridge Tavern and have been pleased with the response their material has received.
"Our material is very diverse and not really in any particular vein so we were worried about what audiences would think of us," said vocalist/guitarist Beaver.
The rest of the line-up is made up of Tim Perks on rhythm guitar, Ninzy on drums and Paul Green on bass.
First demo tape
Following the Arts Centre gig, the band are going into a local studio to record their first lot of demo tapes.
Meanwhile Bashful Alley have not been resting on their laurels since their mind-blowing display at Tamworth Arts Centre.
Their single 'Running Blind' has been receiving good reviews nationally and recently they travelled to London to play the Ruskin Arms, the venue where Iron Maiden cut their teeth.
Admission for what should be a good night over in Lichfield is £1.
Tamworth Herald 14/12/84
Musicbox – Noisy carollers raise the roof
BOTH Breaking Point and Sitting Pretty will this week play their special Christmas Party gigs. Breaking Point will line up alongside popular Lichfield act Artful Dodger on Sunday and Sitting Pretty fans will have to wait until Thursday to hear their Christmas good tidings.
Pretty's Arts Centre gig will be unique for a number of reasons. Not only will the band selling videos and tapes on the night but they will also be coordinating, a strange Christmas Carol Service by many of Tamworth's local musicians.
People as varied as Mike Turner (Sitting Pretty), Brian Lacey (The Parade) and myself will join together in a series of traditional carols while a hat goes round for donations.
All the money raised will go straight to the Ethiopian appeal and any local musicians that want to help by joining in this most original of carol services is urged to come along on the night.
As well as the carol service the night will feature Sitting Pretty playing a host of new seasonal tunes and dynamic young trio The Parade – currently doing well in the Musicbox poll.
Farewell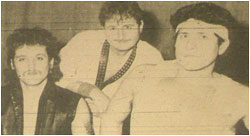 The night of fun starts at 7.30pm and everyone is urged to be early. For Breaking point their farewell to 1984 comes this Sunday and it will probably be the first time many fans have seen new powerhouse drummer Chris Orton in action.
Chris, formerly of Wild Child, has helped to instil a fresh power into the band and they are hoping to play several new numbers to make it a night to remember.
"1984 has gone pretty well for us and we are now confident that '85 can be even better," said Breaking Point vocalist Kevin Briggs.
So, two unmissable concerts which should put you really in the mood for a noisy, happy Christmas.
---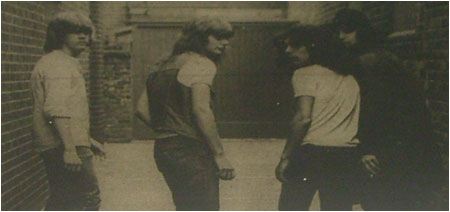 AN INTERESTING new Lichfield band join established Blitzkrieg merchants Bashful Alley for a double-header at the city's arts centre tonight (Friday).
If you have any further information about this band please email: info@tamworthbands.com