Barathea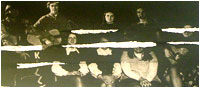 Barathea
Photograph courtesy: Tamworth Herald
Formed: 1973
Musical Genre/Type: Folk
Line-up:
Steve Varley – Guitar
Stuart Randle – Bass Guitar
Plus: Carol Wale, Ruth Hadley, Susan Bailey, Vivienne Bates, John Dix and Mary Davis
Tamworth Herald – 22/03/74
The students pictured are Stuart Randle, Stephen Varley, Carol Wale, Ruth Hadley, Susan Bailey, Vivienne Bates and John Dix, who were inspired to combine their musical talents by music tutor, Mrs. Mary Davis.
New Wilnecote folk group's success
Barathea spells out good material – not only in clothes but also in music.
For this is the name a recently-formed Wilnecote folk group has adopted.
The group has appeared at several local youth clubs, Tamworth's Festival of Light, and last Saturday scored a notable success with a performance at Staffordshire's Folk Festival.
The youngsters, all sixth formers at Wilnecote High School, first realised their musical 'potential' under the supervision of their music teacher, Mrs. Mary Davis.
"I first noticed their musical ability during my lessons", explained Mrs. Davis, who is also a member of the group. They were very enthusiastic and so I encouraged them to try and discover the true depth of their musical talent".
"They got together as a group last year, and made their first public appearance at the school concert".
Since then, they've gone from strength to strength for now they not only play music, but write and arrange it as well.
"We get as much enjoyment out of writing our songs as we do playing them", said guitarist Steve Varley and bass player, Stuart Randle
"We practice for about five hours a week, but with our A' levels coming up shortly, we also devote a lot of time to our studies".
But leaving all thoughts of exams behind them, "Barathea" appeared on stage at the County Folk Festival.
After performing for nearly 20 minutes, singing not only their own arrangements, but also the legendary folk-song, "Babylon", they received resounding applause from an audience of nearly 200 people.
The group represented Wilnecote Youth Centre at the festival, held for folk music appreciation and not direct competition.
"Mr. John Smith, our youth tutor, nominated us to appear there", said Mrs. Davis. "It was a very enjoyable experience".
The group have no thoughts at this time of turning semi-professional.
"Anything can happen in the future, said Steve Varley, but at the moment, we are content to play purely for the joy of making good music together."
The full profile and history of Barathea has yet to be added to TamworthBands.com Call back soon to read the full band details.
If you have any further information about this band please email: info@tamworthbands.com