Blind Alley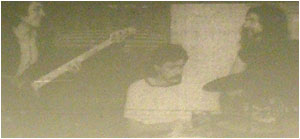 Musical Genre/Type: Rock
Formed: 1980
Band Members:
Jeff Bale - Guitar
Spike Miller - Bass Guitar
Colin Edmunds - Drums
[Also in: Smith & Jones Blues Band]
Gigs
27/06/80
Blind Alley
Chequers
07/07/80
Blind Alley
The Chequers
24/10/80
Blind Alley
The Chequers
Tamworth Herald – 31/10/80
Musicbox - Trio who took the West by storm
THE rural splendour of the English West Country may not seem the ideal area for a Tamworth rock band to forge a rocking reputation, but Blind Alley have done just that.
For the high-energy local trio will shortly be embarking on their third tour of that part of the country normally associated with cider drinking and holidays by the sea.
The band first toured in the West during the early part of the summer when on a working holiday they played five consecutive gigs in different venues and according to reports "went down a storm."
This resulted in them being re-booked immediately for a spell last August covering the same concert halls and proving even more popular – so much so that they played to a full house at one particular venue for three nights running.
Now Blind Alley hope to strengthen their reputation with a third tour starting next week taking in five or six dates including a prestige gig at the popular rock 'n' roll haunt, the Penzance Winter Gardens.
But all this jetting around the country doesn't mean to say the group have forgotten their origins and are ignoring Tamworth audiences, for the band have had a regular spot at the Chequers in Hopwas and played there last Friday.
ICEBERGS
Blind Alley are made up of drummer Colin Edmunds, guitarist Jeff Bale and bass man Spike Miller.
Each member has had a lot of experience in other bands during their 10 years or so on the rock circuit. Colin played with and was a founder member of Rikki Cool and the Icebergs, while Spike has worked with Ian Matthews' band and Jeff with an outfit called Easy.
Blind Alley are currently writing new songs for some up-and-coming recording work. They hope to go into the studio soon with producer Bob Lamb, the man behind the successful UB40 sessions but this is yet to be confirmed.
"We recorded a couple of demo tapes at the Outlaw Studios in Birmingham but nothing really came of them as we had to re-think and we've now got a whole lot of new material we want to record.
"As well as studio work we've also done a few sessions for the Radio Birmingham rock show which went very well," said Colin.
Apart from their successful touring stints in the West Country, Blind Alley also play at the popular Coach and Horses venue in West Bromwich and several other Midland rock spots.
"The best way to describe our music is simply "straight rock" – just the sort of thing to pull the crowds in," said Colin.
So there you are folks, Blind Alley, another example of a Tamworth rock band who are not afraid to try something different and who put the emphasis on entertaining people.
---
The full profile and history of Blind Alley has yet to be added to TamworthBands.com Call back soon to read the full band details.
If you have any further information about this band please email: info@tamworthbands.com