B.W.O.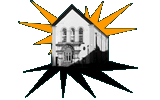 Musical Genre/Type: Christian Rock
Formed: 1993 Split: 1993
Band Members
Mark Maybury/Dave Hewins - Lead Vocals (Leyfields)
David Dukes - Lead Guitar/Backing Vocals (Dosthill/Wilnecote)
Dave Hewins/Tin Rawlings/Mark Maybury/Steve Jonothan - Rhythm Guitar/Backing Vocals (Glascote/Leyfields/Dosthill)
Dave Hewins/David Dukes - Bass Guitar/Backing Vocals (Leyfields/Dosthill)
Mark Harpley/Phil Goult – Drums/Backing Vocals (Lichfield)
Julie Jonothan –Keyboards/Backing Vocals (Glascote)
Brass:
Trumpet : Dave Bastow; Flute : Jo Josebury; Sax : Liz Hewins
Other Band Members/Instruments:
Fiddle : Debbie Rawlings; Backing Vocals : Amanda Harpley
Memories:
Possibly the loudest, largest and most unruly bunch of people ever to interrupt your nice Sunday morning service. My audition saw me show up on the say-so of Sam Holliday (the fool!). I'd just sold most of my equipment so turned up with a classical guitar. I fiddled away atop the band with some nice flamenco and got the gig. Dave Hewins had been wanting another guitarist and finally got his way. Perhaps I lulled them into a false sense of security as I later turned up bearing a very loud Fender Telecaster. The pastor of many a church instructed me to turn it down, Mark Harpley would wait until the cleric's back was turned and tell me to crank it up again. We weren't really cut out to be worship musicians, We were way too fond of creating a stinking racket for any of that. A regular show was at Glascote Elim Church where an elderly lady, Mrs Byatt - surely now gone hence, moaned constantly about the sonic volume we preferred to play at. She had a hearing aid which would whistle violently if I switched my pick ups too high. Mark Harpley took great amusement at this, I think he was a thrash metal player in disguise who enjoyed annoying "normal" people.
We were most flattered to be referred to as "the orchestra" which is where B.W.O. came from (Bamford Worship Orchestra). to this very day I've never had such a great time with so many musicians, many of them playing the most unlikely of instruments. I longed to bag the lead vocal slot but never made it, This was a bugger because the drummer did and he couldn't carry a tune in a sodding bucket! We would play, in the grand Frank Zappa and not-quite Christian music tradition of, any time, any place for absolutely no reason at all.
Many folk take the piss out of Christian music but I think I learned my trade with this band. The drive to push further and learn stuff you'd never done before was constant. In rehearsals I sat in playing drums a couple of times, Bizarre as at that time I hadn't played the kit in years, and strangely that taught me a lot about when to come in and when not to play. Mark Maybury was a veteran of the scene who'd had some success and he was always telling us, in his capacity as leader, "It's not what you play, it's what you don't play". It was rather like being part of a huge collective where you had to know your beans to pull it off.
Gigs
First Gig: Glascote Elim Church - Jan 1993
Last Gig: Glascote Elim Church - May 1996
Other Gigs:
Churches in Tamworth, Lichfield, Birmingham, Sutton Coldfield, Derbyshire, Burton, Shenstone, Wolverhampton, Tamworth bandstand.

If you have any further information about this band please email: info@tamworthbands.com