Reg Calvert
I first came across the name of Reg Calvert from a feature in 'Record and Film Review' in the Tamworth Herald of 5th June 1964. To follow is the full text of the feature and then a revealing insight into the 'pop' business of the early 60s taken from The Pirate Radio Hall of Fame - www.offshoreradio.co.uk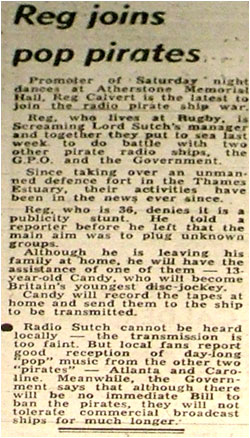 Tamworth Herald Feature
Tamworth Herald - February 7th 1964
Reg Joins the Pirates
Promoter of Saturday night dances at Atherstone Memorial Hall, Reg Calvert is the latest to join the radio pirate ship war. Reg, who lives at Rugby, is Screaming Lord Sutch's manager and together they put to sea last week to do battle with two other pirate radio ships, the G.P.O. and the Government.
Since taking over an unmanned defence fort in the Thames Estuary, their activities have been in the news ever since. Reg, who is 36, denies it is a publicity stunt. He told a reporter before he left that the main aim was to plug unknown groups. Although he is leaving his family at home, he will have the assistance of one of them – 13-year-old Candy who will become Britain's youngest disc-jockey. Candy will record the tapes at home and send them to the ship to be transmitted.
Radio Sutch cannot be heard locally – the transmission is too faint. But local fans report good reception of day-long 'pop' music from the other two 'pirates' – Atlanta and Caroline. Meanwhile the Government says that although there will be no immediate Bill to ban the pirates, they will not tolerate commercial broadcast ships for much longer.
Reg Calvert
Reg Calvert had a few theme and copy bands at this time, on of the first to do look alike bands. Buddy Britain and the Regents, were a Buddy Holly type band - Buddy sounded and looked like his namesake even to the glasses. There was also one called the Firebirds, which was an early Elvis sounding band. Most off Reg Calvert's bands lived at his house which was a big mansion in Rugby, Clifton Hall, when not playing they practised by day getting there act up to Reg's high standard. He paid them a basic wage with all there living accommodation and food as part of the contract. he had various dance halls round the Midlands which he ran personally. All his groups played in them and he also booked them out to other agents. He was very shrewd and made quite a lot of money out of them. All signed up to be pop stars on a diet of rock n roll, free accommodation, little money and cornflakes and Spam sandwiches. He was very sharp, one of the first agents to get 100 per cent of his bands earnings, that is, apart from the cornflakes and Spam sandwiches.
Reg Calvert was one of the great hustlers of the sixties music scene. He managed a stable of groups and solo singers. Although few of them were big national names, they could pack out local dance halls and he looked after them with a shrewd managerial eye and a showman's flair. One of his acts was Screaming Lord Sutch. When the arrival of Radio Caroline captured the public's imagination in early 1964 the two of them decided that a new offshore station might make a good publicity stunt. Radio Sutch launched at the end of May 1964 from Shivering Sands anti-aircraft fort in the Thames. Although originally intended just to get Sutch's name into the press, the longer the station continued the more Reg began to take it seriously. The presenter line-up mainly consisted of Sutch and Calvert with their family and friends. Reg's teenage daughters Candy and Susan presented occasional shows.
In September 1964, Reg bought out the Screaming Lord and replaced Radio Sutch with his own Radio City. A new more powerful transmitter was installed and over the months that followed the station gradually grew in power, in proficiency and in revenue. Although never one of the big players, Radio City won a loyal audience in south-east England. However in September 1965 merger talks began between City and Radio Caroline South. Caroline was losing money and wanted to move from an expensive ship to a cheaper fort. The plans became apparent on air when City began to re-broadcast Caroline's news and plug some of the bigger station's programmes. A transmitter was delivered to the fort, intended to be used by Caroline when it jumped ship. But the merger plans collapsed. Keen to do a deal of some sort, Reg began talks with Caroline's great rival, Radio London. They agreed to launch a new sweet music station from the fort. To be called UKGM (United Kingdom Good Music) it was going to be run by Keith Skues and Duncan Johnson. Unfortunately a certain Major Oliver Smedley intervened. He claimed ownership of the transmitter and, on the night of 19th/20th June 1966 sent a group of burly dock workers, out of work because of a seamen's strike, to take possession of Shivering Sands. They surprised the sleeping occupants and locked the disc-jockeys out of their studio. Smedley wanted his transmitter back or he wanted a piece of the UKGM deal. That evening an angry Calvert visited Smedley's home. He pushed his way into the house and a scuffle developed with Smedley's housekeeper. The Major, seeing the fight, grabbed a shotgun, took aim and shot Calvert dead. The police were called and Smedley was charged with murder. This was later reduced to a charge of manslaughter, of which he was acquitted on grounds of self-defence. A dispute over something as trivial as ownership of a transmitter (which, by all accounts, did not even work) had resulted in a man's death. It was a tragic loss for Reg's family and friends and it signalled the beginning of the end for British offshore radio as the killing spurred the Government into legislative action.
Thanks to : The Pirate Radio Hall of Fame www.offshoreradio.co.uk