Conclusive Fiction
Musical Genre: Electronic
Formed: 1981 Split: 1981
Band Members:
Linda Barker - Vocals
Gary Overton - Synth
Anne-Marie Clarke - Vocals
Steve McDaid - Guitar
Tamworth Herald Features
Tamworth Herald – 10/04/81
Musicbox – Fiction want the facts of success
TWO Tamworth futurist bands have joined forces to form a highly promising new partnership.
Those Attractive Magnets – well known to all of you – and Conclusive Fiction – new on the scene – have got their heads together and come up with the idea of combining musically and financially to give their bid for success a united push.
EQUIPMENT
The two bands have purchased important new equipment…including the Magnets new drum machine…and both of them will have the use of the gear.
And they will also forma touring partnership to accompany each other at gigs.
Conclusive Fiction synth player Gary Overton explained "When one group gets a booking the other will support".
CF have already been working on some material and Gary said: "I can't really think of any other group that sounds like us but I suppose we are influenced by Teardrop Explodes and Toyah".
And Magnet-man Rikk Quay added: "We reckon that two bands together have more chance of making it."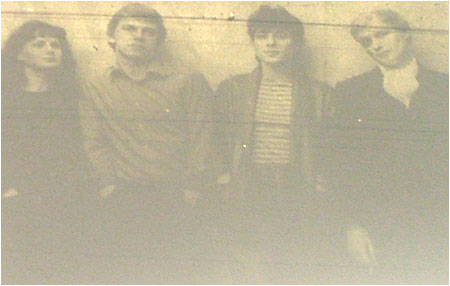 Combining musically with the Magnets...that's Conclusive Fiction. They are, left to right: Linda Barker, vocals, Gary Overton, synth, Anne-Marie Clarke, vocals, Steve McDaid, guitar.
The full profile and history of Conclusive Fiction has yet to be added to TamworthBands.com Call back soon to read the full band details.
If you have any further information about this band please email: info@tamworthbands.com