DJs and Discos : Malcolm Taylor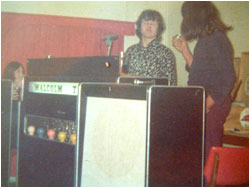 Malcolm Taylor (left) roadies (right)
Malcolm Taylor ran a mobile disco in Tamworth from 1972 - 1976. He used equipment from the local electronic engineer Charlie Thorneycroft - 2 Garrard SP25MkIII turntables and a 50watt Selmer amp through 2 large cabinets with 15"Goodmans fitted.
Malcolm worked at Stoneware in Dosthill and took up DJing in his spare time after being influenced by DJ Pete Barry (Barry Smith).
Malcolm's main break came with the residency at Bolebridge Street WMC aka Tamworth WMC (now Wetherspoons) which he did for a number of years, supplemented by gigs at Tamworth FC and other clubs in the area. Glyn Webb was his roadie. His transport was a GPO J2 van bought for him by his Dad for £80, later he used a Tranny.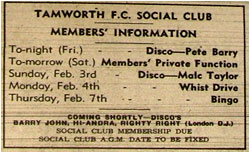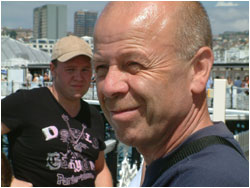 Malcolm Taylor today (2006)
Malcolm originates and lives in Wilnecote and for many years has driven for Lessers.
Thanks to: Barry John
Gigs:
A very small selection:
03/02/74
Disco
DJ Malc Taylor
Tamworth F.C. Social Club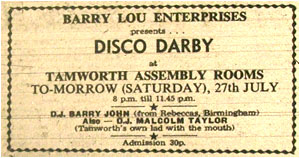 12/02/74
Disco
DJ Malcolm Taylor
Tamworth Working Mens Club
03/03/74
Disco
DJ – Malcolm Taylor
Tamworth F.C. Social Club
27/07/74
Disco Derby
Barry John and Malcolm Taylor
Assembly Rooms