Dream Factory - No.2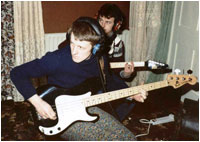 Dream Factory No.2
Photograph by: Tim Goode

The Gallery
Musical Genre/Type: Pop / Soul
Formed: 1983 Split: 1984
Band Members:
Tim Goode - Lead Vocals/Tambourine (Gillway)
Lloyd Barnett - Lead Guitar/Backing Vocals (Polesworth)
Mark Mortimer - Bass Guitar/Backing Vocals (Gillway)
Steve Quilton - Drums/Backing Vocals (Polesworth)
Brass:
Andy Codling - alto sax (Dordon); Robin Manuel - trumpet (Tamworth); Stuart Ashmore - Trumpet (Tamworth)
Other Band Members/Instruments:
Nicola Mortimer - Backing vocals (Gillway); Michelle Goode - Backing vocals (Gillway)
Songs:
Keeping Myself To Myself - Matthew Lees / Donald Skinner / Mark Mortimer
Created Feelings - Mark Mortimer / Tim Goode
The Game Of Life - Mark Mortimer / Lloyd Barnett / Tim Goode
The Haze - Donald Skinner / Mark Mortimer
I Want To Tell You (That I Love You) - Mark Mortimer
Remember Me - Mark Mortimer
The Crucial Class - Mark Mortimer
Other Songs:
We also continued to play The Action's "The Place" and a couple of other covers we did were Martha & The Vandellas' 1963 Motown hit "Heat Wave" and The Surfaris' "Wipe Out!" around this time.
Recordings:
Title: The Game of Life
Track List: The Game of Life / Created Feelings / Keeping Myself To Myself
Format: Demo
Memories:
This was the short-lived second Dream Factory line up which began life at the back end of 1983 when Donald Skinner moved on to the Julian Cope band. He was replaced by Polesworth-based Lloyd Barnett, who was best friends with the drummer Steve Quilton and who had been in Tora! Tora! Tora! with "Quilly" prior to this time. Lloyd, although not the same kind of gifted psychedelecised guitarist as Donald, had other strengths including the fact he was an excellent backing vocalist and a strong songwriter and he settled in to the band very quickly.
Original Casio keyboard player Ian Roberts didn't stay the course but the band never replaced him with another keys player...the feeling was that a soul-sounding horn section would be the ticket. So...Andy Codling, from Dordon, also joined the band around the same time on alto sax although later on he would also contribute tenor sax to the group. "Andy Sax" (as he was affectionately known) became an integral part of the early and mid-period Dream Factory and co-ordinated the horns to begin with. We also enrolled both Robin Manuel and Stuart Ashmore on trumpet to create a horn section and this, together with the change in guitarists took the group's sound AWAY from the original blueprint of being a "psychedelic mod" band and it began to sound a bit more "souly"...there was definitely a Stax-type horn sound developing. Robin and Stuart were decidedly not rock 'n' rollers but we were less concerned about their image but very keen to get a proper horn section!
There were still flashes of the old psychedelia, freakbeat ideas that I had and these did continue to appear here and there throughout the "career" of the Dream Factory. During this period the band only played a handful of gigs but were on the verge of becoming VERY busy...the third line up of the band was where things really left the launch pad!!
Song Memories:
"The Game of Life" demo was recorded at Steve Adam's home studio in February 1984 and was a definite departure from the first one involving Donald Skinner. In all honesty I was terribly disappointed with the results which sounded a bit lame in comparison to the previous demo, but there were still some good aspects, particularly the horns while "The Game Of Life" had a funky edge that always went down well on stage.
Thanks to: Mark Mortimer