Dream Factory - No.3
Musical Genre/Type: Pop / Soul
Formed: 1984 Split: 1985
Band Members:
Tim Goode - Lead Vocals/Tambourine (Gillway)
Lloyd Barnett - Lead Guitar/Backing Vocals (Polesworth)
Mark Mortimer - Bass Guitar/Backing Vocals (Gillway)
Steve Quilton - Drums/Backing Vocals (Polesworth)
Brass:
Andy Codling - alto sax (Dordon); Robin Manuel - trumpet (Tamworth); Stuart Ashmore - Trumpet (Tamworth)
Other Band Members/Instruments:
Michelle Goode - Backing vocals (Gillway)
Gigs
26/01/84
Dream Factory
Mile Oak Youth Club
22/02/84
Dream Factory
Baddesley Ensor Youth Club
11/03/84
Dream Factory
Polesworth Miners Welfare Club
18/03/84
Dream Factory
The Crowd
Soul Exit
Tamworth Arts Centre
01/04/84
Dream Factory
Polesworth Miners Welfare Club
04/04/84
Dream Factory
Rawlett School
07/04/84
Dream Factory
Top Club, Polesworth
18/05/84
Dream Factory
The Crowd
Tamworth Arts Centre
25/05/84
Dream Factory
Burton Technical College
25/06/84
Dream Factory
Burton Albion FC Social Club
28/05/84
Dream Factory
Boldmere Pub
Sutton Coldfield
06/06/84
Dream Factory
Mackadown Pub
Birmingham
14/06/84
Dream Factory
Minworth Social Club
16/06/84
Dream Factory
Dordon Working Mens Club
23/06/84
Bouncing Cheques
Dream Factory
Warwick University
25/06/84
Dream Factory
Burton Albion FC Social Club
02/07/84
Dream Factory
Tyburn House
Birmingham
05/07/84
Dream Factory
Bubbles
Hinckley
20/07/84
Dream Factory
Austrey Working Mens Club
16/08/84
Dream Factory
Boldmere Pub
Sutton Coldfield
17/08/04
Dream Factory
Three Crowns
Walsall
24/08/84
Dream Factory
Mermaid
Birmingham
08/09/84
Dream Factory
Dordon Working Mens Club
15/09/84
Edwin Starr
Dream Factory
Weston-Super-Mare
21/09/84
Dream Factory
Austrey Working Mens Club
(Cancelled)
10/10/84
Dream Factory
Wilnecote Youth Centre
17/10/84
Dream Factory
Embassy Leisure Suite
20/10/84
Dream Factory
The Parade
Warton Working Mens Club
23/10/84
Dream Factory
Blue Posts, Burton
31/10/84
Dream Factory
Nethersole Youth Centre
07/11/84
Dream Factory
Winshill Youth Centre, Burton
10/11/84
Dream Factory
The Barley Mo, Birmingham
23/11/84
Dream Factory
Kingsbury Working Mens Club
27/12/84
Dream Factory
Grendon Working Men's Club
---
Recordings:
Wine & Roses / Fashion Toys
45rpm single
Memories by Mark Mortimer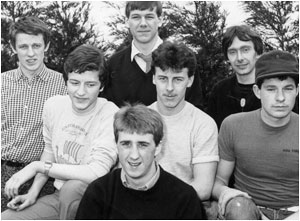 Ninety eighty four was to become THE year for The Dream Factory as the band elevated itself from being a wannabe local mod band with a big following to a group with a national profile and reputation.
Having worked hard to get itself off the ground and promote itself locally around Tamworth, the band had attracted its own bulky fan following made up mostly of scooter riding soul music enthusiasts.
It was never a conscious effort by the group to plug themselves into this culture although both lead singer Tim Goode and bass player Mark Mortimer were themselves scooter riders and fans of all things mod.
But somehow it came to pass that scooter riders took to the Factory like fish to water and the group's rise coincided with an explosion in numbers on the scooterist scene.
Indeed 1984 was one of the best ever years for sales of brand new motor scooters in the UK as this unusual youth culture (a hybrid of several youth cultures fusing to each other) snowballed.
Scooters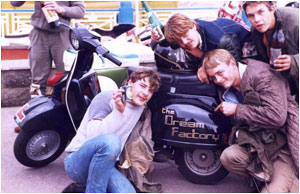 It is worth taking a few minutes to explain in brief detail what the scooter scene was about back in the day as this was crucial to the appeal of the Dream Factory spreading out to all points from their Tamworth epicentre.
When the original mod scene had faded out by 1967 during the psychedelic "Summer Of Love", the original spirit and tradition of that movement was kept alive by those people who refused to grow their hair, swap their parkas for kaftans and start getting into heavier rock music.
That band of die-hard anti-hippy "modernists" did move with the times musically and continued to support the underground American soul, rhythm & blues and modern jazz music scenes that were so crucial to the "mods".
Soul music was an enormous industry over the pond and produced a constant stream of many thousands of dance records which were being imported to British shores for the faithful to dance all night to.
And the mods of the late 60s kept the soul music flame burning bright during a period when everyone else was more interested in harder edged white blues rock, Jimi Hendrix, long hair and the ludicrous pomp of progressive rock.
Most of the southern mods had switched their musical allegiance to the rock sounds of the day but those in the Midlands and the north were still soul obsessed and sticking to their mod roots which led to a number of clubs north of Watford specialising in black dance music of the day.
When the phrase "northern soul" was coined by a Blues & Soul journalist in reference to the northerners continuing obsession with obscure black music nuggets a whole new "scene" began to crystallise.
Whereas the original mods' young brothers were now wearing their hair super short and adopting a more street-tough mod clothing stance to start the skinhead movement, the northern soul scene was the bastard son of original mod and soon developed at a huge pace as the 60s turned into the 70s.
Northern Soul was a massively supported culture during the early 70s and even survived a major split in the middle of the decade when some soulies became turned on to the more disco orientated modern soul sounds.
A lot of the northern soul fanatics continued to ride scooters and display other fossils from their mod past and when the ill-fated and somewhat naff "mod revival" appeared on the scene to coincide with the film "Quadrophenia" in 1979, the numbers of scooter riders were starting to increase again.
The "mod revival" was actually more of a continuation of the post-punk new wave and power pop movement and owed very little to the original mod movement apart from aping some of the fashion but its appearance together with the aforementioned smash hit Who film, led to huge interest in mods and scooters.
Ex-punks and new wave fans jumped on the bandwagon as did many of the skinheads who were always interested in soul music as well as Jamaican ska and reggae.
Scooter clubs had existed since the 1950s but membership of them now dramatically increased as people began to go two-wheel crazy.
By the early 1980s the scootering scene was a very popular movement and though it had previously existed via whispered words through the grapevine it was starting to organise itself and become a very well oiled machine.
Fanzines turned into national magazines, while corporate sponsorship from scooter manufacturers and other factors combined to make the scooterist culture big business.
Scootering itself was allowing its eclectic background to be worn on its sleeves and although mod-like fashions continued, the skinhead look and the punk look also shone through.
Scooterists were made up of mod revivalists, original 60s mods, northern soul fanatics, skinheads, Two Tone rude boys, punk rockers and even the occasional "square" members of the public!
Such a make up of differing backgrounds created a volatile, caustic atmosphere at times and during the early 1980s violence did rear its ugly head as often as it did on football match days.
Scootering was an earthy, working class movement that was as interested in the violent imagery of the latter day skinheads and punks as it was with the original soul music and mod roots and this was the backdrop to a burgeoning scene that the Dream Factory became engulfed in during 1984.
Strangely enough, although scootering was becoming big business and attracting many thousands of riders to its regular rallies at seaside resort locations (which was a traditional scooter club pastime dating back to the pre-mods and rocker riots of 1964) it was not big news.
Generally speaking the tabloids didn't want to know about scooter riders and neither did the music press.
Enthusiasm and Magic
The Dream Factory's reputation was being spread by word of mouth through the grapevine and by the many fanzines and glossy magazines that were sprouting up to support the scooterist phenomenon and before long the band were undeservedly a "name" act on the national scene.
Bassist Mark Mortimer explained: "In all honesty we were not very clever musically. And I am being polite by saying that!
"We were still very much a bunch of inexperienced, local kids trying our best to play music but we weren't very together and we weren't that tight.
"But what we did have in vast bags was amazing enthusiasm and a spark of magic that did touch people. Somehow we had something they could connect with and it worked, despite our lack of musical prowess."
"A lot of people were searching for the "next Jam" at the time," the bass player continued.
"The Jam commanded serious respect and total, undying love and devotion from their fans and when the band split in 1982 there was this vacuum created for many thousands of people who adored the band, myself included.
"What the Dream Factory did in our early days was to accidentally provide the Midlands legions of Jam fans with something that, in spirit at least, if not musically, could rekindle such fervour."
Demo
But the year began fairly quietly for the group as it visited Steve Adams' home studio at Birchmoor in February to record its second demo tape there.
The demo was much less impressive than its debut from the previous September when Donald Ross Skinner had shone so sublimely.
This time round the demo consisted of the songs "Game Of Life", "Created Feelings" and "Keeping Myself To Myself."
The former was a funky but loose northern soul-influenced song with socio-political lyrics from Goode and a tune that was soaked in flanger-heavy guitar from Lloyd Barnett.
"Created Feelings" was a Mortimer song that was best described as tepid while "Keeping Myself To Myself" was a re-working of the old Fretz song from 1980 that Matthew Lees, Mortimer and Skinner had once played!
The new DC sax player Andy Codling was joined by trumpet players Robin Manuel and Stuart Ashmore to create a horn section and Goode's sister Michelle once again sang backing vocals on the sessions together with Barnett and Quilton.
Although the demo didn't catch the edge and power of the live Dream Factory experience it did at least show the band trying to move forward and create a new sound with their new line up.
LIVE
On the live front the band continued to rapidly expand its following and started to play live outside of the Tamworth area for the first time although memorable local gigs continued including a rapturously received show at Tamworth Arts Centre in May, 1984 where, thankfully, there was no repeat of the drunken violence as evidenced in their September 1983 show at the same Church Street venue.
During '84 Dream Factory gigs throughout the Midlands were amazingly well supported by huge numbers of scooter riders as the group's mantle as local scooter heroes was branded onto the hide of the local scooterist scene.
At one gig at Austrey Working Men's Club (which is now demolished) there was the amazing sight of scooter riders arriving from all over the region to camp overnight in the club car park to then watch the band play.
This scene was repeated time and time again, most notably at Polesworth Top Club (when one intrepid bunch of Nuneaton mods walked from 10 miles to attend the show!) and the more this happened the more people began to hook into the band.
The Brum Runners Scooter Club and the newly formed local B5000 Scooter Club were big supporters of the band and were ever present at almost all Dream Factory shows.
In 1984 the band was being still being led by long time close friends Goode and Mortimer who, having moved away from their psychedelic soul blueprint, were now developing a much harder edged sound that was more streetwise, rootsier and earthier, matching the nitty gritty of their scootering following.
Lloyd Barnett was the guitarist, Steve Quilton the drummer and Andy "Sax" Codling played sax for the band.
This was the "classic" Dream Factory line up that is best remembered and which achieved its five minutes of fame.
They worked hard on their sound, rehearsing mostly in the cellar bar at the Flying Scotsman pub on the Glascote Heath estate and there was growing optimism and a heightened sense of self-belief that the future was a bright one.
"I'm not sure if we were starry eyed or not really but we genuinely did feel that destiny was on our side so long as we worked our backsides off and that's what we did.
"We rehearsed hard and tried our best to improve ourselves as musicians because we knew that we had what it takes to get an audience going in terms of energy and oomph but still lacked as players," said Mortimer.
Neil Rushton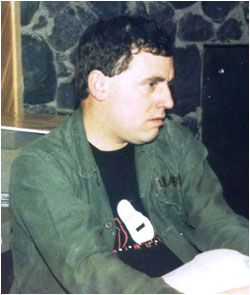 The runaway success of their early 1984 gigs had brought the band to the attention of Staffordshire journalist Neil Rushton who was better known as a northern soul DJ of international reputation and who was also running his own soul label, Inferno Records.
Rushton was re-releasing classic old northern soul gems on Inferno both as singles and as compilation albums much in the same way that Kent were doing.
He had also hooked into the scootering scene where many of his northern soul friends had also become well known and could often be seen at rallies either as a DJ or selling his soul records.
Indeed, he had been wise enough to buy the rights of the classic early 60s soul tune "Tainted Love" before Soft Cell had released their world famous chart-hitting cover version of it and Rushton was a sharp businessman who knew his stuff.
So it was at the tiny and bizarre Wilnecote Youth Club venue in Tamworth that he decided to show up to see the Dream Factory live in 1984 to see if all the local grapevine hype was truth or lies.
He decided the band wasn't too clever musically but he was knocked out by the reaction from the audience and by the numbers of people who had packed into this small building to see the band.
Moreover he saw in Goode a rabble-rousing mixture of Dexy's front-man Kevin Rowland and Paul Weller rolled into one; a powerful front man who could ignite a crowd into a frenzy.
Rushton also saw in Mortimer, himself a local journalist in Tamworth, someone with whom he had much in common with and the two struck up an instant rapport.
The Convoy
On the basis of what he saw at Wilnecote, Rushton was eager to see more and during the late summer of '84 the band managed the breakthrough of being booked to headline their first ever scooter rally – at Weston-super-Mare.
That show was booked for September 15, 1984 and the group, while delighted with being granted the gig, was keen to ensure they had plenty of local support on the coast.
And so Mortimer came up with the idea of him and Goode riding their own scooters down to Weston-super-Mare at the head of a convoy of Dream Factory scooter-riding fans.
It was a great publicity stunt and made for some positive regional press exposure but it was also great fun!
Mortimer reminisces: "The convoy started at the car park in the Square at Polesworth on the Friday afternoon and both Tim and I were on our scooters with the rest of the band, girlfriends, clothes and band gear in a van.
"There were loads of Polesworth, Tamworth and Atherstone scooterists and mods there with us and we set off from Polesworth and rode over to Brum.
"The next meeting spot was on the car park of the Tyburn House pub opposite Castle Vale in Birmingham and that's where loads of Brum based scooter riders joined the convoy.
"It was an amazing sight and it felt very special being part of it all!
"This really long scooter convoy snaked its way through central Birmingham and down the A38 towards the West Country and it was just an amazing moment of togetherness really and great fun.
"It also proved we really were genuine scooter riders and not trying to be something we weren't – so it just cemented our growing reputation on the scene and I think we won a lot of friends for being true to ourselves."
When the band reached Weston they were stunned to see a customised scooter bearing the band's name and logo and this proved the group had somehow won a national following, one they felt they didn't deserve but were somehow destined to achieve.
The gig itself was a hot and sweaty one and the band took to the stage in the early hours of Sunday morning, confronted by a skinhead-dominated audience who were rowdy and hostile to the new kids on the block.
Mortimer again: "The skinheads that were in the crowd were not the type who were into reggae and soul but were more your dodgy political types and there was blood in the air – a lot of them wanted a fight that night.
"They were mean looking and really quite frightening and I remember how very nerve-wracking for us it was as we were about to go on stage because it was our first big gig and it was out of town and here we were, these snotty Midlands kids who had this undeserved reputation, and there were people who wanted to take us down a peg or two.
"I can remember how hot it was that night – it was unreal and the stage was actually wet from sweat and we went on stage in front of these snarling skins who just had hatred in their eyes.
"At the time I thought I was going to be mashed into a pulp!"
But what Mortimer and the rest of the band hadn't realised was that the Dream Factory's fans were in the building in larger numbers than the band could have ever hoped for.
And among the group's fans were elements of the infamous Birmingham City "Zulu Army" football firm and they were no mugs!
When a few skinheads started to get abusive towards the band in the opening song some of the Brummie "Zulus" waded in and silenced the tough looking skinheads… somewhat violently.
Blood was spilled that night but it wasn't the band's and the reaction to the show was very positive from all quarters – even the hostile skinheads were cheering the Factory by the time the encores ended!
Rushton had intended to watch the show but had been way-laid but he received very encouraging reports back from his friends among the scootering hierarchy who raved about the band.
Back in the Midlands, Rushton organised a northern soul all-dayer at the Powerhouse nightclub in Birmingham with a host of name DJs but the other reason for the show was for him to see the band live in front of his own eyes as he weighed up offering the band a record deal with Inferno.
The gig was once again well attended by Factory fans and despite the band not putting in one of their strongest performances it was still enough to encourage Rushton to definitely take the band on both as manager and also as a new artist for Inferno.
Wine & Roses
Rushton had already earmarked one of the band's latest compositions as a contender for being the group's first single – "Wine & Roses" – after raving about it when he heard it on stage.
Other songs that were being spoken about for the group's first Inferno recording sessions included "The Crucial Class", "The Beat Goes On" and "Fashion Toys."
When the band camped in the Grosvenor Recording Studios in Handsworth in the autumn of 1984 it was "Wine & Roses" and "Fashion Toys" that were chosen to be recorded for a double A sided single.
The studio was the place that had been used by the Barry Gray Orchestra to record a lot of the soul-sounding soundtrack material from the classic Gerry Anderson shows "Stingray", "Thunderbirds", "Captain Scarlet", "Joe 90" and "U.F.O." which was exciting for the band.
Having been used to recording two demos previously at Steve Adams' house in Birchmoor this was a fascinating new world that the group entered and they did so with a mixture of excitement, optimism and a little trepidation.
The basic Dream Factory line up that had gigged throughout 1984 was the band that turned up in Handsworth together with Michelle Goode (backing vocals) and trumpet players Manuel and Ashmore in tow to embellish the sound.
However, the most influential and important embellishment came from the multi talented son of the Grosvenor Studios producer, Chris Taylor who was already promising to be one of the best young jazz talents in the country.
Young Taylor was an outstanding jazz pianist and he added plenty of magical keyboard moments to both "Wine & Roses" and "Fashion Toys."
On the former he played a Yamaha DX7 trying to recreate a proper Hammond organ which was the staple instrument used at that time and although it doesn't really sound like the real macoy his playing was tremendous and it somehow made "Wine & Roses" jazzier with a mod-like sheen.
The track starts out all art-rock (at Mortimer's behest) but then settles into a bass-driven groove that featured a very catchy chorus penned by Barnett while Goode came up with the lyrics.
"Fashion Toys" saw Taylor switching to a syntheiszer to underpin the middle section of this funky tune which was the natural successor to songs like "Game Of Life."
The basic song was written by Mortimer with Goode adding lyrics decrying the senseless violence of the lager beer monsters of Tamworth and Barnett adding a little bit more to the mix.
After the recording was completed Rushton engineered an extended mix of "Fashion Toys" to give him additional material for the 12 inch release of the band's first single.
Around the same time Rushton had been working with northern soul legend J.J. Barnes on some new material (with a jazz funk leaning) and to promote both projects Inferno put out some strictly limited edition white label vinyls which featured the soul legend on one side with the Factory on the flip.
This was used as a tool to vibe up music journalists and soul DJs about both forthcoming releases and it helped create an underbelly of interest in the Dream Factory among the music press who had begun to hear of rumours of this new Midlands band who were turning heads.
Paul Weller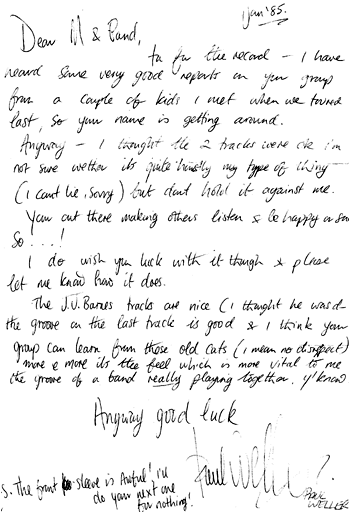 This is a letter Paul Weller wrote about the Dream Factory debut single "Wine & Roses". Mark Mortimer

I sent him a white label 12" - an Inferno promo that had us on one side and old northern soul singer J.J. Barnes on the other song doing a re-working of the Little Carl Carlton tune "Competition Ain't Nothing" and also a sort of rare groove/funk number (which sounds horribly 80s funk now and hasn't at all dated well!!).

He speaks highly of the JJ Barnes stuff and slags off our sleeve, as previously mentioned (!) but is generally very sporting and nice and friendly to us and it's a special letter to me :)

I also think it's kind of sweet that he puts a date on it and then prints his name after his signature because, even then he probably realised I would treasure the letter as a "fan" for years to come and although it could be viewed as Weller being somewhat self-obsessed I actually think it's a nice touch.

In case you can't make out what he says he writes:

"Dear M & Band,

"Ta for the record - I have heard some very good reports on your group from a couple of kids I met when we toured last, so your name is getting around.

"Anyway - I thought the two tracks were OK. I'm not sure whether it's quite honestly my type of thing (I can't lie, sorry) but don't hold it against me.

"You're out there making others listen & be happy or sad so.....!

"I do wish you luck with it though & please let me know how it does.

"The JJ Barnes tracks are nice (I thought he was d_ _ d!).

"The groove on the last track is good & I think your group can learn from these old cats (I mean no disrespect).

"More & more it's the feel which is now vital to me, the groove of a band really playing together, y' know?

"Anyway, good luck!

"PS: The front sleeve is awful! I'll do your next one for nothing!"
Also hearing about the Dream Factory a lot around the same time was Paul Weller whose Style Council band were constantly being told by their fans how good the Dream Factory were.
Brazenly, Mortimer decided he wanted to get in touch with Weller to try and engineer some support slots for the Dream Factory with the Style Council so he called Weller's recording studios in London.
He said: "I simply rang the studio and asked to be put through to Weller.
"The telephonist wanted to know who I was and I just blagged my way through it saying Paul knew me and we'd spoken earlier – which we hadn't! – and he was expecting my call blah blah blah!
"Having kinda wangled my way into Julian Cope's house two years earlier through sheer dogged persistence and determination I figured I could do it again with Weller.
"I thought she'd just tell me to fuck off but amazingly she put me through to Weller himself which I was shocked about.
"But I told him I had blagged my way to speak to him which made him laugh and I mentioned the Dream Factory and he was like "right I know about them, I hear great things about them" and we got on really well.
"He was very interested in the scooter scene, the dwindling mod scene of the time and also the northern soul scene as well and kept asking me questions about that lot.
"We agreed to speak again and he asked me to send him the Dream Factory single for him to listen to while he also said he'd be very interested in having the Dream Factory support the Style Council and Billy Bragg on some miners benefit shows that were being organised in light of the infamous miners strike of that year.
"It was particularly exciting for me because I'd been a huge fan of the Jam and also of the first Style Council album."
Later on Weller wrote several letters to Mortimer and passed on his own feelings and comments about the white label of JJ Barnes and the Dream Factory tracks.
Weller raved about the JJ Barnes tunes but was less complimentary about the Factory tunes saying it wasn't really his thing.
"This was a bit of a disappointment but it didn't dampen the fervour and the fever and the signs were still so bright for us," said Mortimer.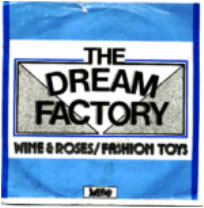 "Response from DJs and other music industry people had been very good indeed and we felt it was going to be a good move forward for us."
Despite Weller's criticism, the former Jam man stayed in touch with Mortimer for several years after this period and continually offered encouragement to him with his various bands.
The "Wine & Roses" single was recorded and ready to go for a Spring 1985 release and in the meantime the band concentrated hard on song-writing and working hard at tightening their live shows.
Thanks to: Mark Mortimer
---
Tamworth Herald – 13/01/84
Musicbox – Star news for Dream
Tamworth's most popular band the Dream Factory have taken their first tentative steps towards securing a major record contract.
For the band have heard that a scout from the giant WEA Record label is coming to see them live, after being impressed with their debut tape released late last year.
The encouraging news comes at the best possible time, because the band have just announced a series of dates for the next couple of months.
The biggest and most prestigious of these is a gig at the popular Chasewater venue, The Junction on Thursday February 9.
The Factory will be lining-up with a similar band called, Soul Exit, who have already built up a following in the Cannock area.
As an indication of the popularity of the Factory, they have arranged a coach to ferry their army of fans to the Chasewater gig. More details are available from Mark Mortimer.
Also on the band's gig list is Mile Oak Youth Club on Thursday January 26 and Tamworth Progressive Club on Saturday February 11.
More dates are expected shortly – including possibly Nuneaton College and the Rugby Club – but in the meantime the band are keen to hear from any brass players who would like to help them out in the future.
Tamworth Herald – 10/02/84
Musicbox – Snips
The Dream Factory, whose latest tour really has got off to a 'dream' start have announced two more dates to their hectic schedule. On Wednesday, February 22, they will be travelling to play Baddesley Ensor Youth Club and on March 15 they will be in action at the Mercian Ward Community Centre on the Leyfields.
Tamworth Herald – 17/02/84
Musicbox – Night when a dream came true
The Dream Factory – Tamworth Progressive Club
ON A day when Tamworth FC were walloped eight-nil it was going to take a very good band indeed to revive my flagging spirits. But I am pleased to say that the Dream Factory did just that.
The enthusiastic Factory managed to overcome all the hassles of a far-from-ideal venue to turn in a stylish performance that delighted their fanatical followers.
Bouncing on stage with the energy and confidence of a band who know they are good, they delivered two short, sharp sets which brought the sleepy venue out of its slumber and its regulars onto the tint dance area.
The first thin you notice when the band takes to the stage is that their line-up has undergone yet another metamorphosis. Gone are the girl singers and the keyboard player and in comes an extremely impressive brass trio.
The two trumpets and especially the brilliant Andy Codling on saxophone add new life to the Factory's sound, making it fuller and more uplifting.
Visually the band still revolves around the Mortimer/Goode partnership. Tim Goode seems to be getting better at his craft every time he goes on stage and his increased confidence and maturity wins over any doubters in the audience.
Musically the band sound far cleaner and error-free than in their somewhat faltering early days. The co-ordination between instruments and vocals made the band seem unrecognisable from the times when their abundance of ideas outweighed their capability.
The best songs of the night were the moving 'Created Feelings' and the quite magnificent rendition of 'Keeping Myself To Myself'.
This latter song has followed Mr. Mortimer around many bands but this time he really has added a whole new dimension to the tune and ensured that this classic Tamworth song will not disappear as so many others have.
All in all The Dream factory played well, looked good and seemed in such an ambitious frame of mind that it is hard to see how they can really fail.
It really is time that a record company boss takes a trip to Tamworth, a look at the Factory and then produces a contract before someone else snaps them up.
The band is clearly on the verge of something very big and instead of talking about if it will become successful, it is now time to discuss when.
The time is right and the band is ready. Now all we can do is wait…
SAM HOLLIDAY
Tamworth Herald – 09/03/84
Musicbox – VERDICT ON THAT DREAM DEMO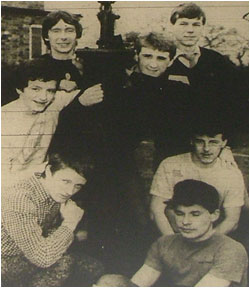 More a Whimper than a growl
WHEN The Dream Factory released their debut demo-cassette just a few months ago, I hailed it as the first bold step in what I think is the band's inevitable rise to success.
Subsequent gigs have done nothing to dent my impression that the Factory are going places, but unfortunately, I feel this new trio of songs is going to have very little effect on the band's future.
No matter how hard you try and like it, you are led to the recurring conclusion that the tape is a massive disappointment.
The music is still tight, professional and well-balanced but it is just so colourless and non-eventful that it is like a K-Tel group playing Dream Factory numbers.
Take, for example, the opening number 'Game Of Life', Lyrically the song is very strong but none of the bitterness or comment inherent in the words comes across because of the rather lukewarm music.
The song merely ambles along – when you know it should power along. Tim Goode's ever-improving vocal lacks that vital edge.
After 'Game Of Life' comes the newly reworked version of the classic 'Keeping Myself to Myself'. Live, this song really hit hard and I was eager to hear how a studio could further enhance it.
The song is saved by the superb brass section which brings life and movement to an otherwise unexciting performance. I am convinced that if the Factory had recorded this song live at one of their recent excellent gigs, it would be a vast improvement and could be seen by local music buffs as the brilliant number it really is.
The final track on the tape is 'Created Feelings'. A relatively new number with an excellent Mark Mortimer tune, this is a song that whimpers when it should growl. It is musically a little sluggish but is made far more listenable by the quite superb vocal treatment where drummer Steve Quilton put in some marvellous backing to Tim's main chant.
In truth however, the disappointment about this tape – which extends to the band members themselves – will probably be limited because it will be released to the public with the first demo, making a highly compact and varied six-track cassette. The first demo is undoubtedly better and when its three tunes are matched with these, it should give the listener a fair idea of what the Dream factory are all about.
In time to come the band will probably look back on this tape as a disappointing, rather non-eventful hiccup in their career. It should server to calm their understandable ecstasy and put their feet firmly back on the ground.
And that in itself is no bad thing.
Tamworth Herald – 16/03/84
Musicbox – Snips
THE Dream Factory have been given their first residency – at Polesworth Miners' Welfare Club. The offer of the residency came after the band played what is considered to be one of their best ever gigs at the venue on Sunday. It means that the group will be the main attraction of a soul and sixties night at the club every three weeks.
"We are very pleased about this because it is a good venue," said bassist Mark Mortimer. The band have also announced a major town centre gig in May. They will be playing with The Crowd and Soul Exit in a special sixties night at the Arts Centre on Friday May 18.
Tamworth Herald – 30/03/84
Musicbox – 'Dream' set for a spring clean!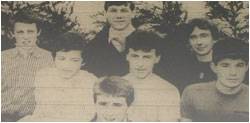 TAMWORTH's most popular band, The Dream Factory, have announced a 'spring cleaning' which could spark off a whole new phase in the group's history.
For the band is on the lookout for new brass players, a new keyboard player, a manager and dedicated followers who would like to join its first fan club.
And as if all that was not enough to occupy the band's minds, they have also this week released their six track cassette for which orders have already started to come in.
All the Dream Factory's current desire for change was set off when regular trumpeters Robin Manuel and Stuart Ashmore announced that due to other commitments they would have to leave the band.
The group decided immediately they would like to keep a brass section, and so they are appealing to any would-be trumpeters and trombonists keen to play the Factory's own brand of soul music, to get in touch with them. And at the same time the band have decided to search for a keyboard player to plug the gap that has sometimes been noticed in their live work.
The requirements for anyone wishing to take up these posts are simple and straightforward.
"We want people who will be dedicated to the Dream Factory and are willing to give up a lot of their time to help us," said ever-optimistic bass player Mark Mortimer.
If the Factory find replacements it will herald virtually the third line-up the band has so far had. The other two set-ups can now be heard on the band's first publicly available cassette, which comes with the grandiose title of "The Rhythm and Fire and All Things Groovy in Purple". The six tracks feature some of the band's finest numbers including "The Haze" and "Keeping Myself to Myself" and were recorded at two separate sessions in the past six months. The tape costs just £1.50 – and is good value for it – and is available from any member or "Tamdisk" in Lichfield Street.
Anyone interested in becoming a member of the fan club…
With all this activity on the boil – plus dates confirmed at Rawlett School on April 4, Top Cub, Polesworth, April 7 and Polesworth Miners Club on April 1, The Factory are particularly keen to find a manager who can take over their day to day tasks and leave them to write music.
Anyone interested in taking up any of the positions in the increasingly ambitious and expanding Dream Factory machine is asked to contact Mark…
Tamworth Herald – 06/04/84
Musicbox – Snips
THE DREAM FACTORY have wasted no time replacing their departing brass players. Already they have enlisted 16-year-old Bolehall trumpeter Damon Wraxton and they have also had an enquiry from a 33-year-old trumpeter! The band, who will be playing a totally unorthodox set at Polesworth Top Club on Saturday, have also announced another date at Dordon Working Men's Club on Saturday, May 5th.
Tamworth Herald – 19/04/84
Musicbox – Coming Soon…
The Dream Factory and The Crowd are now selling tickets for their exciting-looking double-bill at the Arts Centre on May 18. Tickets are just 75p from band members. But is seems that Dream Factory fan-clubbers will get a discount and priority.
Tamworth Herald – 04/05/84
Musicbox – Dream dates
THE Dream Factory, who are now busy preparing for their triumphant return to the Arts Centre on May 18, have announced more dates: Saturday May 5 – Dordon Working Men's Club with The Crowd; May 25 – Burton Technical College Venue. The band will be running a coach to the Burton gig which will leave the Arts Centre at around 7pm at a cost of about £1.10. Watch this space!
Tamworth Herald – 18/05/84
Musicbox - A night of Dreams with a new plot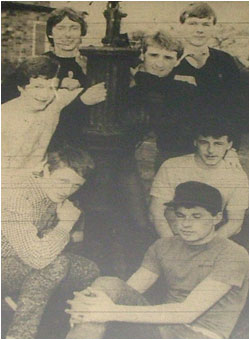 TAMWORTH'S most popular band, The Dream Factory, will tonight step out onto the Arts Centre stage for their long-awaited return to a major tow venue.
The band who have spent the past few months building up a following throughout pubs and clubs in the area will be hoping to show their legion of supporters just how much their set has been revised and upgraded since their last appearance at the Centre late last year.
Since, then their line-up has changed slightly, their songs have changed completely and the band are now much closer to the national recognition they crave.
Their excellent demo cassette, plus the superb promotion done by their new ambitious manager, Andy Payne, from Belgrave, has helped the Factory to be in the sort of position where the next inevitable step is a succession of visits from record company PR men.
Originality
For anybody who may not know the Factory's sound, the group play Sixties-style soul music which has a force and originality all of its own.
Recently, the band has been influenced by many obscure psychedelic acts whose majestic moments reflect in many of the group's most recent numbers. It adds up to an enjoyable and very varied set which is certain to be a winner with the capacity Arts Centre crowd that is expected tonight.
Joining The Factory tonight will be kindred spirits – The Crowd – who will be making the journey from Atherstone in an attempt to win over the town's audiences.
The Crowd have received generous praise from many quarters – including the Factory themselves – because despite their age and relative inexperience, they can still turn in an enthusiasm and well-balanced set.
Musically, they are on a similar level to the Factory and although they have played considerably less gigs, it is unlikely that this, their largest concert to date, will unduly worry them.
Tonight's gig begins at 8pm and the 75p tickets are going fast, although there may be a few available on the door.
For the Factory, tonight's show will be the continuation of a long series of gigs which will continue next week when they take a coachload of supporters to a special gig at Burton Technical College.
This prestigious gig takes place on May 25 and just three days later, the band will be on show at the Boldmere pub, in Sutton. On June 6 the Dream Factory entourage will converge on the Mackadown pub in Birmingham and they will close this present series of dates with a trip to Minworth Social Club on June 14.
Obviously things are really moving now for the band and if you want to find out what all the fuss is about, the place to be is the Arts Centre tonight.
With the added attraction of The Crowd, it all looks set to be one of the most exciting gigs in the town for a long time – miss it at your peril!
SH
Tamworth Herald – 25/05/84
Musicbox - Factory flood-gates!
Dream Factory/The Crowd – Tamworth Arts Centre
Going to see The Dream Factory these days is becoming quite an inspiring experience.
For not only do the band turn on the style musically but they have managed to do what very few Tamworth bands have ever done – fill a venue with fanatical, devoted followers.
The spectacle of seeing literally scores of people crowd around the band dancing and singing is not an everyday happening in Tamworth.
The moment the Factory hit the stage, the audience hit the roof and then proceed to hit the dance floor. It is an overwhelming site and you just can't help admiring the Factory for taking the trouble to find their market and capitalise upon it.
But it wasn't all the Factory's show on Friday, for they were supported by an exciting new outfit from Atherstone called The Crowd. The Crowd are a band who everyone I spoke to liked for some reason or another.
They were a young, energetic and full of genuine feeling for their music – in fact a perfect example of the type of band Paul Weller is now championing.
Their relative youth only server to make their tight, well co-ordinated sound even more impressive and with their smattering of melodious original songs it is clear they are a band with a great future.
A special mention must go to superb vocalist Paul Hanlon who carried off every song well and young Phil Ford who, despite his stature and age, turned in some of the most naturally flowing drumming I have heard in a long time.
If the gig was a success for The Crowd, then it was almost a triumph for the Factory. With the audience on its feet, it seemed the band couldn't go wrong – and they didn't. Their set was totally different to previous gigs, with newer numbers outweighing their standards such as the absorbing 'Haze' and the climatic 'Keeping Myself to Myself'.
Of the newer numbers, two stood out for me – the delicate 'Waterfalls' and the exciting 'Leisure Land'. The latter was built around an enticing distant guitar sound which combined with all the other instruments to make a powerful and very catchy chorus.
After a lengthy set the weary band left the stage to allow the even more weary audience to disperse out of the Arts Centre.
Watching the masses pour out, you can't help feeling that some sort of movement is under way. If the Factory and indeed The Crowd – can excite this sort of response locally, what happens when they step outside the narrow confines of this area Long may both bands continue to excite and delight their enormous group of supporters.
SH
The Dream Factory have changed their venue for this Friday's gig at Burton. The concert will now be held at the social club of Burton Albion FCs Eton Park ground and a special coach will call at Polesworth Square at 7.30pm and call at the Assembly Rooms at 7.45pm. The all-inclusive fare and entrance fee is £2.
Tamworth Herald – 15/06/84
Musicbox – Snips
Both The Dream Factory and Sitting Pretty look as if they have broken into the prestigious university circuit. Pretty, who have a single out in a fortnight, are just putting the finishing touches to an extensive tour while The Dream Factory kick off their latest batch of gigs with a return visit to Dordon Working Men's Club tomorrow night (Saturday). They will follow up this date with an appearance at Warwick University next Saturday when they will support popular cult band The Bouncing Cheques. More details of dates will be announced shortly.
Tamworth Herald – 29/06/84
Musicbox – Snips
DREAM FACTORY, fresh from their weekend at Warwick University, have been confirmed to play at an all-nighter scooter rally at Weston-Super-Mare in September, supporting an as yet unnamed Motown band.
Also in the pipeline for the band are gigs at Tyburn House (Erdington) on Monday, Bubbles, Night Club, Hinckley on Thursday, Austrey Working Men's Club on July 20 and the Three Crowns, Walsall, August 17.
Tamworth Herald – 13/07/84
Musicbox – Making news in fine style
TAMWORTH's two most active bands – The Dream Factory and Sitting Pretty – both seem on the verge of gaining the national recognition they have craved for so long.
For the Factory, a support slot with the mighty Style Council could be on the cards, and for Sitting Pretty, next month will see them enjoying a double-page spread in the popular national music paper, "No.1".
The Dream Factory's possible appearance with Paul Weller and Co. became a possibility last week when bassist Mark Mortimer had a chat with the former Jam singer at his rehearsal studios.
Mark had written to his life-time hero, Weller, to tell him all about the Factory and to ask if there was any chance of the band supporting the Style Council. The chance arrived when Weller decided he would like to do a Miners' benefit concert at Nottingham during the summer.
If this goes ahead, with the Style Council headlining, Weller has said he would like kindred spirits the Factory on the bill and understandably, Mark Mortimer is delighted.
"I couldn't believe it when I rang up and spoke to him because he seemed to know quite a bit about the band and he seemed genuinely interested," said Mark. The band are now eagerly awaiting developments in what would easily be the most prestigious gig a Tamworth band has ever achieved.
And this sort of national exposure will soon be coming to Sitting Pretty, who spent most of last Friday with a reporter from the glossy pop magazine "No.1".
The band will be featured in a special new bands section of the magazine and they ended up being photographed no less that 216 times for the spread.
Drummer Mike Turner has assured Musicbox that he has given Tamworth a big plug and with the thousands of readers the magazine has, that can only be a good things.
The band's hectic schedule continues on Saturday when they step out to play their very own single-release party at the Assembly Rooms. This all-ticket, guest-only venture promises to mark something of a watershed in the band's career.
By the time you read this, the band's single 'The Inspiration', will have become the biggest selling single ever at Tamdisk Records in Lichfield Street leaving behind such money-spinners as 'Uptown Girl', 'Karma Chameleon' and even 'Relax'.
For both the Factory and Pretty, this run of success looks as though it might continue on a new plane. People who think getting out of Tamworth is an impossibility, please take note.
SH
Tamworth Herald – 20/07/84
Musicbox – Shock for band as Ralph quits
THE Dream Factory will be playing one of their most important gigs of their current batch tonight when they step out at Austrey Working Men's Club.
The gig is so important to the band because they will be watched by several members of the Edwin Starr Band including the manager.
The Factory are all set to play with the great singer at a scooter rally later this year and they are hoping to make a good impression tonight.
Tamworth Herald – 03/08/84
Musicbox – Come and join the Factory convoy
THE DREAM FACTORY are planning a 'Quadrophenia' style scooter convoy to their now-confirmed convert with classical soul singer Edwin Starr at Weston-Super-Mare.
The event, which goes on all night, will be the highlight of the band's already quite full career and so the Factory are determined that as many of their fans as possible should be able to go and see them.
A coach is being organised for the morning of the concert – September 15 – but the band hope a lot of people will join them on the night of the 14th for a mass scooter and car convoy down to Weston. Many of the band's fans – including the scooter group the 'B5000 Burners' – have said they will join the entourage, the like of which Tamworth will probably have never seen before.
The Factory's billing alongside Edwin Starr is the climax of a series of gigs for the band over the next few weeks. On August 16 they will be playing at the Boldmere Pub and the week after on August 24 they will be at the Mermaid pub – also in Birmingham.
On August 26 they will return to home territory to headline the first day of the Bank Holiday rock festival and then on September 8 they will play at one of their most popular venues at Dordon Working Men's Club. With new gigs springing up all the time the band now must regard a single – or at least a new demo tape – as their next most important requirement.
Tamworth Herald 14/09/84
Musicbox – Mobile Dreams
THE Dream Factory will tonight embark on their scooter-convoy to Weston-Super-Mare. The reason is that the popular fivesome are headlining an all-night scooter rally in front of people form all over the country.
Band and fans will be joining the special convoy which promises to grow in ture Quadrophenia style as it reaches its destination.
Tamworth Herald 21/09/84
Musicbox - Snips
The Dream Factory last week tuned in an impressive set in front of 1,000 people at Weston-Super-Mare scooter rally.
Tamworth Herald 05/10/84
Musicbox – Snips
THE Dance Stance, the lively and enthusiastic young Atherstone band were forced to pack in their prestigious gig at Atherstone Memorial Hall when a riot broke out which ended with glasses being thrown onto the stage. Dance Stance were understandably said to be shattered by the trouble and MUSICBOX would like to add its condemnation of the violence which ruined what the band hoped would be a triumphant night. The Dream Factory have already cancelled a proposed show at the club and the few who caused the trouble should realise they could kill Atherstone as a live centre altogether. N.B. The Dance Stance are on the lookout for a new brass section or saxophonist.
Tamworth Herald 12/10/84
Musicbox – Snips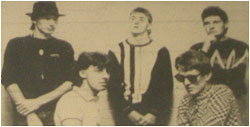 THE Dream Factory have decided to turn their latest batch of gigs into a full-scale mini-tour. The Autumn Breeze Tour has been snowballing ever since the first gigs were arranged, as more and more venues have said 'yes' to the town's most popular band.
The dates are being arranged all the time but the ones we can give you so far are: Wednesday October 17, Tamworth Embassy Suite; Saturday, October 20, Warton Working Mens Club, with The Parade; Tuesday October 23, Blue Posts, Burton; Wednesday, October 31, Nethersole Youth Centre; Wednesday, November 7, Winshill Youth Centre, Burton; November 10, The Barley Mo, Birmingham.
Tamworth Herald 19/10/84
Musicbox – Factory head off on the dream trail
First single on the way
TAMWORTH'S hardest working band the Dream Factory are all set to record their first ever single.
The band have landed a one-off deal with Burntwood-based northern soul label Inferno Records who are hoping the disc will be a springboard for the group to get a national record contract.
For the band, the single – which will actually be a multi-track E.P. – comes at the end of 18 months of solid
"WE know the record is not going make us and Inferno records any money but it is what it could lead to is what is important," said bassist Mark Mortimer.
The deal with Inferno records came about when label chief Neil Rushton, a northern soul fanatics, began to hear enthusiastic rumours about the band.
He then saw the band at the Powerhouse in Birmingham and was so impressed with them that he decided to give them the deal they have long deserved.
Tamworth Herald 23/11/84
Musicbox – Snips
Catch Dream Factory at Kingsbury WMC tonight at 8.30pm along with The Parade. News of The Factory's first single soon.
Tamworth Herald 30/11/84
Musicbox – Factory with a big heart
MUSICBOX would like to give the Dream Factory a pat on the back for a heartwarming gesture they made in last week's Kingsbury concert.
On the day of the gig, the Factory learned that one of their biggest fans – from Birmingham – had been killed in a motor accident and so they immediately arranged a collection.
During the course of the concert the band raised £30 which is going to buy a wreath for the boy's funeral. A nice gesture by the Factory and one that proves that young people aren't so hard as some people make out.
The gig, incidentally, was a complete success for the band who are now bristling with confidence with their debut single just a few weeks away from release.
Tamworth Herald 21/12/84
Musicbox – Big bands set for seasonal sound-off
MUSICBOX is having a seasonal break this week in preparation for a bumper full page special next week which will give you all the details of who has won what in out record breaking poll.
The polls have been piling in since Day One and we have now passed the magical figure of 500 votes – including those for 20 different local bands.
Everything will be revealed next week but in the meantime there are three good gigs to put I your diary over the Christmas period.
'Rock' ranks
Tonight (Friday), rock hits the Arts Centre in the shape of two of the areas biggest and boldest outfits – BHX and Scarab.
And then tomorrow, the outrageously wonderful Wolfsbane will join up with the equally wonderful One On One for a Christmas special that promises a lot. Wolfsbane who were delighted to be banned from The Railway tavern for being too outrageous – have promised their normal high spirits, and with One On One's consistent style, the Arts Centre looks like being packed to the rafters.
Better late…
And finally The Dream Factory will be playing a belated Christmas show on December 27 at Grendon Working Men's Club. The Factory are expecting hordes of people to turn up to a gig that will be the culmination of a year that the band are unlikely to forget.
It just remains for me to wish all Tamworth's musicians and music fans and MUSICBOX contributors a very happy Christmas packed full of your favourite Yuletide spirit.
SAM HOLLIDAY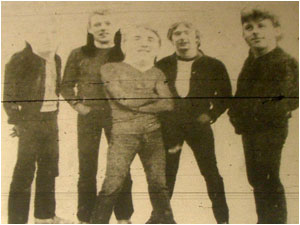 Tamworth Herald 28/12/84
Musicbox – Musicbox nets a Dream of a result in best poll ever
Factory romp home second year running
Top local bands
1. Dream Factory
2. Dickens
3. The Parade
4. A5
5. Freeway
6. Sacred Oath
7. Wolfsbane
8. BHX
9. Sitting Pretty
10. Classified Ads
11. Breaking Point
12. Love On Board
13. Dance Stance
14. One On One
15. Ideal Standard
16. Talk Back
17. The Elusive They
18. Chalky
19. The Black Market
20. Alien Emotions
THE DREAM FACTORY have done it again. Tamworth's busiest band of the year have proved for the second year running that they are also the town's most popular act. In a staggeringly successful poll (which closed with 590 votes counted), the Factory ran out as clear victors, taking more than 250 votes.
They never looked like being caught from the first day but the votes just kept rolling in as if there was a chance they may lose their treasured crown at Tamworth's most popular act.
Their obvious delight at winning the Best Band category will be heightened by their triumph with Top Local Song – "Wine and Roses".
The song due out as a single early next year, won comfortably despite a concerted challenge from "Hit and Run" by Dickens.
Elsewhere The Factory had four more of their tunes in the Top Local Songs.
The band will shortly pick up two winning trophies – donated by MUSICBOX – ut until then they have the satisfaction that their bandwagon just keeps in rolling.
Also with the right to feel satisfied is Mick Rutherford and his new band Dickens.
Their solitary gig at the Arts Centre inspired nearly 90 of you to make them your band of the year and also to put the band and Mick into the Top Singles, Top Album and Top Local Songs section.
If Dickens can have this effect after one gig, you can't help wondering what they will do after a string of them.
If the Dickens tally surprised some people, so will several other results.
Probably the one that will have people scratching their heads is the amazing success of Christain rock band Freeway – fifth Local Band, 18th in Top Albums and 13th and 15th in Top Local Songs.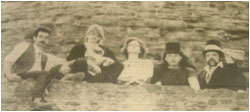 Sandwiched between Dickens and Freeway we find two young bands who have obviously built up loyal, cult followings. Both the Parade and A5 will undoubvtedly be delighted to see their hard work rewarded and both will be able to build on this support in '85.
The towns rock fans showed themselves to be really divided and the end results proved very, very close.
Sacred Oath now defunct in their original form, came sixth with 24 votes, Wolfsbane seventh with 23 and BHX eighth with 22. So Wolfsbane and BHX will not that just a couple of votes more would have given them Sacred Oath's new title – Tamworth's most popular rock band.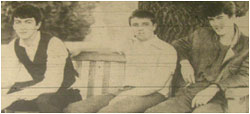 Elsewhere in the top Local band section, there were few surprises, although Sitting Pretty may well feel disappointed to have only scraped ninth in a year when they have made such a big impact.
A couple of new bands also made an impact including Lee Phipps and Martin Higgs' outfit The Black Market and a band called Alien Emotions of whom I know nothing.
Top Song By A Local Band
1. Wine and Roses – The Dream Factory
2. Hit and Run – Dickens
3. Fashion Toys The Dream Factory
4. Welcome to the Working Week – The Parade
5. Confused – Dickens
6. Love To You – A5
7. Gypsy Woman – BHX
8. Clutching at Straws – Wolfsbane
9. Game Of life – The Dream Factory
10. Protest – Sacred Oath
11. I Just Want to Tell You – The Dream Factory
12. Wonderful World of Sex – Classified Ads
13. Freeway – Freeway
14. Crucial Class – The Dream Factory
15. Wish you Could Be There – Freeway
16. She Called the Storm – A5
17. Take Me To You Leader – Sacred Oath
18. Going Over – Dickens
19. Sold My Soul – Wolfsbane
20. The Inspiration – Sitting Pretty