Ernie & Murph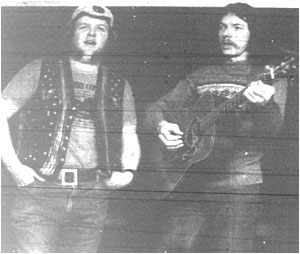 Ernie & Murph - 1979
Photograph courtesy: Tamworth Herald
Formed: 1978
Line-up:
Phil Nield – Vocals
Paul Hooke – Guitar, Mandolin, Banjo, Fiddle, Accordion
Tamworth Herald – 23/02/79
Introducing…Ernie and Murph as a folk duo
AFTER playing in bands on and off for the last 12 years musicmakers Phil Nield and Paul Hooke have decided to go it alone.
And now the pair have their own regular nightspot at "The Chalet" – part of The Belfry Hotel, Wishaw.
Known as Ernie and Murph – they're appearing every Tuesday evening.
Phil - he's the Ernie half of the folk duo is the singer and Paul also does vocals besides playing a variety of instruments including guitar, mandolin, banjo, fiddle and accordion.
"We do all sides of folk, but at The Chalet, we're concentrating on humourous and sing-along stuff," said Phil who lives at Wilnecote.
"We were booked for one night as part of a series of entertainment, then we were asked if we'd like to take over the resident spot."
"Up to a hundred come along and really seem to enjoy themselves," "We're having fun too and we're lucky to have a very good gaffer which counts for a lot."
Phil and Paul – he lives at Amington – have played in many bands together including the Gosselbury Firkin Band, Pig's Pudding and Rowton's Well.
At one time Phil sang with an old-time music hall group called the Empire … and Paul played with a traditional music group called Salmon Tail.
---
The full profile and history of Ernie & Murph has yet to be added to TamworthBands.com Call back soon to read the full band details.
If you have any further information about this band please email: info@tamworthbands.com