The Evan Lyric Sound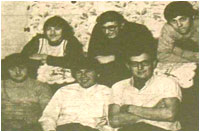 The Evan Lyric Sound

pictured (left to right): Ian Bibby (Sax); Ian Parsons (Drums); Graham Knight (Bass); Gerald Palmer (Lead Guitar); Geoff Barber (Lead Singer) and Bob Ball (Sax).
(Full-size picture)
Photograph courtesy Tamworth Herald
Line-up:
Geoff Barber (Lead Singer)
Graham Knight (Bass)
Gerald Palmer (Lead Guitar)
[formerly of Johnny Silver and the Cossacks]
Ian Parsons (Drums)
Bob Ball (Sax)
Ian Bibby (Sax)
Gigs:
01/03/68
The Evan Lyric
Polesworth Working Men's Club
05/04/68
The Evan Lyric
Kingsbury Working Mens Club
24/05/68
The Evan Lyric
Kingsbury Working Mens Club
27/09/68
The Evan Lyric Sound
Kingsbury Working Mens Club
04/10/68
The Evan Lyric Sound
Polesworth Working Men's Club
08/11/68
The Evan Lyric Sound
Amington Liberal Club
13/12/68
The Evan Lyric
Polesworth Working Men's Club
20/12/68
The Evan Lyric Sound
Kingsbury Working Mens Club
Tamworth Herald Feature
Tamworth Herald - 08/11/68
"The Evan Lyric Sound"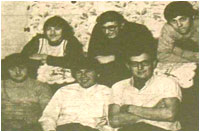 Rapidly notching up success after success are local group The Evan Lyric Sound.
The boys Ian Parsons, Graham Knight and lead singer Geoff Barber, from Tamworth, Ian Bibby, who comes from Grendon, and Gerald Palmer and Bob Ball, from Atherstone, have been securing much-sought-after bookings with named groups.
During the last month they have been billed with radio, TV and recording stars The Peddlers and the Chicken Shack and on December 12 will appear with Scott Walker, the American singing star now living in this country.
Earlier this month the group had to postpone a three-week tour of Germany due to heavy prior commitments and early next year are to audition for "Opportunity Knocks".
Pictured as they take a welcome break are (left to right): Ian Bibby (Sax); Ian Parsons (Drums); Graham Knight (Bass); Gerald Palmer (Lead Guitar); Geoff Barber (Lead Singer) and Bob Ball (Sax).

Memories
I was a member of the Evan Lyric, we had many a good night on the road and supported some great acts during 1968-69. I have lost touch with other band members and a couple of years ago while on holiday in England I heard that Ian Bibby a good friend for many years had died. I intended to get up to the Midlands and look up other band members but time ran out.
I would very much like to get in touch with Ian Parsons, Geoff Barber, Graham Knight and 'Jeg' Palmer. I still have a copy of demo disc we recorded for the purpose of obtaining gigs. Our manager George Parsons was always on the go securing great gigs including one with Joe Cocker in Wolverhampton Civic Hall. Great memories.
Bob Ball
Evan lyric and Convention
I played sax in the Evan Lyric band and after it disbanded I eventually joined Keith, Kevin and Mick together with Ian Bibby the other sax player from the Lyric, to form a band called the Keith Chetwynd Band. The lead Guitarist was Graham Johnson formerly of Atherstone. We practiced every Tuesday in a backroom of a pub in the market square in Atherstone I think it was called the Angel!
We had one memorable gig at Polesworth - News Years Eve I think it was. We supported one of Birmingham's top psychedelic bands of the time but they were stoned and people walked out until eventually we were left by ourselves, we talked about not playing but decided we would treat it as a practice session if nothing else.

About 10 minutes into the gig the hall was full and we played for 2 hours the crowd gave us a very enthusiastic reception. Shortly after that Graham left the band to take up classical guitar and that was that. I never saw any of the lads again I moved North to Yorkshire and Cumbria and then to Australia. We all felt that the Polesworth gig could have given us a lift into something big but it was a case of ships in the night.

One other point, the Evan lyric band appeared with other bands in a band competition at a pub in Tamworth in 1968, we came second the convention came first . We was cheated!
Bob Ball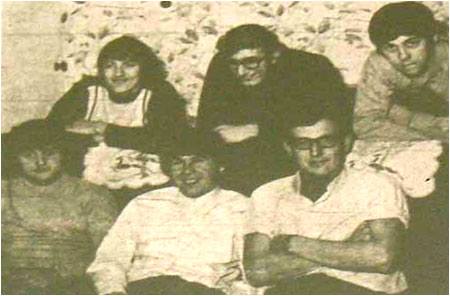 The Evan Lyric Sound pictured (left to right): Ian Bibby (Sax); Ian Parsons (Drums); Graham Knight (Bass); Gerald Palmer (Lead Guitar); Geoff Barber (Lead Singer) and Bob Ball (Sax).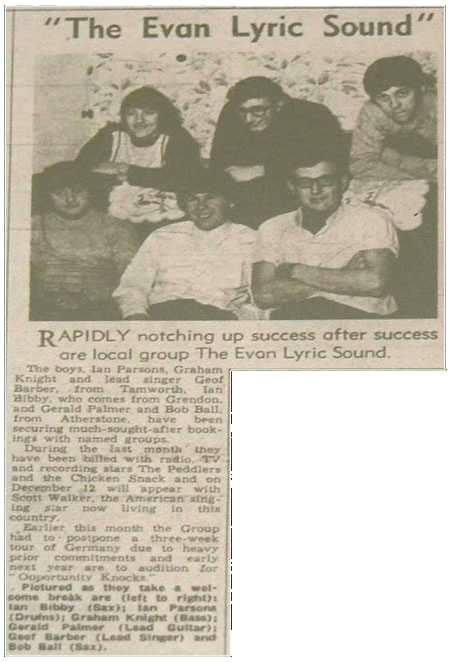 The Evan Lyric Sound
If you have any further information about this band please email: info@tamworthbands.com