Ferrari (Jaquie Graham and Ferrari)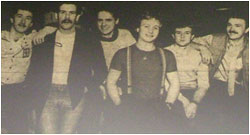 Ferrari
Photograph courtesy: Tamworth Herald

The Gallery
Musical Genre/Type: Funk
Formed: 1982
Band Members:
Dee - Keyboard and Vocals
Colin Edwards - Drums
Steve Whitehead - Keyboards
Dave - Guitar
Jaques - Guitar
Tony - Guitar
Gigs:
04/02/83
Ferrari
The Chequers
Tamworth Herald – 28/05/82
Musicbox

FUNK band Jaquie Graham and Ferrari came up with another knockout performance at The Chequers, Hopwas.
It was one of the best gigs in the area for a long time – despite a few technical problems early on in the show.
The band simply ooze style and professionalism – and seem genuinely to enjoy every minute of being on stage.
In Jaquie Graham they have a vocalist of the highest order – and her rangy singing voice is backed by some extremely tight playing from the four-man Ferrari.
Their repertoire ranges from no-holds-barred, get-up-and-dance funk to slow, wistful ballads.
Perhaps when they play again at The Chequers tonight there will be few more punters there to watch them.
Tamworth Herald – 04/02/83
Musicbox – Ferrari rev up with a new sound
FERRARI –Tamworth's top funk band - are back in town.
The six-piece band are back at the Chequers, Hopwas, tonight (Friday February 4) with a new line-up and a new sound.
The new line-up sees the addition of Colin Edwards on drums, Steve Whitehead on keyboards and Dee on keyboard and vocals, along with regulars Dave, Jaques and Tony on guitars.
Repertoire
The band have had time away from the Tamworth scene to pen a few new numbers and they have introduced a semi-rock sound to their funk repertoire.
Rated by Musicbox as one of the best bands around, we suggest you get along to the Chequers – we'll be there too.
Tamworth Herald – 11/02/83
Musicbox – Go funky with a new Ferrari
FRIDAY night at the Chequers looks like being a must for funk fans.
For new-look Ferrari have said they will make the place a regular venue after a well-attended opening gig at the weekend.
At least 60 people turned up to see the new-look band minus singer Jacqui Graham who has amicably departed to pastures new.
The band still produces a very tight rhythm section and can't be faulted.
Vocalist Dee showed he had a strong voice. But some of Ferrari's songs are geared to a female voice, especially the haunting, bluesy "Living In Memories".
Altogether an enjoyable evening and you could do worse than drag out 50p for tonight's gig.
---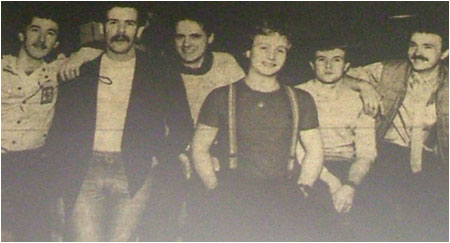 FERRARI –Tamworth's top funk band
If you have any further information about this band please email: info@tamworthbands.com