The Foundation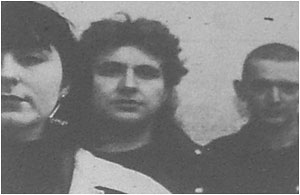 The Foundation
Photograph courtesy: Tamworth Herald
Musical Genre/Type: Punk
Formed: 1990 Split: 1991
Band Members:
Edward ian Armchair - Vocals
John Reeman - Guitar/Computers
Anice Byfield - Backing Vocals
Gigs:
16/12/90
The Foundation
Empire Falls
Tamworth Arts Centre
Tamworth Herald – 14/12/90
Musicbox – What a week!
Tamworth's music lovers are set for a real Christmas treat this week with no less than FOUR major concerts on offer.
Everyone from firm favourites like The Yogots and Rhythm Damage to the all-new Foundation and the revamped Scream Dream will be in action this week in easily the busiest week since the Festival.
In a nutshell here is what is happening, where and when…
SUNDAY NIGHT
Tamworth Arts Centre
The Foundation/Empire Falls plus Special Guests.
The Rathole
Scream Dream plus Guests
TUESDAY NIGHT
The Jolly Sailor
The Yogots/Crystal Injection/The Sherbert Trees/Fly on the Wall
THURSDAY NIGHT
The Rathole
Rhythm Damage/Catch 23/Emma Gibbs Loves Badges/Vindaloo Breakfast/Big Noise/Guilty Party/Sindy's Sonic Garden
Here in a bit more detail is what you can expect to see on the various nights, so take your pick of the shows on offer and get your dancing boots on.
Sunday – The Arts Centre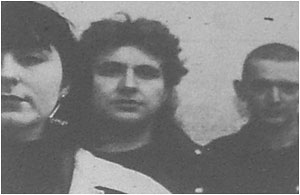 The Foundation/Empire Falls and guests.
A very major show this one because The Foundation are three-quarters of the classic 1989 DHSS line-up. Messrs. Edward ian Armchair, John Reeman and Anice McNamee have regrouped after several months apart and are now looking forward to taking the world on once again. Despite their much-publicised rift a few months ago the respect between the three has never diminished and according to John Reeman what they have now is something new, fresh and exciting.
"It will hardly be recognisable for DHSS fans because it is altogether a new sound with new ideas. We are very pleased with the sound and the songs and we are looking forward to the show."
Support will arrive from as yet unspecified special guests and the very specified Empire Falls who are hot news indeed. Powerful guitars. Stranglerish keyboards and a very attractive post-punk pop sound are on offer so get along and see for yourself. A good night indeed.
Tamworth Herald – 21/12/90
Musicbox – Impressive Foundations
Pondweed/Empire Falls/The Foundation
Tamworth Arts Centre
Pondweed
Pondweed are living proof that appearances can be deceptive. The reason I say that is that Pondweed look absolutely awful ( a bizarre mixture of boiler suits, beards, hippy garb and New Model Army t-shirts) but they manage to sound pretty good. They have two very impressive and intelligent vocalists, a stylish use of keyboards and samples and a couple of tunes that sat in the mind long after the band departed the stage. Despite the look (or maybe, perversely, because of it) they are immensely watchable and could I feel be quite a cult band in the next few months. Strange but strangely interesting.
Empire Falls
Devastating stuff! I was warned in advance by one or two people that I would like Empire Falls but they were wrong – I LOVED them! Blasting onstage with a ferocity and anger that has rarely been seen in these parts, the band went on to perform a blistering set of power-tunes which brought back happy memories of The Ruts, Killing Joke, The Clash and The Ramones. This was a vital, extraordinary power, unleashed and performed by three stylish looking hunks (my wife Carla was in a state of deep lust), who looked and sounded quite tremendous.
The Foundation
Wonderful! That is the only way to describe this excellent debut from The Foundation, a band who are living proof that in John 'Rocking' Reeman we have one of the finest songwriters this area has ever produced. For, in the past 12 months or so of stage-absence, our man Reeman has been producing some absolute gems to the extent that the Foundation's own crop of songs far outshine the two DHSS toons given a rehash on Sunday night There is still a lot of the old DHSS sensibilities in there of course, but John, Ed and Anice have injected the added ingredients of dance and pop so we now have a band that would be at home in any club you could wish to visit. At times the undisguised punk influence is supplemented by Pet Shop Boys relevance and as usual lyrics are every bit as interesting as the tunes in a way that so few local bands manage. Of the songs, I especially liked the dancey 'Paris', the charming 'Chime' and best of all the majestic 'Whispers' a song which is destined to be a minor/major classic in my books. It all finished in typical good-humoured fashion with a beaut of a track with the immortal hookline 'Never trust a hippy no-no, burn the hippy yeah-yeah' surely a new slogan for a new generation if ever I heard one.
SAM HOLLIDAY