Gargoyle Brothers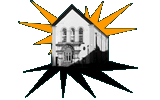 Musical Type/Genre: Alternative
Formed: 1985 Split: 1986

Band Members:
Mark Brindley: vocals
Andy Simmons (Andy Rex): guitar
John Bates (Johnny Splitz): keyboards
Richard Cuttler (Dick Cutter): bass
Pete Williams (Steve Zodiac): drums
Gigs:
Before playing their first gig in Tamworth at the Rathole the band played a number of gigs around Birmingham including a support slot at Dudley JBs and two rounds of a brum beat battle of the bands competition.

Memories:
The band started as a collaboration between The Elusive They's Richard Cuttler and Select Elect's Mark Brindley and John Bates. To move to a less electronic sound, Robin on guitar and Pete Williams on drums were added to make the band's first regular line-up.

Talented guitarist Andy Simmons joined the band after a lull in activity after Robin left. He brought with him a liking for Austin Cambridge cars, and the band's definitive guitar sound. It was this line-up that recorded the band's demos and gigged. An odd marketing strategy was employed by the band which changed the name of the band or appearing on stage under a different name. A name change to The Cheesy Helmets was made in Jan-Feb 1987 after drummer Pete Williams was dropped from the band.

Recordings:
Demos, which were produced in two batches, were recorded at the band's regular rehearsal room at the Recharge Studio in 1986 and mastered at a studio in Derby - these were later to surface as the W.I.N. demos in 1987. The first batch of songs were Gas Lamp, My Life, Rain, Society Stranger and Vertically Downwards, with the added audience of the band's girlfriends on Gas Lamp and Society Stranger. The second batch were the newer songs Changing My Mind, Disguises, Memories, Reason and Steamroller.