The Gospelaires
Musical Genre/Type: Gospel
Formed: 1961 Split: 1968
Band Members
Garry Muggleton - Lead Vocals/Bass Guitar (Nuneaton)
Terence (Teg) Muggleton - Lead Guitar/Backing Vocals (Nuneaton)
Clifford Thomas - Rhythm Guitar/Backing Vocals (Nuneaton)
Alan (Ginner) Price - Drums/Backing Vocals (Nuneaton)
Norman & Alan Bailey - Keyboards/Backing Vocals (Nuneaton)
Brass: Garry was on Flugel Horn & Euphonium. His brother Teg and Norman and Alan Bailey played the Cornet. Sometimes playing other brass instuments...they were all very talented musicians
Additional Info: Must not forget my dad Walter Muggleton who was our "road manager" and did all the odd jobs getting everything "up and running" for us.
Gigs
First Gig: Hurley Church - 4/2/66
Songs
Pointing (Garry Muggleton)
Along Lifes Way (Garry Muggleton)
The Boy of Christmas Day (Garry Muggleton)
Heavens Way (Norman Bailey)
There's Only One (Garry Muggleton)
Jesus was Born in Bethlehem (Colin Kemp)
You Should Know (Garry Muggleton & Sidney Powell)
No Time (Garry Muggleton)
Memories
Some great memories of happy times spreading the gospel of Jesus with this music. Allowing us to take his message in music and song to the young folk of the time.
Again some great memories spent in the Salvation Army Hall in Nuneaton on a Thursday Evening writting songs and putting words to them. Each one of us putting forward "his bit" then I would go home and put it all together.
I was the "young man" in the picture you have of the Gospelaires Rythm Group in the sixties. Many thanks for letting me see the group again. We have gone our separate ways, so to speak, but great to be able to show the younger end of the family what "Uncle Garry " did in his younger days.
Garry Muggleton
---
04/02/66 - Tamworth Herald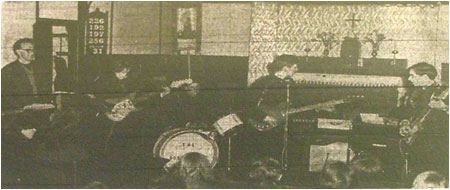 Packed Hurley Church for Youth Service
Hurley Church had one of its biggest ever attendances on Sunday night when over 100 people crowded into pews, the aisle and rear of the building to take part in a special youth service.
Clergyman the Reverend John Robinson, 31 year-old priest-in-charge of the Church of the Resurrection in the country to nature, took a seat with the congregation - and joined them in an "act of Christian worship in the modern idiom."
"I actively enjoy my Christianity. IOP will tonight. quotation marks said the 23 year-old bass guitarist and singer from the Gospelaires, the Nuneaton Salvation Army Group who were making only their second appearance at a church service.
Garry Muggleton, heading a team of five group members playing with their own equipment which cost £250, provided from their own pockets, ran through a programme of "hit numbers had the conversation before the introduction to the youth service which took the place until evensong.
Lessons and prayers were given and commentaries spoken by members of Hurley Youth Club and young people from the Church Companions Group.
In a welcome to the congregation Mr Robinson said the youth service was new to Hurley. The response to the service, he said, was such that it was well worth presenting again. And perhaps some young people in the village would be inspired to start a group on similar lines to the Gospelaires.
He said later there was about equal proportion of young people to adults in church, when the next service was organised it would be termed a "swinging service."
---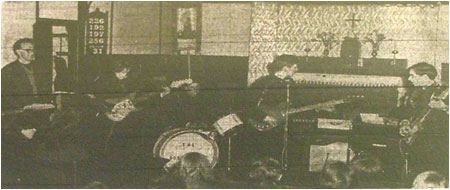 The Gospelaires
If you have any further information about this band please email: info@tamworthbands.com