The Birth of Tamworth Arts Centre
Tamworth Herald – 29/03/68
Assembly Rooms?: Arts Centre and Little Theatre for Tamworth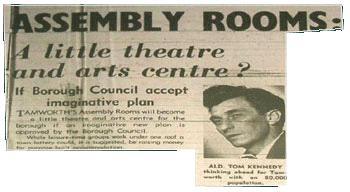 A little theatre and arts centre? If Borough Council accept imaginative plan
Tamworth's Assembly Rooms will become a little theatre and arts centre for the borough if an imaginative new plan is approved by the Borough Council.
While leisure-time groups work under one roof a tow lottery could, it is suggested, be raising money for purpose-built accommodation.
The plan has been drawn up by Alderman Tom Kennedy. He is the secretary of Tamworth Arts Advisory Council and chairman of the cultural activities group of the Borough Council.
Alderman Kennedy thinks that the chances of Tamworth ever having its promised civic centre "planned to include" a small theatre – are virtually nil.
T a meeting in the Corporation-owned Assembly Rooms on Wednesday night, a sub-committee was formed to meet the Council's policy-making Resources planning Committee and present a case for the use of the rooms as a little theatre and arts centre.
IN PRINCIPLE
The meeting was chaired by Mr. Ron Hanson chairman of the Arts Advisory Council which has already given its agreement in principle to the proposal.
Cultural groups invited to the meeting had been told by Alderman Kennedy that there had to be a rational and well-presented case if operations were to begin this autumn.
"The sub-committee will be called to a meeting of the Resources Planning Committee very shortly" he told a "Herald" reported.
Councillor Eric Johnson chairman of the Council's Civic Enterprises Committee and Councillor Ben Nadin, chairman of the Leisure Activities Committee and Advisory Council representatives were also present at Monday's meeting.
"I have already written to Councillor Johnson asking if his committee could discuss the provision of suitable premises for a little theatre and arts centre for Tamworth and district." Alderman Kennedy explained.
He told Councillor Johnson there appeared to be general agreement that Wigginton Lodge was unsuitable as an arts centre and civic theatre. It would cost several thousand pounds to put to a state of repair.
If the Corporation decides to keep the Assembly Rooms open, will have to reconcile itself to a continuing and probably increasing deficit.
"If on the other hand, it is decided to allow the various cultural groups a limited use of the premises, this would bring in an additional small but regular sum and cater for leisure-time activities in an expanding borough – as is becoming more and more the duty of local authorities.
The building could the take on a new lease of life with financial and social advantage to all concerned.
He went on to say that in the last two years the Borough Council, through the Arts Advisory Council had been responsible for a transformation in the cultural life of the town and district.
The district was now only lacking a civic centre and arts centres.
Many communities had arts centres and in all cases the local authorities concerned helped in the running and maintenance.
---
Tamworth Herald – 19/04/68

---
Tamworth Herald – 11/07/69
TOWN TO HAVE AN ARTS CENTRE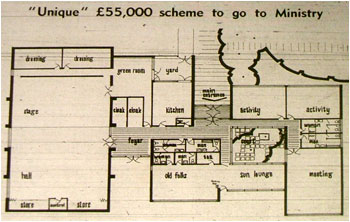 An Arts Centre for Tamworth will be provided in a "unique" scheme for a Central ward community centre.
Old people will also have their own facilities in the £55,000 centre, to be built on the Riverside off Lichfield Street.
---
Tamworth Herald - 09/01/70
Tom Kennedy resigns his post as Chairman of the Leisure Activities Committee
---
Tamworth Herald - 20/03/70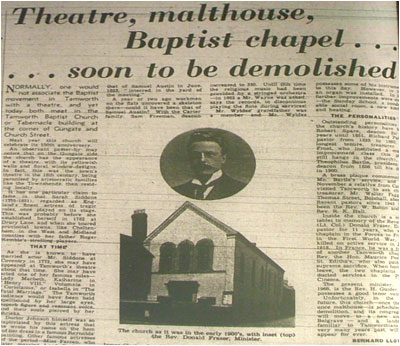 Theatre, malthouse, Baptist chapel…soon to be demolished
---
Tamworth Herald - 05/06/70
Plans needs for an Arts HQ in growing Tamworth