Tamworth Arts Centre : History

1972 - A suitable building is chosen
Tamworth Herald – 22/09/72
NEW MOVES ON TAMWORTH ARTS CENTRE PLAN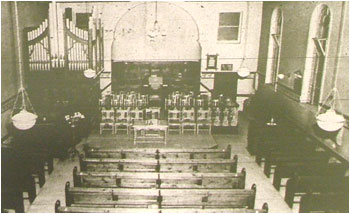 Architects are taking a close look at Tamworth's Baptist Chapel – earmarked as an "ideal location" for a town arts centre.
The Lower Gungate chapel – once used as a theatre – will become empty when the new Baptist Chapel at Belgrave is completed next year.
The arts centre idea was first put forward by the borough's arts advisory council more than a year ago.
Architects who have been preparing reports for some months, have been viewing the building again to assess its suitability as a home for local arts groups and to estimate the costs of alterations.
A Borough Council spokesman, said: "The architects report will be considered by the Leisure Activities Committee in the near future."
Councillor Bill Holloway, a member of the committee, said: "The project is still very much in the planning stage, but it is very likely that it will go through.
"The chapel would be ideal for amateur drama purposes and for other arts activities.
"The main hall should hold about 150 people, and the basement area could be use for rehearsals and other purposes."
A sub-committee of the arts advisory council was set up to discuss the possibilities.
Mr. Dan Gronow, the advisory council's secretary, said: "We have given the idea a great deal of thought, and feel the building is an ideal location for the various arts bodies in the town."
Among the arts bodies taking a keen interest in the project is Tamworth's Little Theatre company.
Its chairman, Mr. Dennis Taylor, feels that the building would compare well with small theatres such as Highbury, Sutton Coldfield and Burton-on-Trent Little Theatre.
"My view is that there will be no need for any major structural alterations and the acoustics are already good", Mr. Taylor said.
The chapel was built as a town theatre more than 200 years ago. It was later used as a malt house before Sir Robert Peel loaned it to the Baptist Church. He later sold the building to the Church in 1872.
How the scheme would be financed has not yet been decided, but it is thought that the money needed for converting and equipping the chapel could be raised by a joint appeal by Tamworth arts groups, helped by advisory council and Borough Council grants if councillors favour the idea.