Tamworth Arts Centre : History
Tamworth Herald – 30/01/76
Letters Page
Dear Sir,
I note from the letter by the organisers of the Friends of the Earth Society exhibition That Mr. Hillier-Fry thanks the Council for allowing him free use of the facilities and "hopes other organisations will also be so fortunate".
I regret to inform Mr. Hillier-Fry that his hopes have no basis in fact. All other organisations currently using the Centre are paying the full charges laid down by the Council. Tamworth Arts Advisory Council currently pay £900 per year for priority use of the Centre on Mondays, Tuesdays and Wednesdays. This use is, however, limited to rehearsal and meetings, and is subject to the manager's future plans and promotions. If the Centre is used for public performances etc, additional charges are applied to the user group making the bookings. In consequence, Tamworth Little Theatre anticipate charges of some £70 or so for the use of the Centre in last week's show "Musical Memories".
Whilst no one objects to the imposition of reasonable hire charges for the use of public facilities. I find the application of dual standards in deciding who to charge, most disturbing. If the inability to pay relevant hire charges (in this case some £31.50) is deemed to be the criterion when establishing those charges, it will obviously benefit all user groups to abandon membership fees; forget fund raising; and to not charge members of the public for admission to performances.
Alternatively, is some form of censorship at work, deciding which groups will pay and which won't? If so, what is the basis of the censorship in relation to public performances / presentations? Is it social acceptability, artistic merit or cultural merit? Or, in the final analysis, is the object to utilise the facilities at any cost (or rather no cost)?
What I do know is that it seems grossly unfair for the Council to insist that groups providing public entertainment pay the going rate and at the same time waiving the charges when it suits officialdom. Perhaps someone can explain.
T.D. Taylor Chairman, Tamworth Little Theatre
---

Tamworth Herald – 13/02/76
Seven Days - Full time view of a 'disappearing world'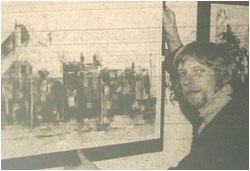 Derelict houses, run-down industrial areas and pigeon pens in back gardens might seem strange subjects for paintings.
Except for one Tamworth artist whose output is almost entirely devoted to capturing such scenes on canvas.
He is Phil Tunstall, a 31-year-old university graduate whose work is currently on show at Tamworth Arts Centre.
Phil's paintings are basically abstract, a style which seems to blend with his choice of subject matter.
His current exhibition features 52 paintings, some of which he has already sold to local buyers.
---

Tamworth Herald – 02/04/76
Possibility of bar at Arts Centre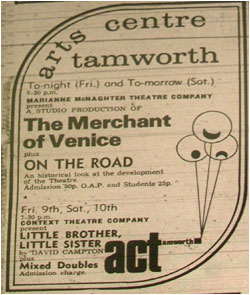 Daytime activities for the unemployed, the elderly and young wives and mothers may soon be organised at Tamworth Arts Centre.
And plans to improve facilities at the centre – opened last November – include a bar, formation of an arts centre club and regular programmes of entertainment on four, instead of two days every week.
The proposals are outlined in a Borough Council report, which states that about 900 people use the centre every week, with a further 450 taking advantage of the coffee bar on the premises.
Mr. Brian Moors, Borough Recreation and Amenities Officer, explained that the format of projects that may be organised during the daytime had not yet been determined.
"We feel we have a duty to provide some amenities for groups such as the unemployed and young mothers, especially as we have not yet built up daytime use of the centre," he said.
"We have until now concentrated mainly on evening entertainment and intend to consider more fully the uses the centre could be put to at other times."
LICENSED BAR
Members of the council's Leisure Activities Committee were due to consider at their meeting last night the provision of a licensed bar at the centre.
Costs put forward in the report for three different schemes ranged from £300 to £1,000, although the more expensive schemes would be expected to attract a brewery grant.
The report adds that "the Saturday Club for youngsters is now proving so popular that a "young people's theatre" might develop from it and that it was hoped a folk club and film club could soon start meeting at the centre.
---
Tamworth Herald – 09/04/76


Drinks at Arts Centre
Audiences at Tamworth Arts Centre will in future be able to enjoy a drink after stage shows.
But it could be some time before a fully-equipped bar is provided.
Members of the Borough Council's Leisure Activities Committee agreed at their Thursday meeting that drinks should be available to audiences at theatrical productions in the Church Street centre.
Mr. Arthur Harrison, deputy town clerk, pointed out that the theatre licence already in operation covered the sale of drinks and that stocks could be obtained from the supply at the municipal golf club.
Members also agreed in principle that eventually a fully-stocked bar should be provided but accepted that costs would delay the scheme for some time.
---

Tamworth herald – 23/04/76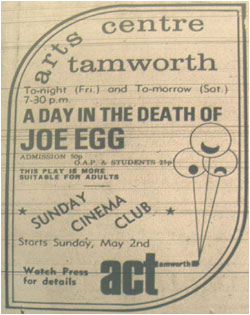 Day in the Death of Joe Egg
Tamworth's newly formed theatre company launched it's first full length production last night (Thursday).
The production, Peter Nicols controversial play: "A Day in the Death of Joe Egg", is being staged over three nights.
The play illustrates the problems facing the young parents of a spastic child and examines their ability and inability to cope with the situation. The actors are Dave Armour and Pauleen Carroll as the Parents. 11 year-old Alison Iremonger, as the child Josephine, Karl Einan and Mary Shaw as…and Marion Stonier as the grandmother.

Tamworth Herald – 14/05/76
Seven Days - Art on Loan – to the Artist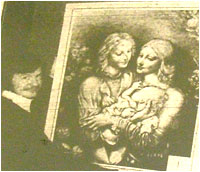 John Priest started painting fiver years ago for the American "culture vultures" at Eastbourne. He went to the south coast resort to sell his work to the American tourists at £25 a time.
John is now showing his work in a small 12-picture exhibition at the Tamworth Arts Centre and his paintings now sell for between £50 and £60.

Tamworth Herald – 11/06/76
Art and the aquarists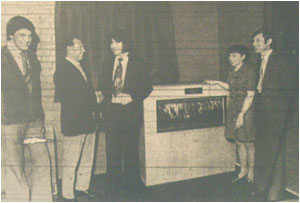 Tamworth and District Aquarist Society members will leave behind a permanent reminder of their hobby after their annual show at the town's Arts Centre tomorrow (Saturday).
For the society, staging its public exhibition at the centre for the first time, has built a tropical aquarium into a corner of the café and stocked it with 25 fish.
The society's chairman, Mr. Albert Mason is pictured (second left) handing over the gift to arts centre manager Mr. Dave Armour.
Also present were (left to right) Mr. Greg Clarke, show secretary Mrs. Margaret Clarke, secretary and Mr. Gerred Whitehead, bulletin editor.
Mrs. Clarke explains that members of the society thought a fully stocked tank would be a most appropriate gift for the centre and would provide a focal point for visitors.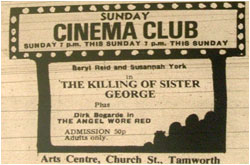 11/06/76
Sunday Cinema Club, Tamworth Arts Centre
Killing of Sister George
13/06/76
Tamworth Arts Centre Sunday Cinema Club
Don't Look Now
20/06/76
Sunday Cinema Club, Tamworth Arts Centre
Straw Dogs
16/07/76
Tamworth Arts Centre, Sunday Cinema Club
The Chase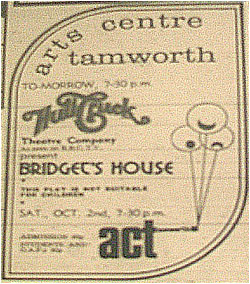 23/07/76
Tamworth Arts Centre, Sunday Cinema Club
Soldier Blue
30/07/76
Tamworth Arts Centre, Sunday Cinema Club
Bullett
08/10/76
Tamworth Arts Centre, Sunday Cinema Club
That'll Be The Day/Stardust
---
Tamworth Herald – 15/10/76
Record attendances at Arts Centre
Record attendance figures are illustrating the success of Tamworth Arts Centre as it nears the end of its first year.
During the seven days up to Monday, a total of 1,500 people went into the Church Street centre for meetings, rehearsals, amateur theatre and film performances and the children's Saturday Club art and crafts workshops.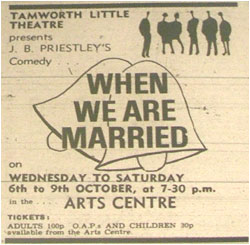 Manager Mr. Dave Armour said: "This is nearly three per cent of the town's population – compared with the national average of two per cent for audiences at arts centres.
"Over the last few weeks our figures have gone sky-high, indicating the way in which the centre has broken through and is making its way."
Mr. Armour said that Tamworth Little Theatre's production of "When We Are Married" had alone attracted 350 people over four nights – three of them full houses.
And nearly 100 had attended the first night of the new season of Sunday Cinema.

22/10/76
Tamworth Arts Centre, Sunday Cinema Club
Cabaret
Tamworth Herald – 29/10/76
Youth Theatre Venture
---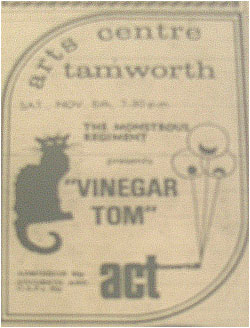 Tamworth Herald – 05/11/76
Sweet music from 'Cat on the Fiddle'
Tamworth Arts Club drama group and their 'Cat on the Fiddle' made sweet music together at the weekend.
The comedy – which contained all the basic elements of a good farce – delighted a packed house at the town's Arts Centre on Saturday night.
'Cat on the Fiddle" was predictably corny…and good fun.
Producer Peggy Brotherhood can feel well satisfied with the farce, which succeeded in attracting two full-houses for two of the three showings.
05/11/76
Tamworth Arts Centre, Sunday Cinema Club
The French Connection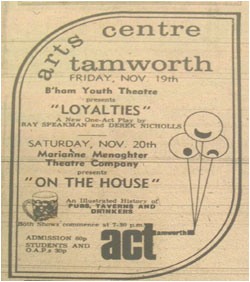 12/11/76
Tamworth Arts Centre, Sunday Cinema Club
The Scars of Dracula
---
Tamworth Herald – 19/11/76
After 12 months operation - A look at the progress of the Arts Centre
One of Tamworth's biggest entertainment successes – both on and off the stage – celebrates its first anniversary this week.
It was just a year ago when the town arts centre opened to a first-night audience of civic heads and special guests.
And since that time its programme of exhibitions, theatre, music, films and a variety of children's activities have made the building a big hit with the public.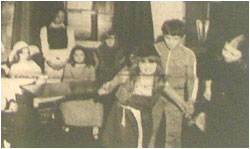 Since the curtain went up on the arts centre, which is housed in the old Baptists Church and cost £67,000 it has not only provided good entertainment, but also established valuable links with the community.
During the first 12 months of its working life the building, with its 100-seat auditorium and three multi-purpose rooms, has gone a long way to achieving its aim of making the arts available to a wide range of people.
MANAGER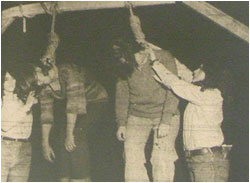 Arts centre manager, Mr. Dave Armour, says Tamworth people have become more aware of the building and are interested in what it has to offer.
"I think the public were a little confused and did not know what to make of the place to begin with." He explains.
"But now they are making better use of the facilities, they have a chat and a drink in the coffee bar and many parents have got to know the centre by bringing their children to craft and drama workshops.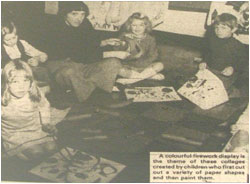 "We have managed to attract a number of professional theatre companies as well as catering for the local amateur drama and opera groups.
"I'm so pleased to say we have professional people such as artists and folk singers, who regularly come in," adds Mr. Armour.
FACILITIES
The centre has an estimated 1,200 using its facilities – some for rehearsals and workshops, others for a cup of coffee and a bit to eat.
We are getting average audiences of 50 per cent capacity and all the signs are that these will increase.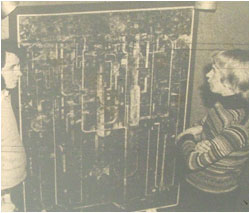 "In recent weeks we have staged three sell-out performances with local groups and membership to our film club is expanding."
But in spite of having numerous groups and art activities, Mr. Armour stresses the continuing need for new people with new ideas and new projects to pursue.
HELPER
His wife Pauline, is an enthusiastic helper who has set up the Saturday Club for children aged from six to 14 who can take part in improvised drama or craft and art work.
The club has a regular attendance of about 35 youngsters and a team of volunteers, including two teachers, keep them occupied.
An extension of the Saturday Club, but for elder teenagers takes place on Saturday mornings.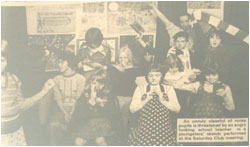 Youth theatres and music workshops are also proving to be popular events in the weekly calendar.
The arts centre also has its own drama group with the husband and wife team of Mr. And Mrs. Armour forming a small company with a few volunteers.
They are currently rehearsing "The Fall of the House of Usher" by Edgar Allan Poe, which they hope to stage in December.
PROFESSIONAL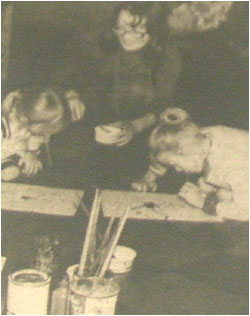 One area of the centre's activity which could do with a boost is the support given to professional touring theatre groups.
One or two shows had to be cancelled early in the season because only five or six people turned up.
"We are trying to establish a closer liaison with the West Midlands Arts Association who can strengthen our links with other arts centres in the Midlands, says Mr. Armour.
"The advantage of this is that we can build up a touring circuit in the West Midlands for professional groups and we will be part of it."
The Association already supports the centre by sponsoring many of the professional performances.
Despites its diverse range of interesting activities, Mr. Armour thinks not enough use is made of the Arts Centre during week days.
"I would like to see more being done for the elderly, perhaps an old age pensioners film club might prove popular.
"Also I would like to do something to occupy the time of unemployed school leavers. But whatever happens the schemes must be viable propositions.
"We have a lot going on at the arts centre, but we are always looking to the future and hope to build on the firm foundations laid over this past year."
26/11/76
Tamworth Arts Centre, Sunday Cinema Club
The Gambler
---

Tamworth Herald – 26/11/76
Arts Centre Meals Plans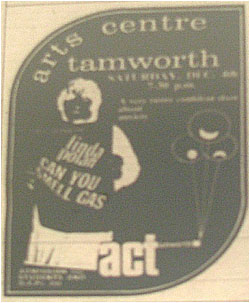 Tamworth councillors are pressing for £380 conversions in the town's Arts Centre so that cooked meals can be provided without breaking food hygiene regulations.
Members of the Leisure Activities Committee heard that cooked food had been served in the coffee bar, although it was only intended for snacks.
Tamworth's Recreation and Amenities Officer, Mr. Brian Moore, said the main advantage of the coffee bar was that it attracted people into the Arts Centre.
"There has been a big increase in the number of people using the Arts Centre and the coffee bar this autumn," he said "The bar is a soft-sell that draws into the centre."
The committee heard that catering would have to stop unless improvements were carried out.
Councillor Graham Talbot said that removing the eating facilities would be a retrograde step.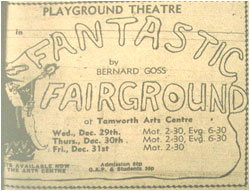 "Once people are in there they can see what a good place it is and what's on." he explained.
The committee was told that added ventilation and a sink were needed to bring the centre into line with the food hygiene regulations.
03/12/76
Tamworth Arts Centre, Sunday Cinema Club
China Town
10/12/76
Tamworth Arts Centre, Sunday Cinema Club
The Mean Machine
11/12/76
Folk Centre
Andy Dwyer
Tamworth Arts Centre
---
Tamworth Herald – 17/12/76


CIVIC DISCORD AFTER ARTS CENTRE WEDDING RECEPTION
Civic discord was the price of wedding day happiness for Tamworth Arts Centre manager Dave Armour and his bride.
For their reception took place in the Corporation owned centre – to the displeasure of two of the Borough Council's chief officers.
Town Clerk Mr. Brian Leake and Borough Treasurer Mr. Peter Clarke didn't like the idea. But Mr. Armour's boss, Borough Recreation and Amenities Officer Mr. Brian Moore disagreed.
And Councillor Ron Cook chairman of the Leisure Activities Committee went against two top-level recommendations and decided that 30-year-old Mr. Armour could hire part of the town centre building for the reception.
DEFENDED
This week, Councillor Cook defended his action in approving the application only 11 days before the wedding.
He said "The Town Clerk's department was of the opinion that the centre should not be used for something that was not compatible with the promotion of the arts.
"My view was that as the building was not booked for anything else, and Mr. Armour had tried to hire other venues, without success, there was nothing to be gained by refusing the request."
PRICE
"It was very unlikely it would have been booked for anything else at that late stage."
Councillor Cook said: "Mr. Armour had been charged at a higher rate than would have been paid for an arts function.
"In these very difficult financial times it would be unwise for the council to turn up its nose at any extra income." He commented.
"If there are any similar applications for the use of the centre, they will receive the same consideration. But arts-orientated activities must always come first."
Mr. Armour said: "The application was put to the chairman by Mr. Moore because he felt I should not be seen to be getting preferential treatment."
He said he would not like to see the centre being used regularly for wedding receptions and for parties not connected with arts groups.
But, in this case a show which was to have bee held in the centre on the day of the wedding had been cancelled a month before, and most of the 80 guests at the reception were people who used the centre.
Mr. Armour added: "If there is a particularly deserving case in future, where people had definitely tried to find other accommodation, I would tend to think there should be no objection."
21/12/76
Tamworth Arts Centre, Sunday Cinema Club
Serpico