Tamworth Arts Centre : History
Tamworth Herald – 04/02/77
Excellent support for Arts Centre play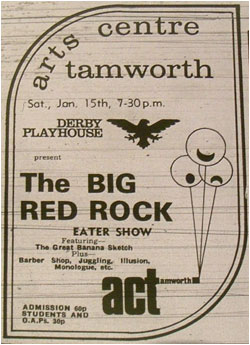 A comedy play described in the national press as "three times sexier than 'Oh Calcutta', was enjoyed by a near capacity audience at Tamworth Arts Centre on Saturday.
The production performed by award-winning theatre group "Shared Experience", displayed no nudity, but an abundance of bawdy and entertaining humour.
A cast of only five used no props or even a set scene, but they launched the hilarious plot, based on the Arabian Nights, at breakneck speed.
Entitled "The Rogueries of Dalilah the Wily", the play was stylishly performed with each player taking at least two parts.
"Shared Experience" performed at the Arts Centre under the auspices of West Midlands Arts drama touring project.
BEST YET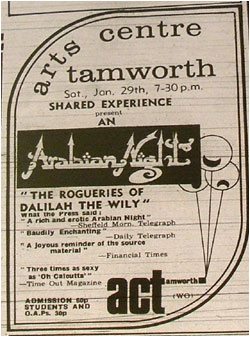 Arts Centre Manager Mr. Dave Armour, said the large audience was the best yet for a touring theatre which had visited the town.
"The turn-out was particularly good and it is very encouraging," he said.
"I hope we get the same enthusiastic response to the next theatre group to visit the centre. They are called '7.84' and will be performing on March 5".
Tamworth Herald – 11/02/77
Group to help Arts Centre
A newly-formed voluntary group boasting 40 members is aiming to help Tamworth Arts Centre – and that's FACT.
Friends of the Arts Centre Tamworth is the organisation which hopes to raise £500 to help the building overcome its financial difficulties.
The initial project is to get the snack bar back in operation and after that to help promote the centre's various activities.
A folk concert is the first major fund-raising event and is to be staged on February 24.
Organisers are also holding a second-hand book stall at Tamworth market on Saturday to kick-off the Arts Centre fund.
Other events include a paper collection, lectures and a social evening.
The centre, which is run by the Borough Council, was opened over a year ago and is managed by Mr. Dave Armour.
Spending cuts limited the council's budget and not enough money could be found to bring the centre snack bar up to required health standards and it had to close.
"It is very encouraging that so many people have shown an interest in helping the Arts Centre on a voluntary basis," said Mr. Armour.
Tamworth Herald – 11/02/77
Palace Booms – Film Club fades away
While Tamworth's new £160,000 Palace Cinema is proving a sell-out success, a nearby film club has flopped.
And the failure now means that Tamworth Arts Centre manager Mr. Dave Armour faces a share of a £60 bill.
The film club, held in the centre every Sunday night, provided top flight off-circuit productions for cinemagoers.
Former big screen hits such as "Straw Dogs", "Soldier Blue", "The French Connection" and "Chinatown" have been shown.
But public apathy had always threatened the club and average audiences of well below 30 doomed the venture to a limited run, said Mr. Armour.
"I and a small committee started the club but the cost of hiring films and the Arts Centre has outweighed the amount we get from people coming to the club," he said.
WORSE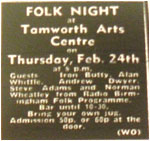 "It was my decision to close down because it looked as though things could only get worse and at the moment I and the commit are £60 in the red.
"The average weekly attendance was less that 30 and we needed at least double that number to break even.
"I am extremely disappointed at the lack of support because our programme of films, both past and forthcoming, is very good."
"Our aim in starting the club was to provide a chance for people to see cinema classics and re-screen films that had been big box-office draws," added Mr. Armour.
The club, which has 32 paid-up members on its books, started a year ago, and the opening night audience was of more than 100.
ONLY SIX
But after a good start the numbers fell and only six people turned up on one occasion. The curtain finally fell last Sunday after the hilarious "Steelyard Blues", starring Jane Fonda, had been screened.
"The facts that the Palace is doing so well has left us in a bit of a quandary really because it's obvious people in the town want to see good films" said Mr. Armour.
Tamworth Herald – 25/02/77

A political play about London's East End will be staged at Tamworth Arts Centre on Saturday week.
"Wreckers" was written by David Edgar, one of the most experienced writers of political plays in Britain today.
The 7:84 Theatre Company, who are presenting the play, work in a section of the Labour movement. They provide a wide variation of music, comedy and action.
The production concerns the imprisonment of five dockers for offending against the Industrial Relations Act and looks at the way in which a group of Left Wing activists "take over" a constituency Labour Party in an attempt to oust their M.P.
Tamworth Herald – 04/03/77
Musicbox - Folk success may lead to new club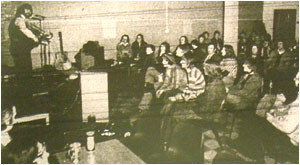 A folk music night at Tamworth Arts Centre proved so successful that a town club might be formed.
This was the encouraging news for Tamworth's folk enthusiasts from Arts Centre manager Dave Armour.
He said the concert was a great success attracting more than 80 people and raising about £150.
The musical evening, which featured folk groups and solo performers, was the first event to be organised by Friends of the arts Centre, Tamworth (FACT).
The newly-formed group hopes to raise £500 to help the Arts Centre overcome its financial problems.
"We were very pleased with the turn-out and if we could get this much support every time then a town folk club could flourish," said Mr. Armour.
"There was a great informal atmosphere with the audience singing along with performers.
"We had good entertainment from Andy Dwyer, Norman Wheatley, Alan Whittle and 'Iron Putty' (sic.)," he added.
Now FACT hopes to stage another concert in a month with a view to making the Arts Centre the headquarters of a Tamworth Folk Club.
05/03/77
Wreckers 7:84
Tamworth Arts Centre
Tamworth Herald – 11/03/77
Capacity houses for 7:84 theatre group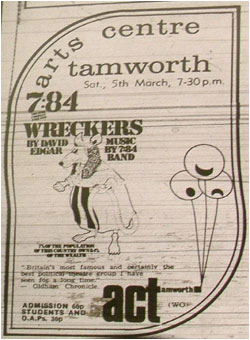 For the first time in months Tamworth Arts Centre had to display the "house full" sign during a theatrical performance.
And Arts Centre manager Mr. Dave Armour even had to turn people away as a capacity crowd of nearly 100 filled the auditorium for a performance of "The Wreckers" by the 7:84 theatre group.
The situation represented a major turn-about in events for the Arts Centre which often attracts no more than a handful of people to plays.
An optimistic Mr. Armour said it was very gratifying to see a big audience for a change.
"I think we drew the crowds because 7:84 are renowned as one of the top touring theatre companies in the company," he said.
"I hope this is a sign of better things to come because if we can continue to get this amount of interest it will be a major step forward for the Arts in Tamworth."
The next touring company to visit the Arts Centre sponsored by the West Midlands Arts Association is another top group called "Belts and Braces."
The company appears at the Arts Centre on Saturday (tomorrow) to perform "The Mother", an adaptation of the novel by Gorky which traces events leading up to the Russian Revolution of 1917.
Tamworth Herald – 18/03/77
Praise for new arts organisation
A recently formed Tamworth arts organisation is proving a "great asset" to the town, according to the borough's new Mayor elect.
Councillor Ron Cook, who was elected as the town's next civic head at a borough council meeting on Tuesday, said he was very impressed with Friends of the Arts Centre, Tamworth (FACT).
The group was formed less than two months ago and comprises of volunteers dedicated to helping the arts centre overcome it's financial difficulties.
Councillor Cook, who is also chairman of the council's Leisure Activities Committee, said the group had got off to an excellent start.
"They are doing a lot to promote the arts in Tamworth and it is encouraging to see such concerted voluntary effort.
"I think they are doing a worthwhile job and I am confident they will be a great asset to both the arts centre and the town."
THEATRE BAR
Already the organisation has raised about £180 for one of its main objectives – to get a theatre bar in the arts centre.
FACT secretary, Mrs. Lorna Farrington, said the group, which began with 40 members, was going from strength to strength.
"I am sure more and more people both young and old alike are using the arts centre facilities since FACT was formed," she said.
"We have arranged several fund-raising activities such as a Victorian style evening and a war games demonstration to be held in the arts centre next month."
Tamworth Herald – 01/04/77
Friends of Tamworth Arts Centre
The newly-formed Friends of the Arts Centre Tamworth (FACT) held its first annual general Meeting at the week-end.
Members discussed new fund-raising ideas and they hope to organise a FACT float to take part in Tamworth's summer carnival.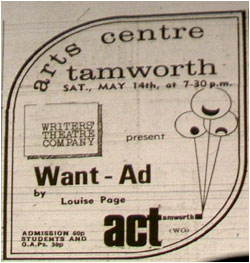 Committee members have also met borough councillors to explain the aims and objectives of the group.
FACT's main goal is to improve arts centre facilities and promote the building's use by attracting more of the public.
More discussions are to take place between the group and councillors at a meeting of Tamworth's Arts Advisory Council.
Tamworth Herald – 15/04/77
Arts Centre – Saturday Club volunteers sought
16/05/77
MOTOCAR
A play about Rhodesia by David Pownall
Tamworth Arts Centre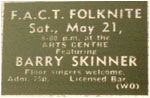 21/05/77
FACT Folk Nite
Barry Skinner
Tamworth Herald – 03/06/77
Musicbox - Jazz-Rock Tonight
Tamworth Arts Centre is the venue tonight (Friday) for a performance by the distinguished jazz-rock band REDBRASS.
Launched in the Autumn of 1975 by the Belt and Braces Roadshow Company, Redbrass has continued working and touring as an independent musical group.
The distinctive Redbrass sound comes from a jazz-flavoured horn section, a rock-rhythm section and imaginative modern vocal arrangements.
Instrumentally, the band is exceptionally versatile with a repertoire that finds room for Latin percussion, rock instrumentals and unaccompanied harmony singing.
Other off-beat instruments used in their shows include the glockenspiel, tubular bells, timbales and spoons.
Redbrass has played all over Great Britain from Edinburgh to London.
In a critical piece on the band the musical press said of them: "What a pleasure it is to come across a jazz ensemble that is original with ten extremely accomplished members…"
Tamworth Herald – 10/06/77
Theatre bar at Arts Centre
Tamworth's Art Centre organisers are all set to go ahead with their scheme to erect a theatre bar.
The M&B Brewery have already agreed to grant half the estimated £1,000 cost of the scheme and donations to cover the remainder have been offered by FACT – Friends of Arts Centre, Tamworth – and the town's Arts Advisory Council.
The bar would be operated on evenings when performances are held and would be run by members of FACT.
Members of the Borough Council's leisure activities committee were last night being asked to give the final go-ahead to the project.
Tamworth Herald – 10/06/77
"Vulgarities Success"
Victorian Vulgarities staged by FACT at Tamworth Arts Centre
15/06/77

Tamworth Herald – 17/06/77
Centre bar will be a FACT
Tamworth Arts Centre organisers have been given the go-ahead for their scheme to provide a theatre bar.
Members of the Borough Council's Leisure Activities Committee have given their seal of approval to the £1,000 project.
The M&B Brewery have already agreed to give a grant covering half the cost. FACT – Friends of Arts Centre, Tamworth – and the town's Arts Advisory Council are to pay for the remainder.
The bar, to be run by members of FACT, will be operated on evenings of performances.
Tamworth Herald - 30/09/77
Arts Protest
The controversial Tamworth and District Plan consultation papers have stirred up a "Six line" protest from the world of the arts.
Tamworth Arts Advisory Council are complaining that the arts are only given six lines throughout the nine-section consultation papers.
They have written to Staffordshore County Council over what they consider "Perfunctory" treatment of the cultural life of the town.
Mr. Dan Gronow, secretary of the Council, said: "The people who drew up these papers did not even think the arts were worth including as one of the topics for discussion.
"We have written to the county council telling them it is deplorable that the arts is hardly mentioned throughout," he said.
"There is nowhere at all to hold a big concert here. Say for example we wanted to have a big group like Led Zeppelin, there isn't a place to hold it. This sort of thing is important to local people."
Tamworth Herald – 07/10/77
Musicbox - Chance for local rock bands by Peter Brown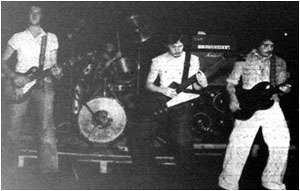 A major breakthrough for Tamworth rock bands was announced this week.
Dave Armour, manager of the town's Arts Centre, has given the go-ahead for concerts in the Church Street building providing the demand is there.
It is a move that could solve one of the biggest headaches for rock bands.
Most of the previous local venues for concerts have been at working men's clubs and youth centres.
And in all fairness, a mixed club crowd does not give the best reception to a rock band – which is, after all, playing specialist music.
But crowds at the Arts Centre will be paying specifically to hear rock. There's a difference.
The new rock platform for Tamworth blasted off on Friday with a show by new local band Willow
And they proved that given the right outlet, musical talent in the town could take a prominent stand.
The Arts Centre gig was Willow's first – a fact that at times was hard to believe.
Their only outward sign of a first public appearance was a slightly restrained stage manner – understandable in front of a local crowd.
Instrumentally, the band were good and singer, Mick Rutherford excelled. At times though, their music cried out for backing vocals – which never came.
The one question mark hangs over sound balance at the Arts Centre. Colin Stewart and Andy Radek were obviously very capable guitarists – but their sols didn't really cut through the overall sound.
Tight drumming and bass playing set the pace for 90 minutes of solid rock – and all but one of the songs were written by the band.
Willow, formed only eight months ago, have covered a lot of the ground work.
But they need the stage experience that only more gigs can give them. On this showing they shouldn't have any trouble getting them.
Willow will play the Arts Centre again on December 2.
Tamworth Herald – 04/11/77
Curtain falls on theatre workshop plan
Tamworth Herald – 18/11/77
Scene Around - Flash Harry's in town
The sound of rock comes to Tamworth Arts Centre tonight. In concert from 8.30 on will be local foursome "Flash Harry" – lead guitarist Trevor Mugleston, bass-player Steve Day, singer Andy Baldwin and drummer Andy Guest.
Trevor and Steve have been appearing together for three years, and the other two joined the band over the last 12 months.
Emphasis is on variety of style, they say, with Trevor composing most of their material and Andy Baldwin writing lyrics.
Describing themselves as a really committed rock band – finance so far has come out of members' own pockets and adds up to around £3,500 – they're on the lookout for an agent or manager to help them get the bigger breaks.
And they hope rock gigs at the Arts Centre – over 70 people turned up at the first one at the end of September – will boost interest in rock music in Tamworth.
A revival could pave the way for a big band show in a larger hall – possibly the Assembly Rooms.
18/11/77
Flash Harry
Tamworth Arts Centre
Tamworth Herald – 25/11/77
Scene Around - Dance is a FACT
Country and western fans are stepping out tonight, Friday, to the music of local band "Cody" at the Assembly Rooms.
The dance has been organised by FACT – the Friends of Tamworth Arts Centre.
FACT are also busy finalising plans for an all-day fayre-with-a-difference at the Arts Centre on December 10.
On-the-spot demonstrations by craftsmen and artists, as well as traditional stalls, will be among the attractions.
07/12/77
Willow
Tamworth Arts Centre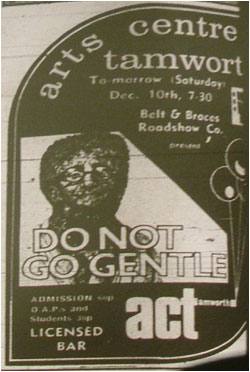 Tamworth Herald – 16/12/77
Santa Tony – at 'Arts' Fair
Friends of Tamworth Arts Centre hope to make a profit of around £100 from their first ever Christmas fair on Saturday.
"The response was really excellent – a lot of people came through," said centre manager Dave Armour.
Attractions included a military modelling display and a demonstration by glass engraver Mr. Harold Bowcott, from Dorset.
Borough Council leisure committee chairman Tony Whitefoot was there in a new role – as Santa Claus.
The Friends aim to plough money back into the Arts Centre.
VACANT
And the possibility of opening a craft shop in Tamworth is still being investigated.
The asking rent for vacant premises in Market Street, looked at some time ago, was too high. But the shop idea has not been abandoned, and ways of getting help, possibly through the regional arts association, are being explored.
Space at the arts centre itself is under pressure and additional premises in the town could server several purposes.
They could be used as an outlet for local people doing craftwork, as a booking office and bookshop. There could be attractive window displays based on the activities of local societies and their current programmes.
Tamworth Herald – 23/12/77
Arts Club helped
TAMWORTH Arts Club has been given the go ahead to use a council building as a workshop to store costumes and paint scenery for their shows.
The building is off Lower Gungate and part of it is at present used as an open shelter.
Talks are to be held between the town's Arts Advisory Council and the local authority over the tenancy of the building.
It has been suggested that the tenancy be given to the Arts Advisory Council in case any other affiliated organisation wish to use it.
The building needs some initial repairs – especially to the roof and a new access to the property is needed.
Labour Councillor Phil Smith told council members that at present the Club had to paint scenery on the Assembly Rooms car park in "wet and cold weather"