Tamworth Arts Centre : History
13/01/78
Real Ale Evening – Tamworth Arts Centre
THE Tamworth and Sutton Coldfield branch of the Campaign for Real Ale (CAMRA) are holding a real ale and folk music evening at the Arts Centre on January 27.
It is the first such evening organised in the area and a selection of real ale not readily available in the town will be served – all cask conditioned and dispensed by gravity.
20/01/78
Musicbox - Arts Centre rock tonight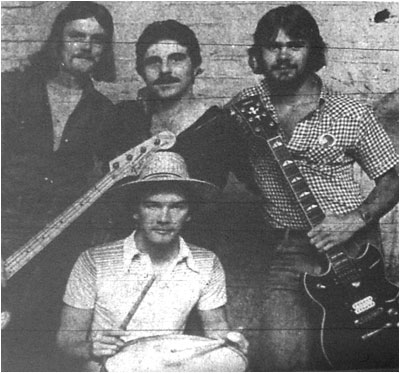 TAMWORTH Arts Centre stages another rock concert tonight and officials hope that it will meet with improved success.
The few rock events so far held at the Arts Centre have attracted below par audiences but local band Brewster hope to change all that.
The local four piece hand is in action tonight (tickets £1.00) and will be treating rock fans to their own particular brand of funky music.
Brewster are: Gary Norris (drums), Ron Allcott (bass), Keith Buck (lead guitar) and Tony Beaumont (singer).
The band has been formed just over a year and has just completed a mini tour of the Midlands, ending at Stafford's Bingley Hall.
The band begin their first set at the Arts Centre tonight at 8.30 pm and there is a licensed bar.
20/01/78
Brewster
Tamworth Arts Centre
27/01/78
CRAFTS FAIR MAY BE REGULAR
NEW moves are under way to create a window-on-the-arts at Tamworth – and help local artists and craftsmen to set up "shop".
The success of the sale put on by the Friends of Tamworth Arts Centre just before Christmas has led to requests for a "craft fair" to be held on a regular basis – perhaps monthly to start with.
The Friends would like to hear from artists and craftsmen in the Tamworth area…letters can go to the Friends' committee, care of the Church Street Arts Centre.
RANGE
A whole range of small-scale craftwork could be considered – including pottery, silverware, jewellery, woodwork, ironwork, paintings, soft toys, macramé and all kinds of needlework.
The fair could be run so that the Friends received 10 per cent of gross takings, but paid for the hire of the room themselves and took care of advertising.
Success could bolster further attempts to take over vacant shop premises somewhere in the town, to provide a permanent sale and display centre.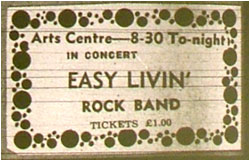 03/02/78
Easy Living
Tamworth Arts Centre
Tamworth Herald – 03/02/78
Scene Around...
Spirit of the Arts Centre
PLANS to install a permanent bar at Tamworth's Church Street Arts Centre, are going ahead.
At the moment, crates of beer and bottles have to be carried out and put away again when drinks are served during the intervals at public performances.
Friends of the centre, and the Arts Advisory Council, have already agreed to put up £250 each, and a brewery has confirmed its willingness to make a £500 interest-free loan.
Now shopfitters are to be called in to give an up-to-date estimate of the cost of installing the bar.
ARTS STORE HUNT BACK TO ACT ONE
IT'S back to square one in the hunt for a building where local arts groups can paint scenery and store their costumes.
Premises in the town are desperately needed by societies including the Arts Club's drama and opera groups.
Because of lack of space, they sometimes end up painting scenery on the Assembly Rooms car park.
Now Tamworth Arts Advisory Council has inspected another building which it was thought might solve the problem.
But the Borough council-owned property at Bell Corner – vacant for years – falls far short of requirements, members agree.
They have had to abandon it because it wouldn't really be large enough for people to work there and for storage as well.
And they heard that renovation could cost up to £1,000 – with running expenses on top. In addition, a proper access would have to be provided.
The advisory council is to continue looking for other central premises which may be suitable.
Tamworth Herald – 24/02/78
'Best ever' bookings
ADVANCE booking for the evening of North Indian music and dance at Tamworth Arts Centre last weekend was the "best ever" for a professional show, Centre Manager Dave Armour says.
"It was very encouraging, and we were pleased with the number of people who turned up on the night," he said.
The show starred Alpana San Gupta, a world expert on the ancient dancing traditions of North India, and attracted people from as far afield as Coventry.
28/02/78
Tamworth Arts Centre (FACT) AGM
Tamworth Arts Centre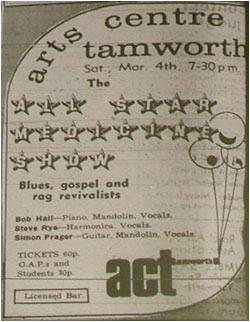 03/03/78
BACK ON STAGE – PLAYERS WITH TACT
"TACT" – Tamworth Arts Centre Theatre group
TACT – Tamworth Arts Centre Theatre group – are to return to the stage after a break of more than 12 months.
Including Arts Centre manager Dave Armour and his teacher wife Pauline, they're a band who get together just now and again.
"We don't have a regular programme and we don't work to a fixed schedule," said Dave.
"When we find a good play we're all interested in – something a bit different and quite demanding on the cast - we fit it in as and when we can."
Their latest choice is Steve Gooch's "Female Transport", adults-only drama about six women prisoners on a convict ship bound for Australia in the 1830's.
"It's not at all suitable for children, or for people who are easily offended by rough language, but it's a very good play," said Pauline, who's directing.
Performance dates are April 6, 7 and 8 at the Arts Centre.
10/03/78
The Zoom Band
Tamworth Arts Centre
17/03/78
Concept
Tamworth Arts Centre
Tamworth Herald - 31/03/78
ALL-OUT BID FOR ARTS BUILDING
AFTER months of searching for a building where arts groups can store costumes and paint scenery, Tamworth Arts Club have drawn yet another blank – and they're not only fed up but alarmed as well.
They are launching an all-out campaign to find "desperately needed" premises – and say they will lobby the county council, MP Bruce Grocott and even the Arts Minister himself.
"The arts in Tamworth will suffer tremendously over the next few years unless we can get a building," Mr. John Lane warned the Arts Advisory Council, which has been helping in the hunt.
"Groups are operating under ridiculous conditions at the moment and things just cannot go on as they are."
BASIC
"We don't want anything palatial – just a basic place that is weather-proof and large enough for people to work on scenery for their shows."
Two months ago, the advisory body inspected a building at Bell Corner which it was hoped might be suitable.
But the property, owned by the Borough Council, fell far short of requirements. In addition, it was estimated that renovation could cost up to £1,000 with running expenses on top.
"The borough council didn't even seem to know the building was available until we started making enquiries, but then they wanted to charge an exorbitant rent for it," Mr. Lane said.
"Now we're really determined to do everything possible to get somewhere."
URGENT
Mr. Dennis Taylor, the Little Theatre's publicity officer, said that town council support for the arts was "minimal" compared with backing for sport.
"I don't think the urgent need for a place for scenery and costumes has really got through," he said. "People just do not seem to see the arts as part of the total leisure picture."
Arts Centre Manager Dave Armour said he too was in "dire straits" backstage as regards storage.
The advisory council agreed to discuss the problem again at its next meeting with a view to sending an open letter to the town council.
In the meantime members are to delve into borough records so they can come up with facts and figures to back their claim that the arts are getting a raw deal.
Tamworth Herald - 31/03/78
Centre of attraction
THE entrance to Tamworth's Church Street Arts Centre should soon be attracting passers-by with a bright new look.
A smart free-standing notice board, designed with three display panels, is to replace the centre's old billboards.
Part of the cost is being met by a £100 donation given to the Arts Centre some time ago by Tamworth Flower Club.
"The new notice-board will be brightly coloured and eye catching so that people can see at a glance what's on," said centre manager Dave Armour.
Tamworth Herald - 14/04/78
Fayre response
THERE's been a huge response from local artists and craftsmen to the craft fayre being held at Tamworth Arts Centre tomorrow, Saturday.
Organised by FACT – Friends of the Arts Centre – it's a chance for the craftsmen to set up stalls to sell and demonstrate their work.
"Response has been absolutely marvellous and I've had so many inquiries from people wanting to come that it's impossible to fit everyone in," said FACT secretary Marion Stonier.
"The problem is that we are limited by space, but we hope the fayre will be held on a regular basis so that all interested artists and craftsmen have a chance to take part.
"All we need now is lots of support from the public. The side doors of the rear room will be open on Saturday, so people can come straight in instead of going through the coffee bar first".
Pottery, woodwork, macramé, bronze sculpture and copperwork and all kinds of needlework are among the crafts to be displayed.
Fifteen-year old Tamworth schoolboy Jan Faulkner will be there, painting on slate, and so will Mr. Neil Winfield, who paints traditional canal-boat hardware.
FACT is providing the stalls and hiring the room, and the craftsmen will pay a nominal sum – 10 per cent on sales and orders taken – to the group.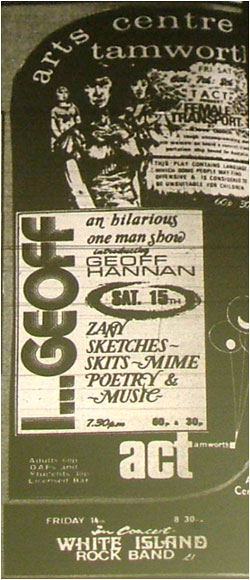 "Our object isn't to make money, but to encourage artists and give Tamworth people an opportunity to see and buy original work," Mrs. Stonier said.
The fayre will be open morning and afternoon.
14/04/78
White Island
Tamworth Arts Centre
Tamworth Herald – 21/04/78
"Window on the Arts" proves a big success
SIXTEEN-YEAR-OLD Tamworth painter Jan Faulkner had his first big "break" on Saturday.
Jan, of Clifton Avenue was among artists and craftsmen from all over the area who got together for a unique "window-on-the-Arts" display in the town.
It was chance for them to set up "shop" at the Church Street, Arts Centre, and introduce themselves and their work to the public.
The idea for the day-long craft fayre, came from FACT – the Friends of the Arts Centre. They want to help and encourage local craftsmen who are producing all kind of good work, yet don't often have an opportunity to show it.
The fayre was a big success and Jan, who paints on slate, was kept busy answering lots of questions from a steady stream of visitors.
"It was a marvellous idea because there are many people who are creating things, but who don't have an outlet for then," he said.
It is hoped the fayre will be held again, possibly on a regular basis.
"Trade was a bit slow although it picked up in the afternoon." Said secretary Marion Stonier.
"But lots of people came in to look around which was marvellous. And they really were interested – they didn't just dash in and out again.
Tamworth Herald – 28/04/78
FABULOUS FORTIES
FACT – Friends of Tamworth Arts Centre – are waltzing back into the dance scene tonight, Friday, with another "Fabulous Forties" get-together at the centre.
Tamworth Herald – 05/05/78
Touch of Victoriana for town festival
A TOUCH of the Victorian era comes to Tamworth next week-end.
It is all part of the May festival in the Castle Grounds and plans to transform parts of the town into scenes from the last century are already underway.
13/05/78
Asylum
Tamworth Arts Centre
Tamworth Herald - 19/05/78
It's 'Spring Fever' – despite the clouds


Tamworth Spring Festival managed to hold its own at the weekend – in spite of the cold overcast weather.
The organisers expect to make a profit in the region of £400 to £500 – about the same sum as last year.
The bright stalls and Victorian dress attracted a total of 6,000 people over the two days – and it seems they were all willing to spend, spend, spend at the Victorian bazaar.
Meanwhile, BRMB's disc jockey Les Ross gave a commentary of displays on the green below the gardens.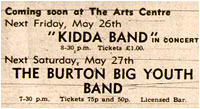 26/05/78
Kidda Band
Tamworth Arts Centre
Tamworth Herald – 02/06/78
Arts Festival idea for town
IDEAS have started to come in for a big Tamworth Arts Festival which it is suggested could be held during April and May next year.
They include a flower arrangement exhibition and demonstration, "master classes" in singing and opera workshops, recitals and concerts.
It is suggested that local schools could get together to put on a concert and the local Archaeological and Historical Society thinks it could arrange a special lecture.
Organisers of Tamworth's annual Music Festival have said they would be "delighted" to be linked with an arts festival, although they would run their own show as usual.
The town's Drama Festival and Tamworth's Choral Society's major concert already planned for April – a performance of Bach's St. John Passion – could also be in with the event.
CRAFT FAYRE
The Male Voice Choir may take part and Friends of Tamworth Arts Centre will consider mounting another craft fayre featuring the work of local artists and craftsmen.
Other ideas include a brass band concert and modern music for young people.
Arts Advisory Council secretary Mr. Dan Gronow has been writing to affiliated societies for their thoughts and suggestions for a festival, which would be under the direction of Arts Centre Manager Dave Armour.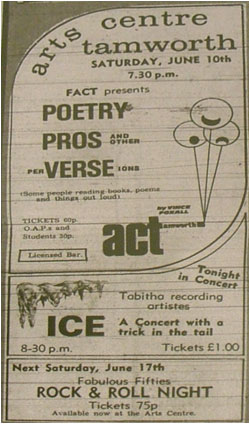 Tamworth Herald – 02/06/78
Musicbox - Exciting band at Arts Centre
A talented new band makes its debut at Tamworth Arts Centre on June 9th.
Called Ice, the five-piece band will be performing a stage version of their forthcoming album release "Saga of the Ice King."
Song-writing duo Mick Rutherford and Colin Richardson formed the band and both have five-year writing contracts with Patch Music, together with a three-year recording contract with Tabitha Records.
"We are planning to release the "Ice King" album as soon as possible," said Mick Rutherford.
"The album will have many different effects and we are hoping to have the Staffs Youth Orchestra helping us out on the record," he added.
The ban's line-up is: Mick Rutherford, lead vocals, acoustic guitar, percussion; Paul Watts, electric and acoustic guitars; Colin Richardson, bass and acoustic guitars, vocals; Andy Radek, electric and acoustic guitars; Steve Sheldon, drums, percussion and vocals.
Formed only two months ago, the band's first gig – at the Arts Centre – starts at 8.30pm a week tonight.
09/06/78
ICE
Tamworth Arts Centre
Tamworth Herald - 09/06/78
Rockin' around the band stand
SUMMER band concerts at Tamworth could be taking on a new sound this year.
For organisers want to encourage rock bands to take part as well as the traditional brass and military-type groups.
The weekend concerts are held in the Castle pleasure grounds.
"But, if there is sufficient demand it should be possible to put entertainment on in some local parks as well," said Tamworth Arts Centre Manager Dave Armour.
"If there are any rock bands who would be interested in performing in the open air I would be pleased to hear from them."
"We would be prepared to help out with facilities and expenses."
"We'd like to open things up a bit with music to appeal to young people as well as older age groups, and it would be very nice to see local bands coming forward."
Prompted by the borough leisure department, the concerts run through July and August.
10/06/78
An Evening of Poetry and Music
FACT
Tamworth Arts Centre
Tamworth Herald – 16/06/78
Spring Arts Festival Planned
TAMWORTH is to have a Spring Arts festival next year.
Council officials hope to coordinate events from the town's music, drama, Spring and Theatre Dance festivals for a big festival in April or May next year.
Already £1,000 has been set aside in the council kitty for organising the festival and councillors will look at the possibility of making more cash available as the date gets nearer.
DETAILS
The Borough's Leisure Committee have given the official go ahead for the Arts Festival. Now council officials will be looking at details in co-operating with the Arts Advisory Council.
A report went before the town's Leisure Committee saying there is no indoor venue large enough to take people to break even on events costing over £500.
A show costing £500 in the Assembly Rooms would nee a full-house paying £1.60 each to break-even.
As well as coordinating events from other festivals council officials want to "top-up" the Arts Festival by injecting professional events between the other activities.
Leisure Committee member, Councillor Doug Bonas said "You have either got to go into an Arts Festival with the band playing and trumpets blasting, or not bother. If you creep in, nobody will see any difference to the way things normally are."
17/06/78
Rock and Roll Night
Tamworth Arts Centre
Tamworth Herald – 30/06/78
New Broadside on Storage Problem
BOROUGH councillors have again come under attack from arts groups desperate for space to store props and costumes.
Societies hunting for a building which they can use for storage and painting scenery have still had no luck.
And now another blow has fallen.
Tamworth Arts Club, which runs opera and drama groups, could lose the only store it has outside the Assembly Rooms.
The "store" – a garage at the rear of shops in Middle Entry - is rented by the Arts Advisory Council from the Borough Council.
Now the Arts Club understands the garage will be needed to make way for an access to other property – and that they could be given 28 days notice to remove their equipment.
Tamworth Herald – 07/07/78
Council debate
Should Advisory Council finance Arts Festival?
Moves to get Tamworth Arts Advisory Council to promote – financially – an arts festival in the future were narrowly blocked.
And the finances of the Advisory Council came under close scrutiny from Labour members at Tuesday's full borough council meeting.
Labour leader, Councillor Peter White, said the Arts Advisory Council's balance sheet showed balances approaching £4,000 – the majority being in a building society account.
He said that out of an income of £2,70 last year – some £2,400 came from a borough council grant.
Councillor White added, "I do feel perhaps that this position is not the best utilisation of money with regard to Arts in Tamworth.
"Tamworth Arts Advisory Council should be approached with a view to seeking their financial support for promoting an arts festival."
The move by the Labour ranks was defeated by only one vote.
Councillor Ron Watson had earlier called for an additional £1,500 for the arts festival to give a 1979 event a good start.
But in the end the members agreed to a provision of £1,000.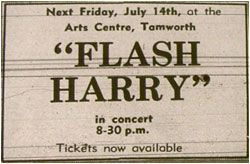 14/07/78
Flash Harry
Tamworth Arts Centre
Tamworth Herald – 28/07/78
Plea for more Arts Festival money
A "MORE CASH" plea for Tamworth's new Arts festival has gone out to local councillors.
They have been told that not enough money is being put into the council's promotions budget used to finance various sports and entertainment in the town.
Councillor Phil Smith, told members of the Leisure Committee, "There is far too minimal amount of money for promotion.
"To plan an Arts Festival 12 months in advance you have to book artists and spend money. If we don't book soon we will be too late for next year."
Tamworth's first Arts Festival has been given the go-ahead for spring next year and £1,000 has been set aside to finance the plan.
A council report says that the promotions budget has been eroded by expenditure cuts and inflation.
Officials will be looking at the question of increasing the promotions budget to allow for inflation in their review of leisure policy in the borough, later this year.
Tamworth Herald – 18/08/78
ELVIS, POETRY AND CRAFTS AT ARTS CENTRE
Look out those blue suede shoes…an Elvis Presley Memorial night is taking off in Tamworth tomorrow.
It's being put on at Tamworth Arts Centre – in response to demand from local fans.
FACT – Friends of the Arts Centre – are organising the rock 'n' roll evening, starting at 8pm, Admission is 75p.
POETRY
On a different not FACT are also hoping to arrange another poetry entertainment.
Their poetry evening early in June, featuring the work of poets from Shakespeare to Spike Milligan, drew an appreciative but small audience.
Meanwhile, FACT are busy with plans for a further craft fayre on September 16. There has been a big response from craftsmen wanting to take stalls, and inquiries are still coming in.
Tamworth Herald – 25/08/78
Sue Fisher looks at…
Ten years of Little Theatre productions.
With over 40 major productions behind the, Tamworth Little Theatre have had their share of awkward moments – and headlines.
There was the time a leading man got back from abroad barely an hour before curtain up.
And there was the vicar who made the "News of the World" by appearing in close-up with a pretty young actress stripped down to bra and briefs.
But the show has always gone on and in ten years the Little Theatre have never cancelled a production.
Tamworth Herald – 08/09/78
Centres Book Scheme set for new chapter
THE "give a book, buy a book" service could start up again at Tamworth Arts Centre.
Organised by FACT – the Friends of the Arts Centre – the scheme came to a halt in the spring after running successfully for more than a year.
"We found our book stocks were becoming so depleted that we had to stop," said FACT treasurer Mrs. Enid Reffin.
The service would again run on Saturday mornings from 10am to 1pm when people could go in a buy a book for a few pence."
Anyone who can donate books can take them into the Arts Centre any week day between 10am and 2pm and from 10am to 5pm on Saturdays.
Proceeds from the scheme are ploughed back into Arts Centre funds to help improve facilities.
Winter haven will have something for all
A new programme of entertainment with the emphasis on something-for-everyone will be helping to keep the winter blues at bay in Tamworth.
The Arts Centre will soon be launching its October-March season of professional and amateur promotions.
Comedy, drama, music, films, dances and a traditional old-style variety show are lined up.
And Arts Centre Manager Dave Armour, sifting through dozens of requests from companies and artistes wanting to appear in Tamworth, will soon be filling in the few vacant spots.
"Up until Christmas we've got something to offer every week, and I certainly hope that we shall see the "House Full" sign going up quite frequently," he said.
"We've built up a regular following, with people coming in to ask for information as well as phoning."
Tamworth Herald – 22/09/78
Craft Fayre Proves Sellout
SATURDAY'S craft fayre at Tamworth Arts Centre was a big success.
"We're really thrilled," said Marion Stonier, secretary of the Friends of the Arts Centre who organised the fayre.
"Everyone who took part asked if they could come along to our next fayre in November, which will be the big one for Christmas.
"We're looking at the possibility of taking space upstairs at the arts centre as well as downstairs."
On Saturday, some of the craftsmen and artists had sold out by lunchtime.
All money made by the Friends is ploughed back into the arts centre to help improve facilities for the groups who use it and the public.
06/10/78
Stealer
Tamworth Arts Centre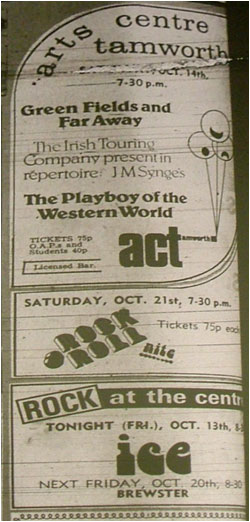 13/10/78
ICE
Tamworth Arts Centre
27/10/78
Musicbox - 'BULLETS' shoot into town
BIG BEAR recording artists "Bullets", who have just emerged victorious from their legal battle with the "Sun" newspaper, are in concert tonight, Friday, at Tamworth Arts Centre.
The Birmingham-based 1978 rhythm-and-blues band hit the national headlines when the "Sun" took exception to the title of their first disc – "The Girl On Page Three"
The newspaper finally backed down in its claim that the words "Page Three" were exclusive copyright..
But all the publicity worked wonders for the band, whose record was boosted into the New Wave chart.
27/10/78
Bullets
Tamworth Arts Centre
31/10/78
Flash Harry
Tamworth Arts Centre
03/11/78
Flash Harry
Tamworth Arts Centre
10/11/78
Utensils
Tamworth Arts Centre
24/11/78
Gentleman Jim
Tamworth Arts Centre
01/12/78
The Kidda Band
Tamworth Arts Centre
Tamworth Herald – 01/12/78
Feast of Fireworks for FACT and TACT
15/12/78
The Reliants
Tamworth Arts Centre
Tamworth Herald – 15/12/78
The Reliants New Wave Band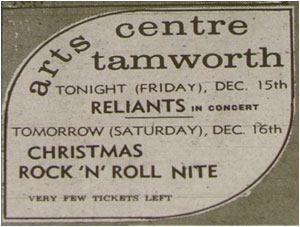 "THE RELIANTS" a new-wave influenced band who have been together for nearly eighteen months now are to play at the Arts Centre tonight Friday.
The band have already played several dates in and around Tamworth including the Bowling Green, Lichfield and the Crown in Birmingham.
The four members are Edward Sutherland, vocals, Vince Watts, guitar, Sam Norchi, bass and John Higgins on drums.
We understand their music is fast, exciting and very original , the songs being mainly concerned with society and its problems. They detract from the usual concept and pop groups in that they do not project the idea of the perfect boy and girl.
The group are still looking for a manager, but hope to do some recording in the New Year.