Tamworth Arts Centre : History
Tamworth Herald – 26/01/79
'Curtain up' on theatre bar
A touch of luxury will be added to Tamworth Arts Centre with the completion of the new theatre bar.
Tamworth Herald – 03/02/79
Bar is a centre FACT
CHEERS! Tamworth Arts Centre manager, Dave Armour wearing his other hat as 'landlord', pulls a pint at the centre's newly-completed theatre bar.
All fittings, including security grilles, have now been put in and the bar should be open much more often for people meeting or rehearsing at the centre.
The bar was a joint project by Tamworth Arts Advisory Council and FACT – The Friends of the Arts Centre.
It will be officially 'opened' at a social evening on February 13.
FACT will continue to run it, and profits will be ploughed back to further improve facilities.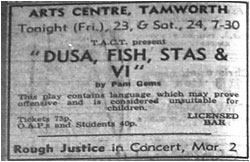 Tamworth Herald – 09/02/79
Unveiled…plans for a star-studied festival to remember
A star-studded line-up from stage, screen and concert hall is poised to help make 1979 a year to remember in Tamworth.
Big 'names' waiting in the wings include David Kossoff, George Melly, Donald Houston and Cy Grant.
They are coming to take part in the town's first major Arts Festival.
Planned over two months, the festival promises to be a something-for-extravaganza with drama, comedy, dance, song, films, crafts, paintings and music ranging from rock and folk to jazz, operetta and grand opera.
The programme will feature special events as well as regular favourites like the annual Music Festival and Drama Festival.
HIGH NOTE
And it will end on a high note with the town's Spring Fair being held in the Castle Grounds as usual.
"Things really are coming together now," said co-ordinator Dave Armour, Manager of Tamworth Arts Centre.
"Certainly there are some gems in the programme and the variety generally is very good.
"Given the resources we have and provided the attendances are what we expect it should be a festival that Tamworth will enjoy and remember."
DAVID KOSSOFF, actor and raconteur, has delighted millions of people nation-wide with his gift for story-telling both 'live' and TV.
He is coming on April 7, to present his highly-acclaimed one-man show called "A Funny Kind of Evening With…"
SPOTLIGHT
Pop music will be getting its share of the spotlight, and Dave Armour is hoping to organise an open-air rock concert on Easter Monday.
Tamworth Herald – 02/03/79
Empty seats prompt a link idea for 'TACT'
Tamworth Herald – 02/03/79
Bigger bill for arts centre use
TAMWORTH Arts Advisory Council will have to pay more than £1,000 a year to rent the Arts Centre in future.
Tamworth Council's Leisure Activities Committee decided to increase the annual rent from £900, the figure which was set in 1975 to £1,055.
This follows the borough council's general policy decision to increase charges by an average of 15 per cent.
Councillor Ron Watson told the committee "The amount of money the increase will bring is neither here nor there to us as a council.
"It's nothing to the citizens of the town, but it is something to the arts council. Our job is to encourage the arts."
But Councillor Peter Knowles defended the increased rent "The charge has not gone up since 1975," he said, "We are helping them by charging £1,055 for the rent of the building – they are getting it at a very reasonable price."
24/03/79
One Flew Over the Cuckoos Nest
Tamworth Arts Centre
Tamworth Herald – 06/04/79
Seeing stars…at Tamworth festival
Extravaganza with something for all
The spotlight turned on Tamworth this week as the town launched its first major Arts Festival – a springtime extravaganza promising entertainment for everyone.
The feast of music, song, drama and comedy is spread over two months and organisers have aimed to cater for all tastes.
Hear a Shakespearian actor and an international jazz pianist…toe-tap to the stirring strains of a top brass band…have fun with flowers…browse around an arts-and-crafts exhibition…get chuckling with master-of-comedy Alan Ayckbourne.
It's all happening in Tamworth over the next two months.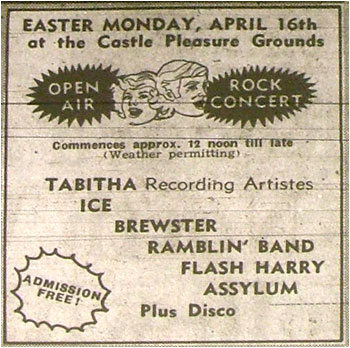 Well over 20 events, some of them spread over several days are lined up for the town's SPRING ARTS FESTIVAL.
On Easter Monday, rock and country-and-western fans can warm up at an Open Air Concert in the Castle Pleasure Grounds.
It will feature bands including Ice, whose new album should be out by then, the Ramblin' Band and Brewster.
19/20/21 April 1979
Confusion
Tamworth Little Theatre
Tamworth Arts Centre
Tamworth Herald – 27/04/79
Scene Around
MORE than 300 people converged on Tamworth's Castle pleasure grounds on Easter Monday to watch the town's first open-air rock festival.
Topping the bill were Tabitha recording artists Ice. The band who play melodic rock performed a selection of tracks from their debut album release "Saga of the Ice King."
The five-piece outfit received an enthusiastic reception from the crowd. Particularly impressive was drummer, Stephen Sheldon.
Appearing with them were the country-and-western "Ramblin' Band", "Brewster", "Flash Harry" and "Asylum" all of whom were warmly received.
The concert which was part of the Tamworth Arts Festival, lasted throughout the afternoon.
Ice have set their sights on a European tour later this year and have hoped that their album will be released on the continent.
12/05/79
Rock 'n' Roll Nite
Tamworth Arts Centre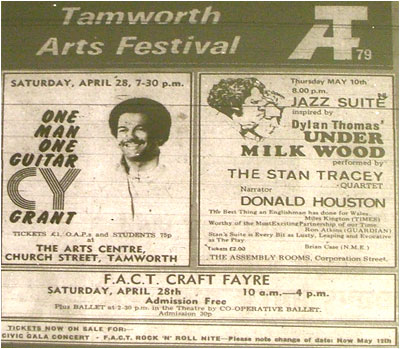 Tamworth Herald – 25/05/79
Festival stock-taking
IT'S stock-taking time on the arts scene at Tamworth.
The town's major Arts Festival is over now, and organisers are reviewing its success and totting up the balance sheet.
And thoughts are turning to next year, when many people hope there will be another festival, not necessarily on the same lines.
Full reports will be going soon to the Borough Council's leisure committee. But in the meantime Festival Director Dave Armour has said that all the shows were very successful in that people who went along really enjoyed them.
However, the picture wasn't so bright as far as the size of the audiences was concerned.
"We lost money, but then this was anticipated and allowed for," Mr. Armour said.
"What disappointed me was that certain shows attracted fewer people than I had expected. For example, I had certainly expected the George Melly show to sell out and it didn't.
"I would also have thought there would be a better turnout for the Scottish Ballet performance at the start of the Festival."
But, it is thought that the guarantees put up will cover the Festival and there is optimism that not all the guarantees offered will actually be taken up.
Some criticism of the Festival came from people who were unable to go to some events because they were involved in locally-organised shows on the same days.
It has been suggested that events next time could be more spread out, but then there is a danger of losing continuity.
So will there be a festival in 1980? Said Mr. Armour: "This is very much a matter for the borough council.
"Probably, I see no reason why there shouldn't be one, though whether the format should be changed is another matter. There could be a case for organising it on rather different lines and perhaps setting up a special festival committee."
Tamworth Herald – 25/05/79
More top shows on centre bill
WITH the holiday season over, there'll be no more professional entertainment at Tamworth Arts Centre until the autumn – but already exciting things are in the air for next year.
And people who want to be sure of getting "what's on" information well in advance can apply to join the centre's mailing list.
Dance, including African dance, poetry and music, including folk, blues and modern jazz are being considered.
"I attended a meeting with West Midlands Arts and a lot of exciting ideas are under discussion," said Arts Centre manager Dave Armour.
"For example, there is talk of a possible Poets and Pints evening, and of putting on people like Roger McGough and Adrian Henry.
"Dance-theatre companies have been mentioned, and music could include big blues stuff, as well as jazz and folk.
"In fact, the whole spectrum of touring shows may be widened."
Tamworth Herald – 29/06/79
More publicity a must for arts
IF Tamworth mounts another major Arts Festival, as expected, then publicity must be stepped up.
This is a message from organisers of this year's Arts Festival which failed to attract audiences in the numbers hoped for.
People who went to the various events enjoyed them, but the festival ended up making a loss of nearly £200.
In his final 'stock-taking' report Co-ordinator Mr. Dave Armour says the festival should certainly be repeated although not necessarily in exactly the same form.
But he says, "Publicity for the 1979 event far exceeded publicity for any previous arts promotion in the town. Yet the arrangements still left much to be desired.
EXTENSIVE
"It is recommended that extensive investigations be carried out into ways of deriving the maximum benefit from present resources both physical and material."
Mr. Armour also had something to say about people who claim to support the arts and yet failed to attend the festival.
"Perhaps most noticeable in so far as attendances were concerned was the absence of those people who would normally be expected to attend, that is, borough councillors, council officers, councillors, members of local arts organisations and Arts Advisory Council members.
COMMITTED
"Obviously many are already heavily committed. But it is surely not too much to expect that some token effort be made to attend as many events as possible."
Tamworth Herald - 20/07/79
ROCK AT THE ARTS CENTRE
LOCAL rock band "Brewster", who have a faithful following in the Tamworth, Ashby and Leicester areas, are to appear at Lichfield Arts Centre tonight, Friday.
It will be the first time they've played a gig in Lichfield and they're hoping for a good turnout.
Demonstration tapes recorded by the band have created a lot of interest and talks are now going on about the possibility of a recording contract.
Brewster hope to bring out their first album in the near future.
Tamworth Herald – 27/07/79
Search goes on
ARTS groups in Tamworth still have nothing to show for their two-year search for somewhere to store their costumes, props and scenery.
They desperately need premises they can share as a theatre workshop, and although various possible buildings have been looked at all probed to be either unsuitable or too expensive.
So the societies are right back to square one.
But they haven't given up hope. They would be glad of any suggestion.
What they need are premises within easy reach of Assembly Rooms and the Arts Centre, with good height and access for scenery flats – and which are cheap to run.
Tamworth Herald – 07/09/79
Centre eye-catcher goes up – at last!
IT was quite an historic day when Tamworth Arts Centre manager Save Armour pinned the first poster up on the centre's brand new notice board.
APPOINTED
For the free-standing, eye-catching board has taken more than three years to get into its appointed spot just outside the centre on the corner of Church Street and Lower Gungate.
Money was no problem – Tamworth Flower Club donated the cash even before the Arts Centre opened.
PROBLEMS
But still problem followed problem – with arguments over design, siting and even colour. And when the colour was finally sorted out, it was discovered the right shade of paint wasn't available – and so the wrangle went on.
Now at long last the board is up – and Mr. Armour can hardly believe it.
"The history of this board is quite incredible," he said, "But we're delighted to have it at last.
"Ironically, there's not much to advertise at the moment, but it should certainly fill up within the next couple of weeks.
ESSENTIAL
"It is essential to have a focal point for advertising arts activities and I think the board looks pretty good where it is – it does something for the corner."
22/09/79
Dr. Jekyll and Mr. Hyde
Tamworth Arts Centre
Tamworth Herald - 05/10/79
AFTER 'CLIFF-HANGING' DEBATE
Arts Council backs 'dual-use' theatre complex at Belgrave
LOCAL arts groups have decided to back controversial plans for a brand new "dual use" theatre complex at Belgrave School – after being warned that it was a case of "Belgrave or nothing".
Failure to support the dual use scheme would mean that Tamworth could be doomed to stagnations for years to come they were told.
The decision was taken at a cliffhanger meeting of Tamworth Arts Advisory Council. And right up until the last minute it was touch and go whether supporters of the Belgrave scheme would clinch the vote.
Arts Centre Manager Dave Armour commented, "It seems crazy that we should be listening to someone from thee Sports Council begging us to take money."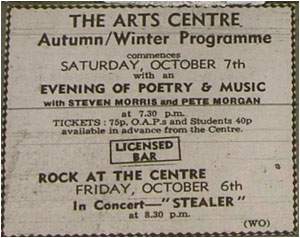 Tamworth Herald – 05/10/79
Musicbox - Centre date
TOP rock band "Ice" play their first Tamworth gig for six months when they hit the stage at the Arts Centre tomorrow night (Saturday).

Anyone who has not yet seen the band live but who likes music in the Rush, Genesis and Yes vein should go along for an entertaining evening.
Tamworth Herald – 12/10/79
Too much management
TAMWORTH'S Arts Centre manager is having to spend too much of his time on "mundane clerical matters, he said.
The claim comes from the town's Recreation and Amenities Officer, Mr. Brian Moore who says that 90 per cent of manager Dave Armour's time is spent on administration.
"Mr. Armour could be spending more time doing work connected with the arts if he had an assistant to deal with the clerical side of the centre," Mr.Moore said.
"At the moment his post is solely managerial." "He culd be concentrating on other things."
Members of the borough council's Leisure Activities Committee are now to ask the resources Planning Committee to employ a clerical assistant for the centre – at a cost of aboyt £3,500 a year.
They also plan to lease out the catering rights of the centre's snack bar to FACT (Friends of the Arts Centre Tamworth) in a bid to take some of the workload off Mr. Armour and his staff.
LONGER
The proposals form part of a plan to keep the centre open longer – at the moment it is open 48 hours a week – and volunteers from local arts organisations are being sought to help out as well.
Mr. Armour said that they already managed to keep the centre open longer with help from FACT and would be able to provide an even better service if they had more volunteers.
10/11/79
Evening of Poetry and Jazz
Tamworth Arts Centre