Tamworth Arts Centre : History
Tamworth Herald – 09/01/81
Decision on Centre Control
THE wrangle over who should manage Tamworth Arts Centre was being thrashed out by councillors last night.
The council's leisure activities committee was discussing who should be responsible for future operation and management of the building.
The committee had previously recommended the centre be put under the control of the council's public halls manager, but this was thrown out by the policy making resources planning committee.
Now the leisure committee is to further consider letting the town's arts advisory council run the centre.
Tamworth Herald – 16/01/81
Arts group wins fight to run centre
TAMWORTH's arts groups have won their long-standing battle with the council to take control of the arts centre.
Tamworth Herald – 16/01/81
Impressive list for Arts Centre
24/01/81 – Second City Theatre – Jack and the Beanstalk
31/01/81 – Rodent Arts Trust – The Ladder Gig
07/02/81 – Belt and Braces – Coming Up
14/02/81 – A Musical Evening for Valentines Day
21/02/81 – Fine Arts Brass
26/28/02 – Little Theatre
07/03/81 – Paul Hansard's Puppets
Tamworth Herald - 03/04/81
New era for Arts Centre
A NEW ERA is dawning for Tamworth Arts Centre.
Tamworth Borough Council, which owns the Church Street Centre, agreed earlier this year to hand over responsibility for managing and running the building to the town's voluntary Arts Advisory Council.
A management committee has been set up and the official hand-over is to be marked on Wednesday next week, April 8, with a reception and concert by the S… Wind Band of Tamworth Music Centre.
The reception in the bar and exhibition area will be held from 7.15 to 7.40 and the concert by the talented young musicians will begin at 7.45pm
Tickets are available at £1 each, which includes a glass of sherry on arrival.
Tamworth Herald – 16/04/81
Under new management
Raising their glasses to the future success of the Arts Centre – left to right are Town Clerk Brian Leeke, Jo McKenna, Dan Gronow, Secretary of the Arts Advisory Council, Enid Reffin of FACT; Brian Hooker, Chairman of the new management committee and Ron Hanson, Chairman of the Arts Advisory Council.
Tamworth Herald – 16/04/81
Toast to the Arts Centre
TAMWORTH Arts Centre is under new management – and that's official.
At the handover ceremony last week more than 100 people toasted the future of the Centre – and heard an appeal for lots and lots of ideas to ensure its continuing success.
From now on, the Church Street building will be managed by Tamworth's voluntary Arts Advisory Council – representing the local arts groups - instead of the Borough Council.
Arts Advisory Council Chairman Mr. Ron Hanson paid tribute to the former Manager, Dave Armour, who left Tamworth last year, and to the "sterling work" done by the Friends of the Arts Centre – FACT.
Tamworth Herald – 08/05/81
Arts Centre appointment likely soon
TAMWORTH Arts Centre management committee hope to appoint a new manager or manageress soon.
The post will involve irregular hours spread over six days and the person selected will be responsible to the committee for the day-to-day administration of the Arts Centre, including bookings, promotions, catering, advertising, booking both amateur and professional theatre companies, general paperwork and answering enquiries from the public.
The committee hope to run the centre on a 70-hour per week basis, with the new manager putting in around 30 hours and volunteers up to 40 hours.
"It will obviously have to be a very flexible system as we want to keep the centre open as long as possible every week." Said management committee chairman Mr. Brian Hooker.
"The person we appoint as manager or manageress really will need to be very enthusiastic."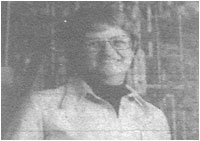 Tamworth Herald – 05/06/81
'Enjoyable hard work' faces Arts Centre chief
Mrs Georgie Jackson – thrilled with her new job as Arts Centre Administrator.
Tamworth Herald – 10/07/81
Arts Festival Possibility
Tamworth Arts Council are being asked their views on the staffing of another Arts Festival in the town.
Tamworth Herald – 04/09/81
Arts Centre programme for all ages
Details of what's on at the Centre
Saturday September 19: Arts Centre Event featuring TACT, comedy evening – hilarious entertainment, wine and refreshments.
Friday, September 25: Paines Plough presents "The Decameron"
Monday-Saturday, October 26-31: Little Theatre/Arts Club jointly present "Godspell" – first amateur performance featuring artists from TACT, Little Theatre, Arts Club etc.
Monday-Saturday, November 2-7: "Godspell" – second week.
Saturday, November 14: Major Road Theatre Company present "The Hype"
Saturday, November 28: Alistair Anderson – Young Musician from Northumberland
Saturday, December 5: Avon Touring Company present: "Kept In/Kept Out"
Saturday, December 12: Major Mustard – Puppet Show
Saturday, December 19 – Arts Centre event featuring Little Theatre Christmas entertainment, carols, wine and refreshments.
PLUS
September 12-13: Tamworth Photographic Club Exhibition
October 5-9 and October 12-16: Tamworth Arts Club Music Hall – Assembly Rooms
October 10-11: Co-op Junior Ballet Festival
November 25-28; "Charley's Aunt" – Rawlett School
November 26: Music Centre Concert.
Events planned for after Christmas in Tamworth include visits by the Intriplicate Mie Company and Incubus Theatre and a Gilbert and Sullivan night.
And it is hoped there will be an evening with top contemporary poet ROGER McGEOUGH formerly of The Scaffold.
26/10/81 – 07/11/81
Godspell
Tamworth Little Theatre
Arts Centre