Tamworth Arts Centre : History
Tamworth Herald – 05/02/82


Dennis Taylor dies at 48
One of Tamworth's best known arts personalities died suddenly at home in Browns Lane. Dennis was a founder member of Tamworth Little Theatre and a long serving member of Tamworth Arts Advisory Council.
Tamworth Herald – 05/02/81
Centre Holding Its Own
TAMWORTH Arts Centre is holding its own.
It has been managed for almost a year now by the town's voluntary Arts Council and the financial situation so far is quite healthy, Treasurer Mr. Don Gronow says.
"Over five years we should just about break even," he told the Arts Council's monthly meeting on Thursday.
Looking to the future, Mr. Gronow added: "There is every chance of our being able to run this place as it is at the moment."
Said Chairman Mr. John Lane: "We started out with hope and a certain amount of charity. But now we are working from experience."
Tamworth Herald – 05/02/82
Success pointers for Y.P. Arts Festival
THE Tamworth Young People's Arts Festival which begins next week could become an annual event if it is as successful as the organisers hope – and all the signs are that it will be.
The competition being run as part of the Festival have attracted hundreds and hundreds of entries.
Tickets are in big demand for special events including puppet shows by famous companies.
Tamworth Herald – 12/02/82
Young Peoples Arts Festival
1,600 entries for poetry, drawing, painting and photography competition.
Tamworth Herald – 26/03/82
Scene Around - Tribute to Dennis Taylor


A 'Tribute to Dennis Taylor' in music, song, drama and dance is to be presented at Tamworth Assembly Rooms.
The concert will be staged in June – the expected date is June 11 – and groups from all over the area will be contributing to the gala show.
"So many people have expressed a wish to take part that we are anxious not to leave anyone out," said Marion Pallett, secretary of the organising committee.
"Groups which can't contribute and time for the concert itself could still be involved in other ways – helping with programmes, perhaps, or front-of-house. We would be delighted to hear from them..."
The person to contact is Mr. Brian Nicholas, who is co-ordinating the show.
Among the many organisations already involved ate Tamworth Arts Club, the Little Theatre, Tamworth Arts Centre Theatre Company, the local branch of the Royal Air Force Association, Rotarians, the Male Voice Choir Barber Shoppers, Amington Band and the Flower Club.
Added Marion: "We're thinking of sub-titling the concert "It'll Be Alright On the Night" because that was something Dennis always used to say when he was doing a show.
"We want it to be a real gala occasion – a fitting tribute to Dennis."
Mr. Taylor's sudden death early in February at the age of 48, stunned Tamworth's arts groups and other societies with which he was concerned.
He was not only an accomplished actor and director but a supporter of the arts in the widest sense.
Chairman of Tamworth Little Theatre, he helped and encouraged aspiring actors, produced and compered shows for other groups, and taught drama classes at Swinfen Hall Prison for young offenders.
Tamworth Herald – 26/11/82
It's open house on local arts scene
LOCAL PEOPLE were given a chance to have a look behind the scenes at Tamworth Arts Centre on Saturday when it staged its first open day.
The converted chapel in Lower Gungate has, over the last eight years become the centre of the local arts scene. Groups ranging from the choral society to the popmobility class and from the town's civic society to the Little Theatre group hold regular meetings there.
On Saturday visitors were able to browse around an art exhibition by a local painter. Costumes used in past plays were on show and a mock stage set had been put up in the auditorium to demonstrate the work that goes into producing a play.
Don't Realise
Arts Centre administrator Mrs Georgina Jackson said: "Many people just don't realise what's going on in the local arts scene.
"Holding an open day seemed the best way of encouraging more people to take an interest in the arts. The Arts Centre certainly has a lot to offer everyone," she said.
Tamworth Herald – 03/12/82
Arts centre could be just the scene for jobs!
A GROUP of out-of work Tamworth people may be able to find jobs at the town's Arts Centre – making costumes and scenery.
The idea has been mooted in a bid to help provide work for the unemployed under the Government's new Community Programme.
If the scheme is approved by the Manpower Services Commission then Tamworth Arts Advisory Council, may decide to employ people to make costumes and scenery for drama groups in the town.
Another idea is that the Arts Centre could be used as a centre for arts based courses.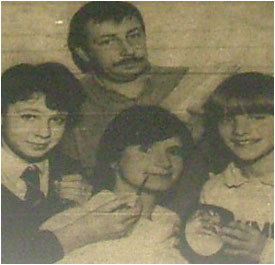 Tamworth Herald – 31/12/82
The Wizard that's worth a fortune
THE WIZARD OF OZ, opening soon in Tamworth, will be a family show in more ways than one. And for the Fortune family of Mildenhall, a little bit of wizardry wouldn't come amiss right now.
Sue Fortune teaches, husband Dave runs his own catering business, daughters Rebecca and Melanie have drama and dancing classes to go to after school. And their evenings are just as hectic as all four rush to get to rehearsals on time.