Tamworth Arts Centre : History

1984 - Change of hands again!
Tamworth Herald – 06/01/84
Invite as Dennis Portrait set for unveiling
THE specially-commissioned portrait of the late Mr. Dennis Taylor is to be unveiled at a social evening at Tamworth Arts Centre on Friday January 13.
Tamworth Herald – 20/01/84
Fantastic evening of tributes to a favourite chairman
Unveiling of a certain smile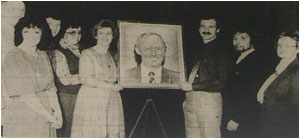 A FANTASTIC evening – that was how organiser Brian Nicholas summed up the unveiling of the portrait of the late Dennis Taylor
Specially commissioned by Tamworth Little Theatre, the portrait was unveiled at a get-together at the town's Arts Centre on Friday.

Tamworth Herald – 19/04/84
Gary has an arty offer
Tamworth Herald – 22/06/84
New "Mr. Arts" named
TAMWORTH Arts Centre has a new Administrator. He is Londoner Nicholas Ewbank, who was chosen from 40 applicants from all over the country.
In his early twenties, Mr. Ewbank is a graduate of Durham University.
He has had experience of arts administration in the London area and has also been involved in pub theatre and running drama workshops.
He takes up his post in Tamworth next week.
Go-ahead
"He is very lively and go-ahead, and we were impressed with his businesslike attitude," said Mr. Peter Edden, chairman of Tamworth Arts Advisory Council which runs the Church Street Arts Centre.
"He wants to promote youth theatre in Tamworth, and sees the Centre as a place where unemployed people can come and take part in the arts."
Mr. Edden said the post for administrator – which is officially part-time – was advertised nationally and the response was tremendous.
Mr. Ewbank succeeds Gary Holt, who has moved on to a full-time arts job in Swindon.
Tamworth Herald – 13/07/84
Come on in it's yours, says arts centre boss
NICHOLAS EWBANK wasn't quite sure what he wanted to do when he graduated from Durham University.
He went for one interview and found himself talking enthusiastically and at length about the theatre. Since the kind of work he was being interviewed for had nothing whatever to do with the theatre, he wasn't surprised when he failed.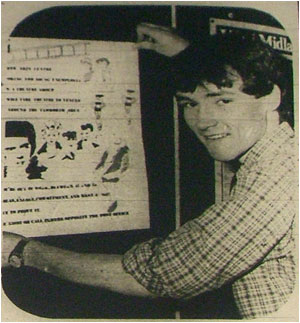 But he had no regrets.
The experience had at least shown him where his real interests lay.
And it was a different story when Nicholas, 23, applied for the post of administrator of Tamworth Arts Centre. He was chosen from 40 applicants from all over the country, and has now been in the job for three weeks.
"What I'd like to see is the centre becoming much more of a community centre," he sys.
"One thing I've been thinking about is drama workshops for unemployed young people, possibly leading to street theatre."
"The rock concerts here are very popular, but we need to get the same people who come to them coming to other things as well."
"It's a question of getting over the message that the arts centre is definitely not some sort of elitist club – it is here for the benefit of Tamworth as a whole."
Tamworth Herald 16/11/84
Cheers! Here's to a 'real' change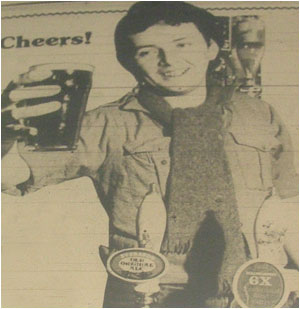 TAMWORTH Arts Centre is used to welcoming visiting shows and visiting plays, but now it has introduced something new – visiting beers!
The Church Street centre has stepped up its interest in real ale and has decided to have a change of beer every six weeks.
"Since we started changing our ale our turnover has boomed because people seem interested in trying out new things," said Arts Centre administrator Nick Ewbank.
As well as the permanent, popular, Everards Original, the centre currently has Wadworth 6X – but it isn't staying long, "The idea of guest beers is a very popular one, especially as they are all good traditional beers, " said centre cellarman Gerard Moore.