Tamworth Arts Centre : History
Tamworth Herald – 30/01/87
Curtain up on a new manager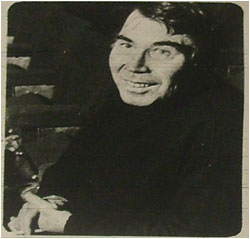 TAMWORTH Arts Centre has a new manager – Mr. John Garforth from London, who has over 25 years' experience in arts administration.
Due to take up his post in March, he is presently manager of the Questors Theatre Company – one of the most prestigious amateur companies in London.
Miss Jackie Steele, chairman of Tamworth Arts Advisory Council, said she was 'delighted' at the appointment.
"His experience in arts administration is very wide-ranging, from local authorities and arts centres to multi-purpose venues – he really knows his business," Miss Steele said.
She added: "The theatre in particular is his love, and he has written plays.
"John's view of hard work is that it is fun. He seems to be the sort of person who will relish the challenge of taking on the job here, and will put a lot into the arts in Tamworth generally as well as the Arts Centre itself."
A reception is being planned for him, so that he can meet all members of the Arts Advisory Council, and borough council officials.
Tamworth Herald – 10/04/87
Challenge that's 'alive' for John
WHEN John Garforth was appointed the new manager of Tamworth Arts Centre, he brought with him 25 years' experience in arts administration. Yet his career was not planned – it was, he says with a smile, something he 'drifted into'.
He was working as a librarian in London's Camden and got caught up in preparation for the Camden festival – so to the point where he found himself telling people what to do.
Audience
His ideas went down so well that he was whisked off into the arts department and put in charge of the box office and programmes.
Since then he has run an arts centre in Haringey and concert halls in the south and north – booking acts from the Sex pistols to Andy Williams.
A theatre buff since his schooldays, John has also acted, directed, and written plays – one of which was performed at the Hampstead Theatre Club.
Most recently, he ran the Questors Theatre in Ealing – a thriving and highly respected amateur company with a 300-seat main auditorium and a 100-seat studio theatre.
With 400 active members plus technicians and a vast army of helpers it was able to mount 25 productions a year and average 86 per cent capacity audiences over a 12-month period.
One of John's main aims is to boost audiences in Tamworth and he believes it's vital not only to publicise shows as widely as possible, but to tell people just why a particular show should appeal to them.
"One just has to try and build on the existing audience and I think it's important to have good shows at regular intervals so that people know there is something on certain dates," he says.
At the moment he is putting the finishing touches to the coming season of professional productions – hopefully including the sure-fire winner 'Hancock's Last Half-Hour'.
It's John's job to sell the centre – to see that it is used more in the daytime as well as in the evenings and at weekends, and as far as possible make it pay its way.
A lot of money is being put into it and the auditorium refurbished.
The coffee bar is to re-open selling snacks and hot lunches and the long-cherished scheme to turn the centre into an 'open studio' during the day is set to take off this month.
John is also enthusiastic about plans to launch a theatre for unemployed people, to be run as part of the open studio.
"There's so much potential," he says. "The whole idea is to really bring the place alive, getting people to meet here and use the facilities and the bar,"
John thrives on a challenge and whatever he takes on, he aims to see it through.
A graduate of the Open University, he got his degree he says, after 15 years.
It wasn't the studying that daunted him, it was finding the time to do it. What with working extremely unsocial hours and moving about a lot. He had to keep giving up his course and starting all over again.
Born in Harrow, 50 year-old John – who is divorced with three children – says he is now thoroughly settled in at Tamworth, and has a flat at Amington.
Tamworth Herald – 09/10/87
Arts centre chief sacked
The manager of Tamworth Arts Centre has been sacked after only months in the job.
John Garforth, who took over the administrator's job in April, when former manager, Nick Ewbank left, was dismissed due to what the Arts Centre described as "personal difficulties".
Mr. Garry Malpas, chairman of the Tamworth Arts Advisory Committee who took the decision said the move had not been prompted by any particular incident.
"All I can say at the moment is that it was due to personal problems Mt. Garforth had been suffering." Said Mr. Malpas.
He added that the Arts Advisory Committee was preparing to advertise the position, which involved the day-to-day running of the Arts Centre. In the meantime, Mr. Dave Fortune, is serving as acting administrator.
Mr. Garforth (50) had more than 25 years experience in arts administration before coming to Tamworth.
The Herald was unable to contact Mr. Garforth this week.