Tamworth Battle of the Bands : A History
Battle of the Bands 1988 - Wiinners: Scream Dream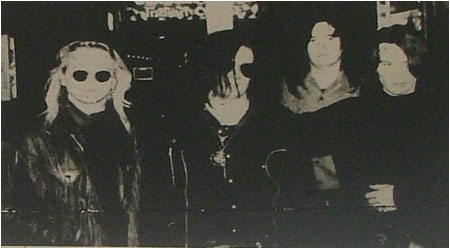 Scream Dream…remarkable success.
Friday March 4 1988
Battle of the Bands 1988 Final
Scream Dream (Winners)
Kraze
The Conspiracy
New Age Gypsies
Tamworth Arts Centre
Judges: Steve Webster and Nick Smith (Catch 23), Graham Walters (Shellshock), Pam Patten and Ian Gibbons (Rathole), John Reeman (DHSS), Ian Harwood (Rape in Yellow), Chris Edden (A5), Dave Caswell (Jabberwockie) and Alan Bayliss (The Parade).
Prizes: £75 prize and Young People's Arts Festival awards for the eventual victors, cash and trophy prizes, but perhaps more importantly, the title of Tamworth's Most Promising Band 1988 – Battle of the Bands Winners for the Tamworth Young People's Arts Festival.
Heat 1
Sunday February 7 1988
Tamworth Arts Centre
Torn in Two
The Conspiracy (Heat Winners)
Scream Dream (Highest scoring second placed band)
The Cuddly Spiders
Future Field
Admission: £1.00
Judges: (Planned) Mick Goodby (Depth Charge), Trevor Mugglestone (Never Say Die), Steve MacNamee (Soil Brothers) and Neil Gordon (Catch 23). Actual Judges: Ray Clenshaw (Catch 23), Jeff Hateley (Wolfsbane), Pete Fulleylove (A5) and Bruno Edwards (Shellshock)
Heat 2
Sunday February 14 1988
Tamworth Arts Centre
New Age Gypsies (Heat Winners)
Mr Cyn
The BBC
Jim Crows (Withdrawn)
The Band With No Name (Eventually Emma Gibbs Loves Badges)
Admission: £1.00
Heat 3
Sunday February 28 1988
Tamworth Arts Centre
DHSS (Withdrawn)
Racer
Kraze (Heat Winners)
Kubla Khan
Spiral Eye
Fetch Eddie
Admission: £1.00
Judges: Jase the Ace (Wolfsbane), Graham Harwood (Rape in Yellow), Mark Brindley (WIN) and Steve Hayes (A5).
1988
Tamworth Herald - 29/01/88
Musicbox – Arts Centre stages new-look 'Battle'
Salute the best in new rock talent
TAMWORTH ARTS Centre is to stage a new version of the annual 'Battle of the Bands' in February – featuring only bands who are new to the scene. The idea was to turn the event into a 'Most Promising Band of the Year' contest and it has been thrown open to any group who have emerged since the last 'Battle' of 1987.
Already 15 groups have been nominated to take part over three heats in February. The winners on each night will then be invited to a gala final on Friday, march 4 with a £75 prize and Young People's Arts Festival awards for the eventual victors.
Among the better known bands who will be involved are Fetch Eddie, The Conspiracy and Kubla Khan, but the event will also be the platform for first ever concerts by groups such as The BBC, Mr. Cyn and DHSS.
Although there may be slight alterations before the finalised line-ups, the current running order and the new 'Battle of the Bands' is as follows:
SUNDAY FEBRUARY 7:
Torn in Two, The Conspiracy, Scream Dream, The Cuddly Spiders and Future Field.
SUNDAY FEBRUARY 14:
New Age Gypsies, Mr Cyn, Fetch Eddie, Jim Crows, The Band With No Name.
SUNDAY FEBRUARY 28:
DHSS, Kraze, Kubla Khan, Spiral Eye, The BBC.
On each night the judges will be made up of members of longer-established Tamworth bands such as Wolfsbane, Catch 23, A5, Rape In Yellow, Depth Charge (now called Never Say Die) and so on. It will be their job to pick one winner from each night, who will go forward to a grand final along with the second highest-scoring group.
For the winners there will be cash and trophy prizes, but perhaps more importantly, the title of Tamworth's Most Promising Band of 1988.
On each of the heat nights the bands – who cover everything across the rock spectrum – will have just 20 minutes to impress the judges, and with five bands on each night no-one should have anytime to get bored!
We will give more details of each of the concerts in the next couple of weeks but for the time being clear your Sunday evenings in February and get ready to salute the best in new rock talent within this music barmy area.
Tamworth Herald - 12/02/88
Musicbox – Five-band fight is all heart
TAMWORTH'S 'Battle of the Bands' continues on Sunday with a St. Valentine's Day Massacre by a host of new local groups. Once again all the bands on offer will be fighting for one guaranteed place in the March 4 final with trophies, a cash prize and considerable prestige for the eventual winners.
This Sunday's array of bands – who will once again be judges by four top local musicians – has been slightly altered from the original announcement. Fetch Eddie have swapped with The BBC, Cuddly Spiders have come in for Mr. Cyn and Racer has been added as a replacement fro Jim Crows Blues Company. It means that the five bands who will line up at the Arts Centre on Sunday aiming to impress a packed audience and four discerning judges are…
NEW AGE GYPSIES
Atherstone's 60s/80s cross-over rock band, making their first appearance in Tamworth for a couple of months.
THE BAND WITH NO NAME
A band who will probably have a name by the night and will certainly have the charismatic Lee Revelle on vocals and a non-rock sound.
THE BBC
A totally new band to everyone, who will be making their debut locally. No-one has seen anything of them yet, lets lust hope we do so on the night!
RACER
A new rock band fronted by former Shellshock lead singer Andy Mottram, who have already impressed audiences and critics in the Ashby and Burton area.
THE CUDDLY SPIDERS
Norman Yates returns! Re-emerging from the wilderness. The Spiders are back again with a vengeance.
Once again the very nature of the contest – for new bands only – means that to find out what the bands are REALLY like, you have to get along. It all starts promptly at 8pm and as each band is allowed a maximum of 20 minutes to win over the judges, no-one will have to put up with anything that doesn't tickle their fancy for too long!
So with entry at a mere £1 and five bands waiting to show off their wares, have you any option but to make it to the Arts Centre on Sunday night? No I don't think so.
Will all bands arrive at the Arts Centre by 5pm at the latest: This week's judges are: Mick Goodby (Depth Charge), Trevor Mugglestone (Never Say Die), Steve MacNamee (Soil Brothers) and Neil Gordon (Catch 23). Will all judges please arrive at the Arts Centre by 7.45pm.
Tamworth Herald - 12/02/88
Musicbox – Weekend Power Battle
OUR TEAM of reviewers have been out and about again this weekend concentrating on two gigs in particular – the special Comic Relief show on Friday night and the highly successful 'Battle of the Bands' show on Sunday which brought over 200 people to the Arts Centre – the biggest attendance at the venue since last year's battle.
The Conspiracy – Battle of the Bands
TIGHT, well-performed and well received set which saw Paul, Sonny, Roger and Lisa all produce the goodies with increasing confidence and power. Roger's guitar continued to be the guiding light but the quality of the songs themselves overshone even the individual instrumental abilities. It made for a clean, satisfying set.
Sam Holliday
Mr Cyn – Battle of the Bands
IMPRESSIVE entry to the world from a band who gave us exactly what we were expecting – style. They combined the old One On One professionalism with a new, clearly defined sound of which 'Shine On Me' was…Musically it was faultless under Tim Latham in brilliant form and Dave Fitzgerald impressing everyone with his powerful vocal show. Undoubtedly once of THE new bands of 1988.
Sam Holliday
Torn In Two – Battle of the Bands
NICE tuneful burst which was almost (dare I say) cute. Musically it reminded me ever so slightly of The Housemartins with the charismatic singer reminding me ever so greatly of one Freddie Mercury. Yep, a neat band this.
Sam Holliday
Scream Dream – Battle of the Bands
A PLEASANTLY powerful surprise this. The inevitable Mission/Sisters/Balaam comparisons were made, but this reminded me more of the post-punk new wave bands full of searing guitars, gritty vocals and skin-breaking drumming by Monsieur Duane. Niz (looking like a demented Dee Dee Ramone) and Paul Keeton both produced power-packed guitar works, and with Steve (looking like an un-demented Robert Smith) throwing in a vicious, vocal edge, this was very pleasing on the ear indeed. Definitely a combo to scream AND dream about.
Sam Holliday
Future Field – Battle of the Bands
THE most strikingly powerful band of the night who belied their somewhat mid-Seventies image with a very mid-Eighties rock blast. Once again excellent musicianship was the order of the day with the irrepressible Mo Collins dominating the proceedings with his gutsy, ear-grabbing voice. The most unexpectedly dynamic set of the night and one which will have won this experienced combo a great deal of friends.
Sam Holliday
Battle of the Bands – The Result
The four judges – Ray Clenshaw (Catch 23), Jeff Hateley (Wolfsbane), Pete Fulleylove (A5) and Bruno Edwards (Shellshock) – made the controversial but understandable decision to send The Conspiracy into the March 4 final. And my opinion? Well, as usual I was glad I didn't have to vote because I thought all the bands were of an (unusually) high standard. But I guess I would have plumped for Scream Dream because they made a real and successful effort to impress AND they started with 'Postman Pat'.
Tamworth Herald - 28/02/88
Musicbox – Five of the best limber-up
Heat is on for final fling
THE final, exciting heat of Tamworth's 1988 Battle of the Bands takes place on Sunday night. Five varying local bands will take to the Arts Centre stage aiming to join The Conspiracy and the New Age Gypsies in the March 4 final to find the most promising new band of 1988.
This week's line-up offers a variety of musical styles and quality and should ensure a bumper crowd and a tremendous evening of entertainment.
Although one of the original 'starters' DHSS have had to pull out due to technical problems, their place has been eagerly snapped up by, Racer, who had to miss last week's show because of their drummer's arm injury.
The five bands on offer on Sunday will be…
Kubla Khan
An Atherstone outfit of definite quality but still something of an unknown quantity. Made an impressive Tamworth debut at the festival and have been backed by one or two people in the (rock and roll) know. Should prove interesting.
Racer
Making their second (and hopefully) successful attempt to join in the contest. Racer are a melodic but still heavy rock band who combine youth experience and add a tuneful touch to an aggressive sound.
Fetch Eddie
Regarded in some quarters as the favourite in the contest, Fetch Eddie are in the midst of a very successful period which has seen them triumph in concerts throughout the Midlands. Pop music so catchy it can leave your dancing feet with a permanent itch.
Spiral Eye
A brand new outfit making their world debut! All I can tell you at this stage is that they feature some always interesting musicians (Daz and Baz from 13th Reunion, Jim and Pete from Attica and Rem from The Calling) and according to Jim they play 'music to flinge to'. Suck it and see.
Kraze
One of the heaviest bands in the whole 'Battle of the Bands' who should bring some welcome, 'glam' to the proceedings. Heavy, steady, go!
That's the line-up to be judged this week by Jase the Ace (Wolfsbane), Graham Harwood (Rape in Yellow), Mark Brindley (WIN) and Steve Hayes (A5).
The winners
What makes Sunday's show even more interesting is that as well as the winners of the night going through to the March 4 final, the highest-scoring second-placed band from the WHOLE contest will also be revealed. They too will then be invite back on March 4 for the final which already features heat one winners Conspiracy and heat two victors The New Age Gypsies. So all the bands who have appeared so far in the contest – and the four that don't win on Sunday are still in with a chance of playing in the final but to find out if that means YOU, you will have to be there!
All the ingredients them of an excellent night. The bands are asked to reach the Arts Centre by 5pm, the judges by 7.45pm and the crowd by 8pm so we can attempt to get off to an early, ear-bashing start. It should be a great night so miss it at your peril!
Tamworth Herald - 28/02/88
Musicbox – Rocked to the Rafters
Gig Reviews
More news and reviews from around the area produced a host of different Musicbox scribes. Take it away critics…
Emma Gibbs – Last week's Battle of the bands
The guitarist's dad wouldn't let him come out to play but nevertheless the band played the best set of the night. Local music needs something to shake it up and if Emma Gibbs stay together maybe they'll do just that.
EDWARD IAN ARMCHAIR
Tamworth Herald - 04/03/88
Musicbox – How the Battle lines are drawn…
Four turn up the power on finals night
TAMWORTH'S highly successful Battle of the Bands reaches its exciting climax tonight (Friday) at the Arts Centre. Four bands will line-up in the event aiming to win the award as Tamworth's most promising new band for 1988.
So far the contest has provoked good crowds, fine concerts and its usual share of elation, disappointment and controversy. Tonight promises to be just as tense and exciting as four bands attempt to win the overall award won in past years by One On One, Breaking Point and most recently Wolfsbane.
To decide who should win the prizes there will be ten judges. They are: Steve Webster and Nick Smith (Catch 23), Graham Walters (Shellshock), Pam Patten and Ian Gibbons (Rathole), John Reeman (DHSS), Ian Harwood (Rape in Yellow), Chris Edden (A5), Dave Caswell (Jabberwockie) and Alan Bayliss (The Parade). They will be judging the following four bands.
THE CONSPIRACY
Heat One winners and a group who have made a dramatic impact locally since their formation some months ago. After first conquering Tamworth, they have now earned praise in both Atherstone and Lichfield and are soon to spread their wings further. Their passionate new-wave-based Cult-rock had been compared to many bands but still has that extra, vital ingredient of originality. If they win tonight it will be the icing on a bountiful cake of recent success.
NEW AGE GYPSIES
Heat Two winners and another group who have developed very quickly since their early beginnings. Starting originally as a hippy band, the group soon smashed this concept with a sound that was far heavier and more direct that the whimsical late Sixties image they attempted to portray. Solidly supported in Atherstone and increasingly popular in Tamworth, they have a vitality and enthusiasm which could well be rewarded with victory tonight.
KRAZE
In as winners of Sunday's heat and having attained the highest marks in the contest so far, could well be THE band to beat. Strong, powerful metal music from a band with a hallmark of quality.
SCREAM DREAM
Probably my favourite new band (along with Spiral Eye) to have emerged from the contest, the Dreamers have taken their place for being the highest scoring throughout the four weeks. Modern influences abound but these boys are very much their own scene-setters and they could be dark horses for inevitable glory.
All four bands will be given their usual 20 minutes to win over the Arts Centre judges and the crowds before the eventual winner is chosen. They will be awarded the title Tamworth's Most Promising Band 1988 – Battle of the Bands Winners for the Tamworth Young people's Arts Festival and will join the hall of fame with Breaking Point, One On One and Wolfsbane.
In addition to carrying the title for 12 months the winners will pick up a cash prize of £75 and individual 'Battle of the bands' trophies which will be theirs to keep. In addition of all goes to financial plan there should be one or two extra goodies on offer to winners and losers alike because above all, the final of the 'Battle of the Bands' is always a fun night and a cracking concert to boot!
If the past couple of 'Battle' finals is anything to go by, tonight will be packed to the rafters and the atmosphere will be red-hot. Get along at 8pm (any later and you may miss a moment which you shouldn't) and get set for a wonderful exhibition of the very best of new music in the local area. The winners will have a marvellous title to carry around with them for 12 months. The losers will have the satisfaction of knowing they at least reached the last four, and all the punters should have a night to remember for the rest of the year.
The battle lines are drawn – let battle commence.
Will all bands get to the Arts Centre by 5pm. Will judges arrive by 7.45pm.
Tamworth Herald - 04/03/88
Musicbox – A hot time with some cool sounds
Battle of the Bands – Final Heat
WELL, what a night this turned out to be. Around 200 sweaty punters, four sweaty bands and a marvellous good-humoured atmosphere that was a pleasure to be part of. And here is how it all went…
Spiral Eye
My favourite band of the night and a group for whom I predict great things in the future. An amazing introduction set the scene for 20 minutes of Velvet-clad Sixties drug-culture pop with Floydisms everywhere and even a touch of mid-Seventies Swell maps. Baz, who I once described as the coolest man in the universe, remains in that exalted position and has more charisma than an American TV evangelist. And no doubt just as many skeletons. Each track was different but all retained that same mesmerising, meandering mood. More of an experience than a show. Absolutely ace.
Kraze
Professional, punchy and laden down with natural style. I always had more than a sneaking admiration for Kara and Powerplay and this new combo have taken the best of both those and added new impressive touches. The girls provided talent as well as the inevitable glamour and the band emerged with a rousing finale which totally won over the audience. And – oh yes – a mention to the remarkable, wonderful and incredible Carl Anthony has had his name left out in the past and I was threatened with a chainsaw if I did not put his name in lights. So there you are Carl, now put away that chainsaw.
Kubla Khan
Compared afterwards by one of the judges as sounding like Bruce Springsteen, which is probably the second greatest compliment you can give to mortals (no prizes for guessing the first). It didn't sound that Brooce-like to me but there were definite classy mid-Seventies, mid-American touches in there with some impressively produced guitar work spotlighting a dreamy feel. A tight, well-rounded commercial set from a band who have a real dollop of class.
Racer
Maybe I had seen 'Bad News' just a little too soon before this but Racer came over as a rather undramatic heavy band whose charisma didn't shine as it did on their impressive demo. To their credit they played a solid, administered set and produced one gem in the slower 'Feelings Never Change'.
SAM HOLLIDAY
Tamworth Herald - 11/03/88
Musicbox – New line-up win Battle's thrilling final
Screaming in to take the honours
DELIGHTED SCREAM Dream won the 1988 Tamworth Battle of the Bands title on Friday night after a thrilling final. Another jam-packed Arts Centre audience was treated to four exciting, contrasting performances before judges delivered their eagerly-awaited result.
It led to scenes of wild excitement from the Scream Dream camp which was no surprise considering this was only their second ever concert.
What made the Dreamer's success even more remarkable was that in the heats leading up to the final they had only finished second. But that highest-scoring second was enough to inch them into the final and there they produced a far better performance which left their three opponents beaten.
To lose in a final is always a disappointment but New Age Gypsies, Conspiracy and the excellent Kraze have every reason to feel proud for their fighting shows which won over large percentages of the audience.
It all began with the eventual winners, Scream Dream. They emerged from a blanket of suffocating dry ice with a power-blasting sound which immediately caught the audience's attention. With the addition of the always impressive Ted Wilson, the guitar sound in particular was irresistible, layering stylish melody line upon stylish melody line and being backed with some thumping, gritty bass and drum work.
Fronting the band with an aggressive, confident show was vocalist Steve, a man who looked good, sounded powerful and probably wished there wasn't quite so much smoke obscuring his natty haircut.
The set was all over far too quickly but by the time it finished I was convinced that here is a new Tamworth band of real charisma, talent and ability. They were going to take some beating.
Next up were New Age Gypsies who led the Atherstone assault on the Tamworth title with a show which I thought was the best I have ever seen from them. Any rough edges from previous shows had been clinically rooted out and discarded leaving the New Agers with clear crystalised sound with one foot in the Eighties and one in the Sixties. The band, and their travelling support, seemed happy with the show. Could the standard be maintained we asked ourselves?
Kraze said a resounding 'yes' within the opening seconds of their set which followed next. The outfit, who had been so impressive in the heats kept up that high standard with a varied well-balanced and powerful show.
The classy Graham Phelps led the guitar attack with an accomplished air and the mixture of males and female vocals made a refreshing and invigorating change. Best number was the superb "Dance Till Dawn" but altogether this was a very, very good show from a band who are ideal for the metal connoisseur and very palatable to your average poppy-punter.
Completing the show were The Conspiracy, the only band who seemed to suffer from nerves on the night. As a result this was not the best Conspiracy show we have witnessed but as the pressure started to lift at the tail end of the sent, we began to see that old fire again culminating in a dazzling version of "Passion Burning". Paul Bethel again impressed all who saw him and heard him although rock and roll credibility dipped somewhat when he had to take his mom home straight after the show! Still she seemed to quite like the concept.
Following The Conspiracy's departure from the stage, ten judges headed for their special room to make the ultimate decision on who was the Tamworth Young People's Arts Festival winners for 1988. They all had to mark on two things – performance and potential – which summed up the idea that this was to find the area's most promising new band. All ten judges (who came from widely different musical backgrounds to ensure there was no 'fix') thought differently but at the end of the day two bands were outstanding in the scores – Scream Dream and Kraze.
Ultimate
I don't normally name the second band but as they came so close I feel Kraze deserve a hearty pat on the back. But this year it was Scream Dream who took the ultimate position and accolade. In just two shows they have already established themselves a major force and there is no doubt that the confidence-booster that they have received by winning the prestigious award, will put them in very good stead for the future.
A fine band and a fine competition. As usual there were moans and groans afterwards but what we had seen were four excellent concerts which had all produced bumper attendances and kept the area's music scene on the rock and roll boil. The battle is now over and all bands, judges and crowds must lay down their arms and join forces for the next major event – tonight's ambitious 'Scum Ball' project at the Assembly Rooms.