Hamlets Wine Bar & Bistro
Tamworth Herald – 24/09/76
Hamlets Wine Bar – Opening 28th September 1976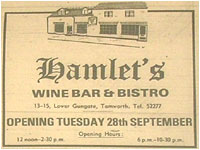 Following the pattern of successful Wine Bars in other areas, we have decided to open one in Tamworth. Our aim will be to provide a reasonably priced meal, an excellent choice of wine in pleasant attractive surroundings, with the object of providing a pleasant lunch for Business People and Shoppers and an enjoyable evening out.
The premises are a couple of old converted cottages at 13-15 Lower Gungate. It will be known as "Hamlets" and the opening date will be Tuesday 28th September, 1976, the hours being 12.00-2.30pm and 6pm – 10.20pm.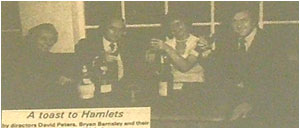 There is however one difference between this and other Wine Bars. As a small private company we need to try that little bit harder to compete with larger set-ups. Because of this we have taken that little bit more care and effort to provide a better service.
For example we needed to make sure the furniture and décor blended favourably with the oak beams of the original buildings. Old wood has carefully been selected and renovated to provide the screens, furniture and bars. The lighting will be provided by converted oil lamps and although the premises will be fully carpeted we hope we have successfully captured a cottage atmosphere.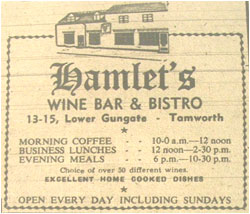 Our fully qualified catering staff intend to make as much of our food produce as possible. There will be a first class selection of cold dishes, fish, pate and all types of salads. Each day there will be at least one hot continental dish to choose from. Customers will be able to pay prices from as little as 50p.
The same care has been taken in the selection of staff. The Directors, David Peters, Bryan Barnsley and their wives Pat and Valerie have been friends for many years and they hope that a friendly atmosphere will prevail throughout Hamlets.
We have been very encouraged by the attitude of local people towards the project and the Directors and staff are excited with the prospect of providing Tamworth with something a little different.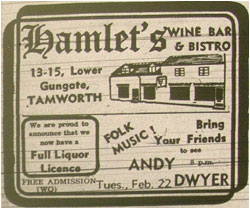 Tamworth Herald – 12/11/76
Wine licence granted
An application by Mr. Bryan Thomas Barnsley for the provisional grant of a justices on-licence to sell wine only at his Lower Gungate "Hamlets" restaurant to be made final was granted by the borough licensing committee on Tuesday.
15/02/77
Mick Porterfield
Hamlets
Tamworth Herald – 25/02/77
Folk Music Every Tuesday
Hamlets
Tamworth Herald – 01/04/77
Free Folk Evening – Every Tuesday and Wednesday
Hamlets
Tamworth Herald – 07/07/78
Tonic for wine bar drinkers who 'downed' 79 gallons of beer in a week
TOWN PUBS LOSE BITTER 'BATTLE OF REAL BOOZE'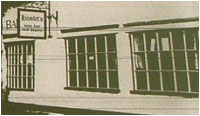 ANGRY Licensees have lost a bitter battle to stop a Tamworth wine bar selling draught beer for real ale fans.
Some publicans have found it hard to swallow plans by Hamlets Wine Bar to sell draught and keg beer.
They have claimed the toilets at Hamlets would not be able to cope with the extra "trade" when customers drank pints of beer as well as small glasses of wine.
And they say the town centre already has enough pubs selling draught beer, without Hamlets getting in on the act.
But after an inspection of the Bar, Tamworth Licensing Justices this week gave the go ahead for the real ale sale.
The granted Hamlets a new on-licence to include the sale of draught and keg beer and rejected the Licensed Victuallers Association plea to call time on the scheme.
Mr. Brian Barnsley, licensee and joint proprietor of Hamlets, said that at present the bar sells unusual beer by the bottle.
"We were delighted to find customers' demand for these beers has been dramatic," he told magistrates in the last week of June, customers drank their way through 79 gallons of bottled beer. He said there were no plans at the moment to sell normal beers.
"We would be providing beers that are not normally available at the moment – Sam Smith's real ale. It would be catering for a more specialist clientele," he said.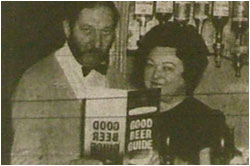 Mr. Colin Baker, chairman of Tamworth and District Licensed Victuallers Association and landlord of the Gate Inn at Amington – put the LVA side of the case.
"We feel there is adequate means of obtaining alcohol in the two centre," he said "Many pubs serve types of real ale. Real ale does not have to be hand pumped. It can be dispensed by electric pumps," he said.
"The Wine Bar is not suitable for any additional trade. With extra consumption of ale, I think the toilets will be used a lot more," Mr. Barber said.
Solicitor Mr. Jan Jellema said "…this is the thin end of the wedge."
"The wedge has the appearance of another public-house in the town…it would be taking bread from their mouths," he said. "Although all that is made mention of is real ale, there is nothing to prevent them going further and selling normal beer," he added.
Tamworth Herald – 09/11/79
Councillors clash over application to extend
Wine bar plan upsets newsagent – decision is shelved
A MAJOR row has broken out over plans to extend Tamworth's Hamlets Wine Bar
The Owners – Peters Barnsley Limited – want to add a first floor extension to the Upper Gungate building bit their proposals have met with disapproval from a nearby newsagents.
Members of Tamworth Council's Plans Group decided to defer a decision on the application after hearing that the extension would be 'six-feet away' from a bedroom window at W.M. Gilbert's shop living quarters in Little Church lane.
Further investigations are to be carried out before the decision is taken.
The meeting – on Tuesday – heard that Mr. Gilbert's flat was the only residential property left in the area.
Independent Councillor Ron Watson said they should think about the rights of the individual as Mr. Gilbert had lived and been in business on this site longer that the wine bar.
CENTRE
"This extension will be very close to his bedroom window and just because overlooking happens in other towns it does not mean we have to accept it," he said.
Tory Councillor Graham Talbott, said they should be encouraging people to use empty premises above shops and flats and it concerned him to think that the council could allow such overlooking.
"There are many buildings in the town centre that could be used as flats but a move like this could put people off," he said.
Group chairman Councillor Duncan Smith said it would be impossible to stop overlooking in any town.
"Mr. Gilbert should be thankful that his shop is on the corner of Little Church Lane otherwise he would be overlooking from all angels," he said.
Tamworth Herald - 23/11/79
Wine bar extension plan is rejected
A PLAN to extend Hamlets – Tamworth's only wine bar – has been turned down after a row about it encroaching on a neighbours property.
Peter Barnsley Limited – who own the Lower Gungate bar – had hoped to extend their premises on the first floor, but nearby newsagent Winifred Gilbert complained one wall would be only six metres away from their bedroom window.
Tamworth Herald – 10/10/80
Bistro appeal
OWNERS of Hamlets wine bar in Lower Gungate have appealed against a Tamworth Borough Council decision not to allow a first floor extension to the bistro.
And a local inquiry will be held at the Council Chamber on November 5.
The planning committee refused the application because they say the proposed extension would adversely affect a residential property.
Tamworth Herald – 12/11/82
Wine bar man fined £600
HAMLETS Wine Bar licensee, Mr Brian Barnsley was fined £600 on Tuesday for failing to send in his VAT returns on time.
Mr. Barnsley, director of Peters-Barnsley Ltd., Lower Gungate, Tamworth, admitted the offence.
He told the court it had not been a wilful omission but a case of neglect.
---
Early Memories
I can clearly remember walking into Hamlets for the first time. It was 1976, I was 15, with Edward Dutkiewicz and Gavin Jones - we were three artists. Gavin had a beret on (it was a wine bar after all!!). All they served was wine - in fact it might have even been before they got their liquor licence - did we have a drink? I can't remember.
Then of course there was the food. A few years later when Hamlets was well established with the office crowd at lunchtime. We'd go there from college for a pint and we'd always lick our lips at these delicious looking dishes of curry and rice or pasta dishes. And on the table were pots of 'vomit smelling' parmesan cheese. We just couldn't understand how people could eat this stuff. I remember Chippy always seemed to be in there eating this wonderful looking food. I never got to try it! Edward ian Armchair