Jester
Jester
Steve Godsall – Lead Guitar
Photograph courtesy: Tamworth Herald
Musical Type/Genre: Jazz Rock
Formed: January 1976
Band Members:
Steve Godsall – Lead Guitar (Glascote)
Rick Godsall
And two friends from Solihull
Gigs
25/04/76
Jester
Tamworth Progressive Club
19/06/76
Barn Rave-up
Brooster (sic.), Jester
19/02/77
Jester
Warton Working Mens Club
09/04/77
Jester
Warton Working Mens Club
17/04/77
Jester
Glascote Working Mens Club
11/06/77
Jester
Warton Working Mens Club
23/07/77
Jester
Kettlebrook Working Mens Club
08/10/77
Jester
Warton Working Mens Club
06/04/78
Jester
Polesworth Working Mens Club
15/04/78
Jester
Hurley Working Mens Club
03/06/78
Jester
Glascote Working Mens Club
---
Tamworth Herald – 15/04/77
Musicbox - Steve Godsall - On the way to success
Tamworth council worker Steve Godsall could soon be making his own album and single.
That is the prize for winning Radio One's competition to find the most promising new band in the country.
Sixteen groups have been sorted out from over 700 entries in the contest and Steve is a member of one of the successful ones – "Jester."
Steve, administration assistant in the borough recreation and amenities department, is lead guitarist with the group.
They are a jazz rock band and they have already recorded a sample of their music for the Western Area heats.
The contest is being run as part of Alan "fluff" Freeman's "Quiz Kid" programme and Steve of Glascote and his band will go on the air on Sunday, April 17.
The other members of the band include his brother Rick, who lives at Leicester and two friends from Solihull.
The group have only been together three months and are using material written by Steve and his brother – Andy Gough.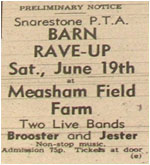 The full profile and history of Jester has yet to be added to TamworthBands.com Call back soon to read the full band details.
If you have any further information about this band please email: info@tamworthbands.com