Tamworth Bands : Audio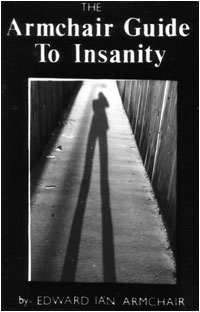 Edward ian Armchair
Title: The Armchair Guide to Insanity
Vitriolic view from an armchair
Tamworth's rock poet Edward ian Armchair follows the recent trend set by local groups of producing and promoting their own tapes.
But while Ed recorded at Tamworth's Magnadrive studios and is selling the tape for £1.99 at Rock-It Records, there the musical similarity ends.
The cleverly named and designed "Armchair Guide to Insanity" is basically Ed reading out his poems he's written since 1975, with simple synth and drum backing from his ex-DHSS co-founder Rikk Quay – now of the Magnets.
My first thought was - who is this John Cooper Clarke anyway? (And while we're name dropping JCC read out Ed's 'Adam and Eve' track on Radio One's Studio B15 programme recently).
You need to upgrade your Flash Player.
The 11 tracks are all pretty powerful, image-laden, sharp observations of things around.
And Ed seems to see things pretty vitriolically. I found a definite menacing edge on all the tracks but especially 'In Our House', 'Dolls, and the 'Little Boy Down the Road'.
There's also a sense of humour tucked away in the instructions on when to turn over the tape and in 'The End'.
In the title track Ed asks "Why do armchairs talk when no one listens?" One listen to this tape and it's something you can't forget.
CATHY PETTIGREW (Tamworth Herald)
---

Click on the Play icons alongside each track. In order to play these tracks you will need a copy of the Adobe Flash Player installed on your machine. This is freely available to download here.
Side One
Side Two
False Expressions to Impress
Tea Ladies
Dreams
The Armchair Guide to Insanity
In Our House
Dolls
Rewind
The Little Boy Down the Road
Adam and Eve
Fat Gut, Bald Head, Smart Grey Suit
Now Turn Over Your Tape
The End

---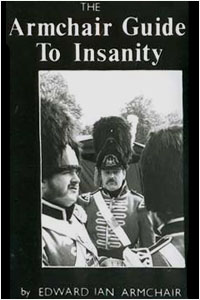 Line-up
Edward ian Armchair - Voice
Rikk Quay - Synthesisers, Drum Machine and additional sounds
Engineering by Rikk Quay*
Production by Andrew Baldwin
*Appearing courtesy of Those Attractive Magnets
MAG 1 - Recorded at Magnadrive Studios
Cover Design by Kevin Murdoch (Every ten tapes features a different cover design)
©1982
©Copyright of all tracks remains with the artist. Permission to include these tracks on TamworthBands.com has been granted by Edward ian Armchair - January 2007.