Manna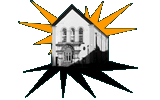 Musical Genre/Type: Christian rock
Formed: 1988 Split: 1990
Band Members
Richard Else - Lead Vocals/Bass Guitar (The Leys)
Mark Widdas - Lead Guitar/Backing Vocals (Town Centre)
Albert Howard - Drums/Backing Vocals (Lakeside)
Other Band Members/Instruments:
Manna Version 2 - Mark Widdas - vocals/lead guitar; Dave Dukes - vocals/guitars/slide/harmonica; Adrian Booth - bass guitar; Albert Howard - drums/backing vocals. This line up existed from 1992-94
Songs
Look Out for Me - Else/Widdas
Bad Order - Dukes
The Key - Dukes
Been Outside Too Long - Widdas
War on Evil - Widdas
In this World - Widdas
Behind the Sun - Widdas
My Life Has Changed - Dukes
Game of Life - Widdas
Gigs
First Gig: Lichfield Christian Festival - 1988
Last Gig: Bamford Street Church, Glascote - 1994
Other Gigs: Every local church you can think of that featured a youth club!
Memories
Mark had a battered blue transit van which we used to ferry all the gear about. Adrian was quite taken with a fretless cherry red bass he found somewhere. There were no tuning keys as such, he had to stick a screwdriver into the back of the neck and twiddle!
You try tuning a dobro in a heaving club where you struggle to hear yourself think! Best bet - the toilets!!
We had a residency at the Bolt Hole club in Tamworth Church crypt. Played live extensively around the area in mostly church venues.
Thanks to: David Dukes
If you have any further information about this band please email: info@tamworthbands.com