Marcus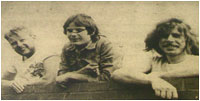 Marcus
Photograph courtesy: Tamworth Herald

The Gallery
Musical Genre/Type: Rock
Formed: 1983
Band Members:
Dylan Haddon (Guitar/Vocals)
Tony Bradford (Drums)
Paul Lewis (Bass)
Gigs:
08/07/83
Wild Child
Royal Family
Marcus
Tamworth Arts Centre
11/07/83
Marcus
Tavern in the Town
Tamworth Herald – 01/07/83
Musicbox – Three plan a night full of fresh sounds
THREE OF the new bands who have emerged locally in the last few months are joining forces for a major concert at Tamworth Arts Centre.
Wild Child, the Royal Family and Marcus are appearing at the always popular town centre venue on Friday July 8.
At their gigs at the Tavern in the Town, Wild Child have impressed with their own brand of melodic rock with a hard edge provided by the guitar of Norman Yates and the vocals of Roger 'Budgie' Bird.
The Royal Family have also used the tavern as their stomping ground and they too have received favourable responses to their straight-down-the-line R 'n' B approach.
Marcus, on the other hand are an unknown quantity – see story on this page for more details.
Tamworth Herald – 01/07/83
Musicbox – Making their Marcus
The band appear on the Arts Centre triple bill with Wild Child and the Royal Family and follow that up on Monday, July 11, with a gig at the Tavern in the Town.
While the name Marcus might be unfamiliar, the same can't be said for the band's guitarist/vocalist Dylan Haddon.
Dylan has become something of a veteran on the Tamworth scene with appearances in several bands over the last two years.
After undergoing the customary personnel problems in their early days Marcus have established the line-up as Dylan, with Tony Bradford on drums and Paul Lewis on bass.
Recorded
They have already recorded four tracks at Steve Adams' studio in Birchmoor for a demo tape.
'Gabriel', 'Planet Earth', 'River Blue' and 'Street Girl' are the four self-penned numbers they have recorded.
The general standard of the tape is high with the last track in particular being really outstanding.
Marcus would like to add a permanent keyboards player to their line-up and potential recruits should ring Paul…
Tamworth Herald – 29/07/83
Musicbox – Review: Marcus/Royal Family/Wild Child : Tamworth Arts Centre
THIS triple bill featured three bands recently featured in the Herald with Marcus leading off, followed by the Royal Family and Wild Child topping the bill.
Marcus would benefit from some moths of practice and somewhat more imagination.
Royal Family, playing to a packed theatre, ran through their now familiar set of high energy R 'n' B to an enthusiastic response.
The band looked somewhat happier than in the cramped space of the Tavern in the Town, with Dave Smith having more room to mix his powerful vocals with his Quasimodo impressions.
Wild Child's set was well received by a small group of headbanging HM freaks, but the band's undoubted ability was not matched by their material.
A mention also for Dave Hewitt who assisted the Royal Family on harmonica.
Crink
---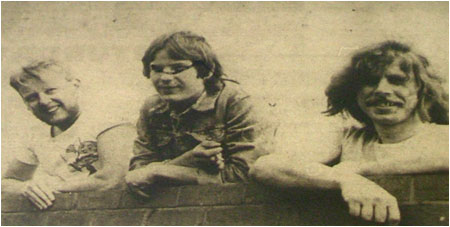 Marcus…left to right: Tony Bradford, Paul Lewis and Dylan Haddon.
MARCUS – a new name hitherto unknown locally – are set to make their mark on the music scene with two gigs in Tamworth in four days.
If you have any further information about this band please email: info@tamworthbands.com