Muff Doctors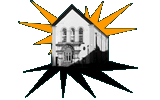 Musical Genre/Type: Rock
Formed: 1986 Split: 1986
Band Members:
Trevor Mugglestone - Guitar
Phil Mugglestone - Guitar
Steve Fitzgerald - Bass Guitar
Kick Goody - Vocals and Keyboards
Gary Dobson - Drums
Gigs:
15/10/86
The Muff Doctors
The Marmion
Tamworth Herald – 10/10/86
Musicbox – THE MUFF DOCTORS
Formerly Depth Charge are playing their first gig under their new name and new line-up on Wednesday. The new full line-up is Trevor Mugglestone guitar; Phil Mugglestone guitar; Steve Fitzgerald bass; Kick Goody vocals and keyboards (!) and Gary Dobson, drums. The band will be in action on Wednesday night at The Marmion pub. Entrances is free.
Tamworth Herald – 12/12/86
Musicbox – Gossipbox
ALTHOUGH I am doing my best to cut out rigged votes in he MUSICBOX poll – I have already squelched the attempt to hype a dog to personality of the year! – one problem remains.
Because there are a lot of genuine Stranglers fans out there, but more especially a lot of Sam Holliday-mickey takers, this band of bands has shot to the top of the best album, best single and best band slot. The problem is, if it stays that way how will anyone believe me? I mean it is well known that I like the Stranglers just a teeny-weeny bit and if they will all three categories I will suffer jibes for the next 12 months. Still if that doesn't ensure a mass of votes coming in nothing will!!! One band who are doing rather well in the poll are the Soil Brothers who told me at the weekend that they might be playing support on the next New Model Army tour. It seems Slade the Leveller saw the group playing with Joolz and he was so knocked out he offered them a support slot on the spot. It all sounds a bit fishy to me but we shall see…Also odd is that Orange Blossom Special are changing their perfectly reasonable name to something perfectly unreasonable like Mr. Johnson. Depth Charge have also changed their name to Caging the Raven. They were briefly called The Muff Doctors but too many people understood that to let it go! And finally talking of going, Wolfsbane finally went on Tuesday. They had one last enjoyable night at the Rathole on Saturday and then packed their fez-hats to fly to Dubai. Tamworth will seem a lot saner (and duller) without them.