Mutant Zombies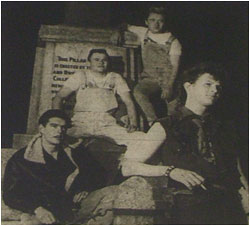 Caption: The Mutant Zombies…exponents of 'anarchybilly'.
The Gallery
Musical Genre/Type: Anarchybilly
Formed: 1986
Band Members:
Daz Knight - Guitar
Robert Kinson - Lead Guitar
Andy Stokes - Bass Guitar
Nick Plant - Drums

Gigs:
26/10/86
Mutant Zombies
Attica
The Rathole
Tamworth Herald – 17/10/86
Musicbox – Sick Nick and Co. hit a bizarre note
A NEW powerful four-piece who combine punk, rockabilly and rock and roll, are about to launch themselves onto the local scene. The intriguingly Mutant Zombies will be aiming very much at the Meteors/Cramps fans in Tamworth – although they also have a strong influence as diverse as Eddie Cochran and The Stranglers.
The Zombies got together just a few weeks ago, but have already managed to string together a whole host of original numbers. Now they are looking forward to their first local concert in the very near future – possibly at the Rathole.
"We are not sure how we will go down in Tamworth, but we think we will be different to everyone else." Said guitarist Daz Knight.
Three of the Zombies have been in local bands before – Daz played with the College Boys, lead guitarist Robert Kinson used to e with the ill-fated Green Swings, while bassist Andy Stokes will be known to most people as a former member of The Parade.
Completing the line-up is drummer Nick Plant who provides a solid backbone to the ambitious quartet.
" A lot of Tamworth bands seem happy just to stay in the town, but we would like to think that we could go out and get other gigs in the not-too-distant future," said Robert.
The band will hit the stage with bizarre stage names. Andy Stokes will be called 'Andy' (very bizarre that). … will be The Weasel, Rob will be – Van Veegan and Nick Plant wins the name award going under the banner 'Sick Nick The Psycho' As a further indication of what to expect they say they hail from 'The Twilight Zone' and are all stars of 'The First Horror Story'.
Tamworth Herald – 24/10/86
Musicbox
The Mutant Zombies – Sick Nick the Psycho et al – top the bill this Sunday at The Rathole. The band who list everything from Eddie Cochran to the Cramps as their main influence, will be playing their own self-styled 'anarchybilly' in their debut gig.
Attica are certain to join them on the bill and the Rathole has stressed that any young local bands who would like to play there in the next few weeks will be made more than welcome.
The venue is keeping to local bands until the Dr. Feelgood Assembly Rooms show on November 23. That will be the biggest gig in Tamworth for many years and advance tickets are now on sale. They cost £3.50 and are available from either Manhattan Winebar or Tamworth Arts Centre.
Tamworth Herald – 31/10/86
Musicbox - A fit of the gigs
Mutant Zombies – The Rathole
Different, very different in fact. The Mutant Zombies are very different for a number of reasons – not least the fact that despite their name and image, they are five of the shyest musicians. I know. For this reason their stage presence was less than zero, and it took the talented if slightly loopy Sick Nick on vocals to scream some life into the rest of the band. Despite their shyness (or was it nerves) The Zombies clearly have several useful ideas, and the seeds of several excellent tunes. Rob Kinson (let's forget the stagenames) is a very individual and talented guitarist and Daz, Andy and guest Simo all did their jobs well. There is a lot to build on here, and potentially this is a very entertaining combo. And Sick Nick is definitely a star in the mutant making…
---