Napalm Nancy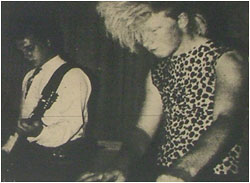 Caption: Napalm Nancy boys …Paul Clements (left) and Derek Goodwin as members of the Classified Ads.
Gallery
Musical Genre/Type: Alternative
Formed: 1987
Band Members:
Paul Clements
Derek Goodwin
Gigs:
08/11/87
Napalm Nancy
Lean Steel
Dawn After Dark
The Rathole
Tamworth Herald – 21/08/87
Musicbox – SNIPS
Hippy relics Paul Clements and Derek Goodwin have unveiled their new band Napalm Nancy. The group are hoping to make their 'Rathole' debut shortly alongside the new band fronted by Max Body of Ausgang fame.
Tamworth Herald – 23/10/87
Musicbox - Gigs galore – and so much more!
TAMWORTH Arts Centre is all set to stage a series of top local concerts following the untimely demise of 'The Rathole'.
In the meantime however pencil these first two dates in your diary (Sun. Nov 1, Wolfsbane, Conspiracy, Catch 23) and Nov. 8, Napalm Nancy, lean Steel, Sawn After dark) and get ready for yet more Arts Centre concert specials.
Tamworth Herald – 06/11/87
Musicbox – Triple helping of great musical nostalgia
Saluting the rock of ages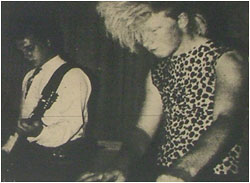 Caption: Napalm Nancy boys …Paul Clements (left) and Derek Goodwin as members of the Classified Ads.
THREE original bands – whose influences span music of virtually every decent genre of the past 20 years – team up for the Arts Centre special on Sunday night.
Spearheading the walk on the wild side are Napalm Nancy who will line up with tough new Birmingham band Lean Steel and alternative 'sex death' favourites Dawn After Dark.
The concert promises to be a unique and precious occasion which should give Tamworth audiences a chance to choose between three very different but not entirely unrelated musical forms.
Most local interest will be pinned on Napalm Nancy who feature former Classified Ads member Paul 'Hairless' Clements and Derek 'The Big V' Goodwin. For these hippy ex-Tamworthians Sunday night's show will be very nostalgic as the last time they played at the Arts Centre was on the final night of the Classified Ads shambolic five-year career.
Since then the duo's musical interests and careers have moved into different pastures and their original punk roots have now spouted branches which include those ultimate enemies of punk – Dylan, Rolling Stones and hippies.
This is reflected in the band's sound – a kind of late Sixties earthy rock which meanders from very hard to uniquely oblique. Their sound is dominated by a gruff and impressive vocal which sounds every bit like Lou Reed after hormone injections from Jim Morrison, Iggy Pop and Donald Sinden.
They should appeal to anyone who likes their rock hard and faintly Old Grey Whistle Test-ish and with lyrics like "I Wanna Die On The Motorway", you know this is not House music.
Best-known
For Paul and Derek – the latter now trades on the particularly dubious name of Rod Action – Sunday will be a nostalgic homecoming, but both have stressed that it will not be a Classified Ads Mark Two. Damn shame I say.
Joining the Nancy boys are two Birmingham-based acts who will already be known to Tamworth audiences one way or another. Lean Steel are best known because they feature the very amiable and talented ex-Ausgang lead singer Max Body.
The last time Max played at the Arts Centre turned out to be Ausgang's last ever show but such is his enthusiasm for Lean Steel that the venue is unlikely to have the same sort of kiss of death effect. Musically I don't know a great deal about Lean Steel but as they have a tremendous amount of style and impressive influences they should make for fascinating viewing.
Completing the show are Dawn After Dark, a group who have already impressed Tamworth audiences sounds which remind me of the immortal Sisters of Mercy. They went down a storm the last time they played Tamworth with their tidal wave of alternative charismatic power they will certainly be worth a bop or two on Sunday night.
So a top class three-band line-up which should appeal to everyone who likes the rock of ages. It promises to be an unusual but compelling show, so cancel all other arrangements and get your body to the Arts Centre on Sunday night. It should be groovy.
Tamworth Herald – 13/11/87
Musicbox – Strong stuff, this cool new marriage
Napalm Nancy/Lean Steel/Dawn After Dark – Tamworth Arts Centre
IT'S AN EERIE kind of experience watching two people who used to be in a band with you, playing in another outfit. The sort of shared memories, nostalgia and jealousy that runs through your veins is inexplicably strong, and it is a feeling I can only compare to watching an old girlfriend kissing somebody new.
So I suppose it is a bit hard for me to judge Napalm Nancy – two of whose members I shared five happy years with as The Classified Ads. But I will try.
Napalm Nancy, are, contrary to what I expected, far from being a born-again outfit. Indeed they sound more like a 1977 garage band that a 1967 spacewalker bunch, and their hard, punch-drunk approach to music is more acidic than acid. Lead singer Dave Kirkwood particularly impressed me with his aggressive, charismatic nonchalance and his vicious edge perfectly complemented the more meadering dual-guitar attack of AJ Stone and Keri.
And the local lads? Well keyboardist Derek Goodwin was totally submerged under a mass of uncontrollable hair and the only time he was seen or heard throughout the night was when he shouted 'turn the organ up'.
Bassist Paul Clements was altogether more voluble and even if he still hasn't learned how to pose properly, his string-plucking has certainly developed and matured a more brutal edge. He still looks kinda cool in a Brando/Any manner and he even overcame the considerable rock cliché of a cigarette hanging off his bottom lip at the start of the set.
Of the sings, the excellent 'Dancing Out Of Time' was a notable highlight but with other power-blasts such as 'Try It Again', 'Tear It Down' and Pere Ubu's 'Final Solution' in the set, the Napalmers are clearly an explosive force to be reckoned with.
All told it was a bold and strong Tamworth debut, and a band who will clearly be very interesting to watch in the future. Elsewhere Dawn After Dark followed the latest, sad pattern of alternative popsters becoming modern rocksters, with a set which had a more metallic attack than a Sisters' subtlety.
Turncoat
Maybe the presence of a similar alternative turncoat from Balaam and the Angel (who was in the audience) proved too much but suffice to say this wasn't my favourite Dawn After Dark set at all. Completing the show was the new band fronted by the marvellous Max Body – Lean Steel. This was an altogether different proposition from Max's old outfit Ausgang and sounded rather poppier and more commercial than his former venture.
It is basically (and surprisingly) guitar music with a cutting edge and although it wasn't perhaps as immediate as the Ausgang attack there was certainly some definable quality there which should grow yet more as Lean Steel stalk the Midlands.
---