Night Gallery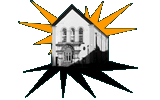 Musical Genre/Type: Powerpop
Formed: 1982 Split: 1983
Band Members
Dave Ingham - Lead Vocals/Guitar (Glascote)
Sean Meier - Bass Guitar/Backing Vocals (Warton)
Andy Meakin - Drums/Backing Vocals (Polesworth)
Tamworth Herald – 26/03/82
Musicbox – Do we hear noises…
DOWN in the Polesworth, Warton and Atherstone area something is beginning to stir – at last!
Night Gallery is the name of the new band formed by ex-Qwark members Andy Meakin and Shaun Meier, who have teamed up with Wilnecote guitarist Dave Ingram. Andy reckons the band will be playing 'powerpop', but won't be ready to make their debut before August.
Memories etc. by Andy Meakin
Night Gallery never got around to recording, I think because Dave Ingham went off to University.

Along with Steve Saunders I formed Atherstone based The Me, switched from vocals to drums and then we did a few gigs in and around Tamworth including a Battle of the Bands at Tamworth Arts centre where I was described as "a nonchalant Lou Reed".

Cut a demo and then things ground to a halt.

Seem to recall deputising on the drums for a Tamworth band (can't remember who, would love to find out), at the '87 festival in the Castle Grounds before heading off to join The Loved Ones in London on drums and BV's (NOT the Philly proto punk band).

Slogged around the London circuit for a couple of years, cut a few demos and had semi-serious interest from Geffen then formed Better Than You with ex-London Cowboys bassist Alan d'Alvarez on guitar and a bass player called Andy Moloney, cut a demo, made a bit of cash before deciding that we didn't actually like Alan and formed Kick Asteroid.

Nearly got signed (yeah didn't everyone!) to Chrysalis, before playing our final gig at the Marquee on August 19 1993. Moloney had a mental breakdown and the band went into meltdown.

Didn't do anything musical after that until last year when I got hold of Reason and started Carlito & the Che Wah Wahs.

Oh by the way Steve Quilton from the Dream Factory is my brother in law and my cousin used to run Rock-it records in the eighties.
Thanks to: Andy Meakin
If you have any further information about this band please email: info@tamworthbands.com