Nomadic Dreams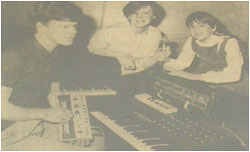 Nomadic Dreams
Photograph courtesy: Tamworth Herald

The Gallery
Musical Genre/Type: Electronic
Formed: 1983
Band Members:
Wayne Unwin
Jo Aldridge
Vicky Price
Tamworth Herald – 16/12/83
Musicbox – 'NOMADS' IN TV TALENT FINAL
FOR MANY local groups, appearing on television is just a distant dream, but for one young trio that dream has just become a reality.
For the group – Nomadic Dreams – will be on view to millions of people early next year as finalists in a nationwide talent competition.
The contest – organised by the BBC's popular Saturday Superstore show – was aimed at finding the best young acts in the country – musical and otherwise.
The organisers soured the whole of Britain viewing 2,000 acts before selecting 20 finalists – including Tamworth's Nomadic Dreams.
The group's achievement in reaching the last 20 is made all the more remarkable by the fact that they only got together in September for this show.
The band is all the idea of 15-year-old Wayne Unwin from Polesworth, an accomplished keyboard and piano player who has been writing songs for many years.
He enlisted the help of school friends Jo Aldridge and Vicky Price and the trio began rehearsing hard for the heat final in Birmingham.
The success that followed means that the band will enjoy and all-expenses-paid trip to London in January to record one of Wayne's self-penned songs – probably to be shown on television in February..
It will then be up to the viewers themselves to vote for the best young act and Tamworth's nomads will be dreaming that it is them who will be plucked out of the desert wilderness to achieve instant national stardom.
SAM HOLLIDAY
Tamworth Herald – 17/02/84
Musicbox – Snips
Congratulations are in order for the young Polesworth trio, Nomadic Dreams, who recently scored a big success in a top TV talent show. The band were taking part in the heats of the BBC's Superstore Superstar contest for which nearly 2,000 acts originally entered. Despite being up against some stiff opposition, the band pulled off a remarkable second position with hundreds of votes pouring in for their electronic pop sound. The combines forces of several local schools helped to boost the band's total votes and they are now hoping that they will have picked up enough to put them in the overall final as 'close seconds'.
We must all keep our fingers crossed that the band can go onto even greater success and we must pass on the thanks of the group and their families to everyone that took the trouble to vote.
---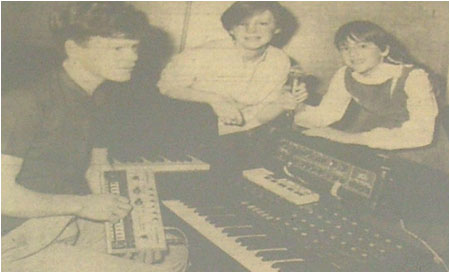 NOMADIC DREAMS…soon to be TV 'stars'.
If you have any further information about this band please email: info@tamworthbands.com