Orange Blossom Special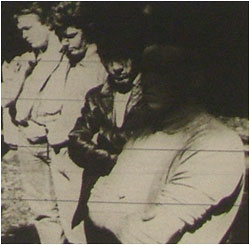 Orange Blossom Special
Musical Type/Genre: Pop
Forned: 1986 Split: 1986
Band Members:
Anice Byfield - Vocals
Julian Amos - Guitar
Clarke Stewart - Drums
Neil Jones - Guitar
Glen Lewis - Bass Guitar
Nigel Horton
Gigs:
02/02/86
Caprice
Orange Blossom Special
Burnin' Sky
Battle of the Bands
Tamworth Arts Centre
05/10/86
Orange Blossom Special
The Marmion
Tamworth Herald – 31/01/86
Musicbox – Gossipbox
Cheers Joshua but your name just didn't fit
HOW SAD it is to see a thoroughly good name disappear. When the band who are now called Orange Blossom Special were looking for a name they briefly stumbled upon Joshua and the Nkomos, a monicker which I think is second to none.
Unfortunately, it has now been discarded, so if there are any bands out there looking for a jolly new name, there you have it.
Perhaps one band that could take it up is the one now being formed by Neil Mortimer – the brother of factory bassist Mark, Young Neil, obviously seeing his brother's impending fame as something worth attaining is trying to get a band together at QEMS and with sister Michelle having already done factory backing vocals, it seems The Mortimers could soon become the new Nolans….
On the subject of the Nolans, Rikk Quay assures me that things are going very well with The Cradle and he is even saying the band may topple the immortal Breaking Point at the Battle of the Bands. Breaking Point, incidentally, are due to record a demo tape shortly with the promise of a single by March. Place your orders now…
And finally, it was heartening to see the sheer joy with which last week's Rogue's Gallery was received – not, I might add by those it featured. Much discussion surrounded the mixture of mugs and we will aim to do another gallery very shortly.
Tamworth Herald – 07/02/86
Musicbox –REVIEW
SKY HIGH IN THE SAUNA!
TAMWORTH'S second annual Battle of the Bands contest got off to a superb start on Sunday, when a packed-to-bursting Arts Centre watched new outfits Burnin' Sky become the first group to qualify for grand final.
With Femme Fatale forced to pull out and horrendous weather being served up outside, the Tamworth public could have been forgiven for forgetting all about the show. But scores turned up and the Arts Centre's new band room was turned into a veritable sauna as the huge crowd watched well-tested Caprice take on the fresh challenge of Orange Blossom Special and Burnin' Sky.
Caprice were first up and they caused a ripple by producing a new member who was even better looking than bassist Mike Fleming. She was Karen Nicholls, a powerful and confident singer who added a raunchy touch to Caprice's OR sound.
She looked good, sounded good and I have no doubt that with her in the line-up, attendances at Caprice gigs will start to rise appreciatively.
With new drummer Dean Cox also sounding useful, Caprice looked a virtually new band and with a little more time they could become quite a force.
Admiring
Next up were Coleshill's Burnin' Sky, who turned on an intriguing 20-minute burts that was very well received. Their sound is closer to progressive rock than R 'n' B I was expecting, but it has a nice sleazy feel all of its own.
Maurice Collins (vocals), Pete Whipps (drums) and the wonderfully-named Keith Richards (bass) are all musicians of note, but for me, the band's biggest bonus is lead guitarist Nig Allen.
He handled a couple of long breaks very effectively indeed, and received admiring glances from many of the musicians who were sunbathing in the equator-like temperatures.
To add spice to the night, Tamworth's premier poet Jed Moore took to the stage for another scurrilous, irreverent and downright disgusting burst of filth-prose. He was extremely funny and even when he viciously destroyed every band's ego with a send up of the Tamworth scene, he kept everyone smiling. I have said it before and I will say it again – this guy is a star!
Very bright
Last on were Orange Blossom Special, who turned in a very entertaining debut set. Their sound was smooth, well-crafted and very melodious and was as passionately played as you would expect from the people involved.
Everyone did their bit to give the sound its well-rounded edge, but a special mention must go to Julian Amos who I thought was tremendous.
As a band their future looks very bright. They have a nice image, they are all very likeable personalities and with the tireless Mr. Byfield as manager, their potential should be exploited to the full. After all, if they can sound this good after one concert, what will they sound like after 10?
So closed a very enjoyable night's entertainment. The final result was very close and the announcement that Burnin' Sky had won was greeted with a loud roar from their large band of followers.
If the next three weeks are as good as this, the contest will have been a very great success indeed. And, after the steamy atmosphere of that band room, we will all end up several stones lighter by the end of this enjoyable event!
Sam Holliday
Tamworth Herald – 31/10/86
Musicbox – Pink legs and Co are out to impress
ORANGE BLOSSOM Special are playing a major free concert on Bonfire Night – which they promise will go with a bang!
The group will be playing at the Marmion in what they are billing as a special fun party night.
They are hoping for the biggest possible attendance because they are likely to be watched by a major promoter who has shown great interest in the group. He currently promotes bands such as Big Audio Dynamite and New Order and has been so impressed with the Orange Blossom demo, that he said he wants to see them in action.
"This is obviously a very important gig for us indeed," said bassist Glen "Empire State Building" Lewis. "The more people who turn up the better the impression it will leave and we can promise a first class sound and first class set."
The group – who feature Glen as well as Nigel Horton, Neil Jones and Julian Amos - now see themselves as a tighter, more aggressive outfit than the original Orange. They say their sound is bluegrass commercial pop with a wide appeal, it is certainly different from everyone else in Tamworth – and OBS are in fact unique in the area.
"Everyone thinks there is a great rivalry between us and The Dance Stance but we are totally different," said Glenn.
Confident
And as well as being different the band are also far more confident. Nigel, known to the rest of the band as 'Pink Legs' believes OBS have become the best band in the area, and that confidence has been boosted by a promised concert at leading Birmingham nightclub The Powerhouse.
"Things are going very well," said Nigel. "This is an important show for us and we hope a lot of people will come along and support us."
So if you want to escape all the fireworks and have some really entertaining loud noises, the Marmion is the place to be on Wednesday night. It starts at 8pm with a full supporting disco by Colin Wall. And don't forget, its all free!
Tamworth Herald – 31/10/86
Musicbox - A fit of the gigs
Orange Blossom Special – The Rathole
A strangely subdued and rather under-stated performance from OBS which sounded like Orange Juice from the first bar to the hast. Their new songs are certainly a lot better than their old but (dare I say it) I kept wishing Anice was still singing to add a touch of originality to the overall attack. Nice songs, nice chaps, but rather an undramatic show.
Tamworth Herald – 12/12/86
Musicbox – Two Big Shows – One Big Smile
IT WAS some weekend wasn't it? Two great "Rathole" gigs, two large, lusty audiences and four exceptional performers. I would settle for the following every week…
ATTICA
NOT quite as powerful and ear-blistering as usual (p.a. problems I'm told) but still a very enjoyable set full of purpose and restrained anger. Pete did unspeakably wonderful things on his bass. Eddie seemed his normal calm, inhibited self and the only disappointment was that Tamworth's favourite skin-breaker, the traditionally violent Jim Pighand was rather too quiet. Still, any band that can write songs as food as "View" have nothing to worry about.
BREAKING POINT
A VERY passionate night and a very passionate set. Breaking Point received the belated adulation they truly deserve and at times reached the sort of peaks that I don't think any Tamworth band has ever surpassed. The single was of course the highlight (pure, beautiful emotion) but for sheer impact and audience participation it was impossible to beat the sizzling 'Guns of Ambergold'. Watch out for 'Hitlist' and 'Stars' as well, two new songs that Breaking Point are still as dazzling a prospect as ever. Great fun.
ORANGE BLOSSOM SPECIAL
Short, sweet and entertaining set which was even better than their Festival show. The band seem to have settled on the direction they want to follow, and are now producing music which is mature, original and very refreshing. Glen "Hogmany" Lewis remains one of the coolest dudes around and Orange remain one of the brightest hopes.
Tamworth Herald – 20/03/87
Musicbox – SNIPS
ORANGE Blossom Special who last week lost Julian Amos to the Great Express are on the lookout for a guitarist and a keyboard player. The ever enthusiastic combo can be contacted on…and are looking for talented, stylish musicians.
Tamworth Herald – 22/05/87
Musicbox – SNIPS
ORANGE Blossom Special are searching for a new bassist now that Glen (Elbowroom) Lewis has booked himself for a Starry future. The remaining Orange members want a competent, experienced bassist ready to play immediate concerts and do studio work. The group already have record company interest so 'no beginners or timewasters' is the order of the day. Their collective influences include the likes of Lloyd Cole and Danny Wilson and you can find out by ringing Neil Jones.
---