Outback Hijackers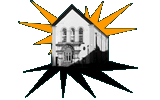 Musical Genre/Type: Rock
Formed: 1982
Band Members:
Mick Preston
Flash - Guitar
Tamworth Herald – 10/09/82
Musicbox – Two Man Local Band
THE Outback Hijackers sounds like the title of one of those X-rated video tapes which are so often in the news these days.
But don't worry the name has nothing really to do with blood and gore and you're not likely to see Mrs. Whitehouse on TV launching a 'ban the Outback Hijackers' campaign.
The distinctive name belongs to a new two-man Tamworth band formed by Mick Preston and Flash.
Mick and Flash recorded a seven track demo tape earlier this year at Steve Adams' studio in Birchmoor.
Flash explains the philosophy behind the OH approach: "We're really just interested in playing good, straight rock 'n' roll."
Influenced
The band are heavily influenced by the Dictators and Rose Tattoo and that influence is readily apparent when listening to the tape.
I found the songs enjoyable and entertaining but I couldn't help feeling that the band's talents would have been better showcased in a tape of around three tracks.
Like every other local band OH have problems penning material with enough diversity to keep the listener interested and over the seven numbers included on this tape the band's 'bad, boy boogie' approach and highly Americanised lyrical style becomes a little wearing.
Having said that, at least they haven't opted for the more obvious HM approach and Flash's guitar works adds some nice touches.
At the moment, Mick and Flash are looking for a drummer before starting on some 'live' work. Anyone interested in filling the vacant stool should ring Flash…
If you have any further information about this band please email: info@tamworthbands.com