Paradox
Formed: 1967 Split: 1970
Line-up:
Bob Catley - Lead Vocals
Paul Sargeant - Lead Guitar
Dave Morgan - Bass Guitar
John 'Pank' Panteny - Drums
Dave Bailey - Guitar, Organ
Other Band Members:
Charles Harrison - Bass Guitar and Vocals (Tamworth)
[Also in: Chapter 24, The Mindbenders, Judas Jump, Poco]
Victor Motorny - Road Manager (Amington)
Gigs: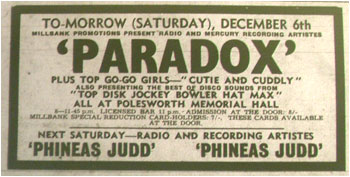 Tamworth Herald– 10/10/69
Paradox
Plus The Mr. Max Disk-K-Tek Show
Polesworth Memorial Hall
Millbank Promotions
06/12/69
Paradox
Polesworth Memorial Hall
1977
19/06/77
Paradox
Two Gates Working Mens Club

01/07/77
Bar-B-Q
Paradox
Nij Redfern and Steve Bostock
31/07/77
Paradox
Glascote Working Mens Club
11/08/77
Paradox
Two Gates Working Mens Club
27/08/77
Paradox
Tamworth Progressive Club
17/09/77
Paradox
Kingsbury Working Mens Club
08/10/77
Paradox
Tamworth Progressive Club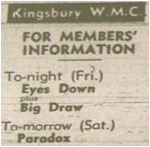 19/11/77
Paradox
Kingsbury Working Mens Club
26/11/77
Paradox
Elford Working Mens Club
17/12/77
Paradox
Hurley Working Mens Club
1978
19/03/78
Paradox
Tamworth Progressive Club
15/04/78
Paradox
Two Gates Working Mens Club
29/04/78
Paradox
Hurley Working Mens Club
18/09/78
Paradox
Chequers
23/10/78
Paradox
Chequers
1979
18/01/79
Paradox
Polesworth Miners Welfare Club
22/01/79
Paradox
The Chequers
05/02/79
Paradox
The Chequers
19/02/79
Paradox
The Chequers
05/03/79
Paradox
The Chequers
16/04/79
Paradox
Chequers
14/05/79
Paradox
Chequers
28/05/79
Paradox
Chequers
11/06/79
Paradox
Chequers
25/06/79
Paradox
Chequers
06/08/79
Paradox
Chequers
20/08/79
Paradox
Chequers
25/08/79
Paradox
Elford Working Mens Club
01/10/79
Paradox
Chequers
24/12/79
Paradox
Chequers
1980
07/01/80
Paradox
Chequers
14/04/80
Paradox
Chequers
21/04/80
Paradox
Chequers
12/05/80
Paradox
Chequers
23/06/80
Paradox
Chequers
1981
01/10/81
Paradox
Two Gates Working Men's Club
---
Recordings:
Download
Play
What's the Rush Dilbury?

You need Flash Player.

A wonderful 1968 psychedelic track by the Paradox and features on the current Rev-Ola compilation album "What's the Rush, Time Machine Man?" Mark Mortimer
---
Tamworth Herald– 21/02/69
Tamworth boy in record making pop group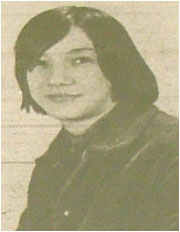 Charles Harrison, Paradox
A 16-year-old Tamworth boy travelled to London on Monday to make a record. He is a member of a Birmingham group "Paradox" who have signed a recording contract with the Pye Company.
Charles Harrison, of 5, Temple Row, Mill Lane, Tamworth, has been bass guitarist and singer for the five-man group for only one week.
He went to London with the group along with Carl Wayne leader of the recent chart-toppers the "Move", and Dave Morgan who wrote "Paradox's" record "Mary Colinto".
Charles left the Mercian Boys' School last July and worked as an apprentice at Messrs. Percy Lane's on the Lichfield Road Estate. He is now fully professional in the group, as are all the other members.
Mr and Mrs Charles Harrison bought him a bass guitar only 15 months ago, and since then Charles has worked hard to master the instrument.
Before joining "Paradox" Charles was a member of "Chapter 24" but since joining the Birmingham group he has travelled to Birmingham, Bournemouth, Norwich and many other places. After the recording session the group had to rush back to the Midlands at the Belfry the same night.
Ahead of the group are bookings in Essex and Margate.
Tamworth Herald – 13/06/69
TAMWORTH BOYS IN "POP" GROUP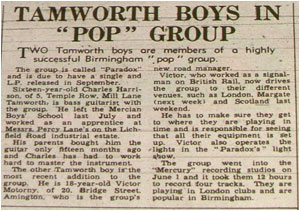 TWO Tamworth boys are members of a highly successful Birmingham "pop" group.
The group is called "Paradox" and is due to have a single and L.P. released in September.
Sixteen-year-old Charles Harrison of 5, Temple Row, Mill Lane, Tamworth, is bass guitarist with the group. He left the Mercian Boys' School last July and worked as an apprentice at Messrs. Percy Lane's on the Lichfield Road Industrial estate.
His parents bought him the guitar only fifteen months ago and Charles has had to work hard to master the instrument.
The other Tamworth boy is the most recent addition to the group. He is 18-year-old Victor Motorny, of 20, Bridge Street, Amington, who is the group's new road manager.
Victor, who worked as a signal-man on British Rail, now drives the group to their different venues, such as London, Margate (next week) and Scotland last weekend.
He has to make sure they get to where they are playing in time and is responsible for seeing that all their equipment is set up. Victor also operates the lights in the "paradox's" light show.
The group went into the "Mercury" recording studios on June 1 and it took the 12 hours to record four tracks. They are playing in London clubs and are popular in Birmingham.
Tamworth Herald – 16/02/79
Musicbox – Stateside stardom for local guitarist
FORMER Mercian School pupil Charles Harrison is shooting up in the 'pop' world of fame and fortune – as bass guitarist in top USA group POCO.
The outfit's latest single "Crazy Love" has shot up to number 37 in the American singles chart and they have just released a new album entitled "Legacy"
Twenty-five-year old Charles, whose Mother live sin Milton Avenue, Leyfields made his home in Hollywood nearly three years ago and is presently touring the States.
Later this year, POCO intend to do a number of concerts in Britain.
Charles began his musical career at the age of 14, playing is local group Chapter 24. After a spell working as an apprentice at Tamworth's Percy Lane Company, he turned professional and joined Birmingham outfit Paradox.
There he was spotted by Carl Wayne of The Move and transferred to his first major group Judas Jump.
He later went to America to improve his chances of success and his gamble has certainly paid off.
During his career, he has played alongside top names of the music world like Al Stewart and Leo Sayer.
Tamworth Herald – 23/11/79
Musicbox – Chequers rates as top spot with award winning band
TOP Midland band Paradox gave their fans from Hopwas' Chequers pub more than a blast of music when they received a national award.
For the Birmingham based group – who won the "Vitavox Live Sound" trophy earlier this year – said they wanted to receive the award at one of their faviourite venues.
The award aims to encourage new bands whose music is performed mainly live and Paradox – who cam second in the regional finals in Erdington and first in the grand final in London – have now also claimed £1,500 worth of Vitavox sound equipment and a day's studio recording time.
The band received their trophy from Vitavox joint managing director Mr. Neil Young during a special concert at the Chequers.
They have recently returned from a tour of Cyprus backing Diane Solomon and have also taken part in a three-week nationwide tour of pubs and colleges.
Also on the cards is a Spring tour of West Germany with Diane Solomon and a full calendar of gigs up until the New Year.
SINGLE
Bass guitarist Alan Tallis said that things had really started to look up for them since winning the award.
They now plan to start recording in early December for a new single.
Tamworth Herald – 21/12/79
Musicbox - Prize Sound
MIDLAND based Vitavox Live sound Award winners Paradox are expected to have their new single "Hollywood Bowl" out on general release in the New Year.
The four piece band have already laid down the backing track for the record at Coventry's Horizon Studios – using the day's recording time which was part of their prize.
Paradox won the Vitavox Award earlier this year for being one of the most promising groups in the country and they received their trophy at Hopwas' Chequers Inn last month.
---
Paradox and Tamworth
The big Tamworth connection in Paradox was undoubtedly the amazing Charlie Harrison but there's quite a story to tell about the band and its connection with World Of Oz and many other famous Brum Beat-ers.
There's a new CD out now called "What's The Rush, Time Machine Man?" on Rev-Ola (Cherry Red) - a compilation CD album of 20 ultra-obscure 60s psychedelic music gems from the UK and The Paradox are featured heavily on it, indeed, four of the tracks are by the band The Paradox.

The lead singer of the Paradox was none other than BOB CATLEY of Tamworth way before Magnum.
Thanks to: Mark Mortimer - Birmingham in the Psychedelic '60s
---
Paradox and The Capital Systems
The Paradox grew out of The Capital Systems who came from Erdington, Birmingham and were formed in 1964. This band was Paul Sargeant on lead guitar; Dave Bailey on guitar, organ; Paul Whitehouse on bass, vocals and Rob Moore on drums (born Robert Moore, in 1953). The four lads had been to Great Barr Comprehensive and Marsh Hill Technical School. The band then got a residency at the Yenton Boys' Club, that met every Friday evening. In their early days the band played at the Plaza, Old Hill and the Plaza, Handsworth, Birmingham.

The band later added lead vocalist Bob Catley born Robert Adrian Catley, 11.9.1947, in Aldershot, Hampshire (ex The Smokestacks), from Bordesley Green, Birmingham, who included Kex Gorin on drums born Kevin Gorin, in 1949, in Bromfield Road? Shard End Birmingham (died Friday 21.12.2007), his first professional band, who had answered an advertisement. The band had decided that if they wanted to compete in the big league they would need a singer out front to lead the band, thus they brought in Catley.

The band spent hours rehearsing at the Atlas Bingo Hall, in Stechford, Birmingham where Vic Sims was now the manager and was also the manager of The Capital Systems and had once managed The Andicaps. The band continued playing at the Yenton Boys' Club, before moving out and playing the Ringway Club, the Chalet, at the Lickey Hills, the Penthouse Club, on Constitution Hall and the Santa Rosa Club, on Soho Road. Their manager Sims also brought the group new suits to smarten up the band. When the band became fully professional they began to play in London, at places like the Empire Rooms, on Tottenham Court Road, Central London.

Moore later left to join The World of Oz (formed in Jan 1968), replacing their drummer Dave Reay. The band later had Charlie Harrison on bass (born in 1953, at 5 Temple Row, Mill Lane, Tamworth, Staffordshire) and John 'Pank' Panteny on drums. Harrison was soon replaced by Dave Morgan (born David Morgan, 19.8.1942).

This band later became The Paradox in 1967, named after a science-fiction novel, with a line-up of lead vocalist Bob Catley; lead guitarist Paul Sargeant; bassist Dave Morgan; drummer John 'Pank' Panteny and guitarist, organist Dave Bailey. I guess Harrison must have rejoined the band at some time, maybe in 1969, replacing Morgan? This band split in 1970.
Thanks to: John Warburg