Patchwork Band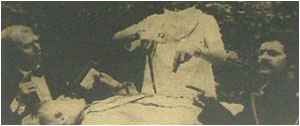 Musical Genre/Type: Folk
Formed: 1983
Band Members:
Peter Backen - Banjo, guitar and mandolin
Dave Clempson - Whistle
Bob Bull - Percussion and Vocals
Paul Hook - Bass Guitar
Gail Lea - Vocalist
John Priest - Fiddle
Brian Cotterill - Other string instruments and fiddle
Tamworth Herald – 18/11/83
Musicbox – Patchwork get it together – anywhere!
TAMWORTH'S only folk group – the Patchwork Band – has declared a 'play anywhere, anytime' philosophy that typifies the free spirit of their music.
For the seven-piece outfit of locally based musicians say they will set up and play at any venue at any time.
They are strong on tradition – from the working class ballads of last century to medieval songs and carols
Founder
One of the founder members, Peter Backen sums up their approach: "It's very spontaneous and flexible. We just get together and start playing wherever people want us to."
The players are self-taught. There's Pete on banjo, guitar and mandolin, Dave Clempson, whistle, Bob Bull, percussion and vocal, bass guitar Paul Hook, Gail Lea, vocalist, John Priest, fiddle and Brian Cotterill on other string instruments and fiddle.
Play
They mainly play in pubs in the Tamworth area – including The Gate, Amington, The Bull's Head, Two Gates and the Queen's Head, Wilnecote.
Every Friday there's a concert at the folk club, run by Andrew and Dorothy Dwyer, at the Three Tuns, Fazeley, which is where the players first got together.
If you have any further information about this band please email: info@tamworthbands.com