Personality Crisis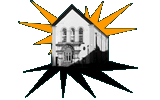 Musical Type/Genre: Punk
Formed: 1989
Band Members:
Graham Tonks - Vocals
Screv - Guitar
Geno Valentino - Bass
Darren 'He Spliff' Steelley - Drums
Tamworth Herald – 03/11/89
Musicbox – Letterbox
Hi Sam,
It's Emo from Atherstone – haven't spoke to you for ages, how ya doin? I thought I'd write to let you know about this new Atherstone band that Khan Promotions are managing. Line up: Vocals: Graham Tonks, Guitar: Screv, Bass: Geno Valentino, Drums: Darren 'He Spliff' Steelley.
This all new Atherstone band play a style of punk music that is loved and hate by everyone. The band all of which hate each other are fronted by the almost famous Atherstone psychopath 'Tonksy' who watches the 'Great Rock 'n' Roll Swindle' everyday at various levels of intoxication.
The guitarist Screv used to play with the Spirit of the Gypsy Khan and the bass player looks familiar but I just can't place him.
The human joint playing the drums is a Welsh man with an attitude problem. Geno the bass man walked on a Dance Stance practice two weeks ago and just started to disassemble the drums while Paul was still playing them, when the band stopped playing to see what the crack was he just turned round and said, "I'M THE MAN FROM LITTLEWOODS POOLS" and walked out.
They're a bunch of raving lunatics. Everybody hates and loves them already in Atherstone and they haven't even played a gig yet.
Khan promotions are hoping to launch them shortly after Christmas.
The band are still fighting over a name so as soon as they decide I'll let you know.
Emo Emerson, Khan Promotions
Sam Holliday replies – The big question is, is EVERYBODY in Atherstone as mad as a hatter??? We should be told.
Tamworth Herald – 10/11/89
Musicbox – News, Snips
The new punk band from Atherstone, so graphically described by Emo in last week's MUSICBOX, have found a name. The group, Personality Crisis, are named after a classic New York Dolls track and they are set to play their first gig (wait for it) on the roof of an Atherstone shop on Christmas Eve. They will open with Pistols track 'God Save The Queen' and carry on for 30 minutes unless they (and I quote) 'get arrested first'. Fun place Atherstone or what?