Psychic Outlaws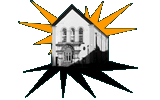 Musical Genre/Type: Goth Rock
Formed: 1990 Split: 1991
Band Members
Rich Camilla - Lead Vocals (Kettlebrook)
Steve Vanity - Lead Guitar/Backing Vocals (Wilnecote)
Nobby Taft - Bass Guitar (Harlaston)
RX8 Harvey - Drums (Glascote Heath)
Memories
The band seemed to have taken up a residency at the Arts Centre in their short manifestation, even playing there twice in one week. The band dressed in black, moody but nice fellows.
Tamworth Rock Festival was our goal from the outset of the creation of the band so to achieve that in our short life will always stick in my mind.
Songs
Black Rainbow (Dean/Wallis/Palmer)
Miracles (Dean/Wallis)
The Dark (Dean/Wallis)
Mutate and Survive (Dean/Wallis)
Beckoning Waters (Dean/Wallis)
When the Lights Go Out (Dean/Wallis)
Why Me (Dean/Wallis)
Gigs
First Gig: Arts Centre - 23/01/1991
Last Gig: Barrel Organ, Birmingham - 12/09/1991
Recordings
Title: Morbid Nursery Rhymes Format: Demo
Track List:
Miracles
Mutate& Survive
Beckoning Waters
The Dark
The full profile and history of Psychic Outlaws has yet to be added to TamworthBands.com Call back soon to read the full band details.
If you have any further information about this band please email: info@tamworthbands.com
Thanks to: Rich Dean