Rikki and the Last Days of Earth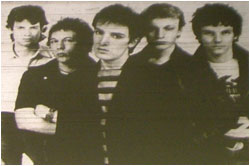 Musical Genre/Type: Punk
Band Members
Rikki Sylvan - Vocals
Valac Van Der Veene - Guitar
Nik Weiss - Keyboeards
Hugh Inge-Innes Lillingston - Drums (Thorpe Hall)
Tamworth Herald – 10/03/78
Spit and beer
While his Father relaxes to Beethoven and Chopin, surrounded by stately elegance. Hugh Inge-Innes Lillingston's musical talents are rewarded by fans spitting in his face and throwing beer.

Hugh has the most unlikely of backgrounds for a member of a "New Wave" group that attracts dozens of safety-pinned punk rockers to its concerts.
The 21-year-old drummer of "Rikki and the Last Days of Earth" was an Eton boy who gave up his education to play in the punk band.
The family's home is the 17th century Thorpe Hall, near Tamworth.
His father, Lieutenant Commander George Inge-Innes Lillingston, is a gentleman of the Crown Estates …and deputy president of the Country Landowners Association.
Hugh is a likeable rebel and…idealist. The lyrics of the groups records take quite a swipe at the established order of society.
Against bureaucracy, red tape and the continual infringement of people's freedom," he explained on a visit to his family's seat – sporting tight jeans and a Last Days of Earth badge and barefoot except for Jesus sandals.
He is convinced the world is heading towards chaos. "It's such a tragic story that we have made such a mess of our technological world," he said.
IMPALED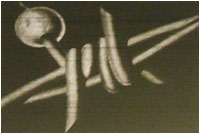 Copies of the group's records – two singles and now an album – show the Earth impaled on a piece of barbed wire.
And the traditions of Thorpe Hall would be impaled on Hugh's idealism if a long-term dream of his ever materialised.
He would like to see the hall and its huge estate used for a commune, with every inch of land being turned over to growing food and natural herbs.
"I've got enormous respect for my father as a farmer and think he's done a brilliant job there, but if ever I were in a position to take on the estate I would open it up to more people, " he said.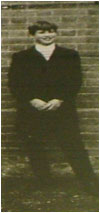 "It would be a commune for people prepared to work – and without the hangers-on and all the trappings. I wouldn't want to start a marijuana farm or anything like that.
"May parents haven't exactly said they dread the thought. But they are obviously sensitive about something which wouldn't fit in with their way of life."
Hugh, now a London maisonette dweller, can't see their way of life lasting very long anyway. He says that's because the Government sees land in private possession as representing power.
If the spectre of a Thorpe commune doesn't exactly appeal to father, the group's music seems to have brought a slightly warmer response.
DELIGHTED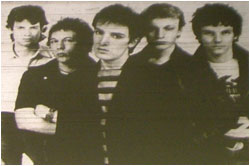 "He liked the beat – tapping his feet and slapping his thigh. But I don't think he pretends to understand," said the ex-public schoolboy who used to hit the drums with a pop group at Eton.
Mr. Inge-Innes Lillingston senior says he's delighted his eldest son is using his musical talent.
The group's album – Four Minute Warning – is rated by the country landowner as "interesting – as an exposition of what some young people enjoy.
"I must admit I don't understand a lot of it – as I don't understand a lot of modern music and modern art. None of it is my preferred music. But that doesn't mean I have to dislike it."
He reveals there was something of a musical split in his family when he was Hugh's age. His parents didn't like Victor Sylvester – but he did.
Of the punk rockers of today, Mr. Inge-Innes Lillingston is less tolerant, "I have seen their photographs and am not at all impressed. But I suppose it's a cult which comes and goes."
Hugh himself is not too happy about the punk's behaviour. When he first became a target for spit and beer – and had a beer container thrown at his head – he was furious.
APPROVAL
"We discovered afterwards that this was their sign of approval," he said. "If they hadn't been interested they would have turned their backs on us and read newspapers.
"But I still think it's ignorant to come to a rock concert and spend your time throwing expensive beer and spitting."
His father would be pleased with the news that the group are to progress from Four Minute Warning towards something "less raw and rough". But they want to take the punks with them.
If you have any further information about this band please email: info@tamworthbands.com