Ringo the Goat and the Wombat Horns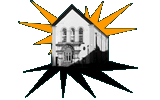 Musical Type/Genre: Beyond Description!!!
Band Members:
Dave Dukes (Feedback/distortion/effects)
Andy Sale (Sonic Rickenbacker bass)
Thomas Sale (Stratocaster making your ears hurt)
Paul Sale (Waily waily harmonica)
Memories:
Following what I perceived as bad press for my "Boule de Suif" E.P. I set about recording endless noise. It was a continuing sonic barrage with me taking a battery to the strings of my telecaster and Andy going completely mental with more pedals than one man should be trusted with. Thom, his younger brother, proved to be quite adept at making an infernal racket and I even OVERDUBBED (!) his parts on top of the mess. The thinking was "I'll piss off Sean Atkins" but after a while I started to get serious. I taped radio static onto backwards traffic noises and stuff like that. The "tracks" didn't have names as such, just "bastard" parts 1-6. The Ringo the Goat and the Wombat Horns thing was used because Andy wasn't having me call it "bastard". Spoilsport.
I cannot quite believe I churned out five hundred copies of this drivel ! I listened to it the other day and while some would give it some clever name it still sounds like I had way too much time on my hands. Besides which, Sindy's Sonic Garden were much better at this sort of thing than me.
Hear my confession that I have, in the past, sworn blind that this was nothing to do with me and lied through my teeth about being responsible for it. Around eighteen months later Sean and I became very good friends. How the Lord mocks us!

The full profile and history of The Band has yet to be added to TamworthBands.com Call back soon to read the full band details.
If you have any further information about this band please email: info@tamworthbands.com