Sticky Fingers
Musical Genre/Type : Pop
Formed: 1979
Band Members: 1979 – Sticky Fingers
John Pinner – Vocals
Roger Browne – Lead Guitar
Jim Phillips – Lead Guitar
Roger – Drums (then David Hoe)
Mo – Bass Guitar
Ian Crombie – Rhythm Guitar
Band Variations:
November 1971 - Jacey Four
Tom G
Brian B
Mall D
Barry V
John V
February 1972 - Barry John Combo
December 1972 – Driftwood
Manager Ray Whitehouse (1974/75)
Grenville
Jan
Keith
Alan
Ray - Guitar
Johnny Wren - Drums
John Pinner
1974/1975 – Karisma
Jim – Lead Guitar
Jan R
Roger – Drums
John Pinner – Vocals
1979 – Sticky Fingers
John Pinner – Vocals
Roger Browne – Lead Guitar
Jim Phillips – Lead Guitar
Roger – Drums (then David Hoe)
Mo – Bass Guitar
Ian Crombie – Rhythm Guitar
1980-1989 – Chalkie
Manager Brian
Name changed for trip to San Francisco
Went to America in March
Jimmy Philips – Guitar
Ian Crombie – Guitar
Bobby Moore – Drums
Derrick Hughes – Bass Guitar
John Pinner – Lead Vocals
1983 – Dusty
Formed when Roger Browne left Karisma
Steve and Gary joined
December 1983 – Roger and Mick leave the band
1985
January
Malcolm – Bass Guitar
Jim – Lead Guitar
Keith – Drums
Dave – Keyboards
1986 – Chalkie
John Pinner – Vocals
Jim – Lead Guitar
Frank – Bass Guitar
Keith – Drums (later Bob Moore)
Gigs:
05/02/77
Sticky Fingers
Kettlebrook Working Mens Club
02/04/77
Sticky Fingers
Amington Liberal Club
30/04/77
Sticky Fingers
Kettlebrook Working Mens Club
21/05/77
Sticky Fingers
Wood End Working Mens Club
02/10/77
Sticky Fingers
Lichfield Civic Hall
01/10/77
Sticky Fingers
Amington Liberal Club
18/12/77
Sticky Fingers
Glascote Working Mens Club
1978
22/01/78
Sticky Fingers
Glascote Working Mens Club
06/05/78
Sticky Fingers
Atherstone Miners Welfare Club
16/06/78
Sticky Fingers
Glascote Working Mens Club
27/08/78
Sticky Fingers
Birchmoor Working Mens Club
08/10/78
Sticky Fingers
Glascote Working Mens Club
03/11/78
Sticky Fingers
Glascote Working Mens Club

1979
19/01/79
Sticky Fingers
Tamworth Arts Centre
Admission: 55p
06/02/79
Sticky Fingers
Elford Working Mens Club
14/04/79
Sticky Fingers
Amington Liberal Club
15/04/79
Sticky Fingers
Elford Working Mens Club
06/05/79
Sticky Fingers
Birchmoor Working Mens Club
27/05/79
Measham Working Mens Club
30/06/79
Sticky Fingers
Glascote Working Mens Club
07/07/79
Sticky Fingers
Amington Liberal Club
21/07/79
Sticky Fingers
Elford Working Mens Club
25/08/79
Sticky Fingers
Birchmoor Working Mens Club
17/09/79
Sticky Fingers
Glascote Working Mens Club
29/09/79
Sticky Fingers
Dordon Working Mens Club
08/10/79
Sticky Fingers
Amington Liberal Club
03/11/79
Measham Working Mens Club
07/12/79
Sticky Fingers
Amington Liberal Club
08/12/79
Sticky Fingers
Elford Working Mens Club
24/12/79
Sticky Fingers
Amington Liberal Club
1979
Lichfield Garrick
1980
20/01/80
Measham Working Mens Club

23/02/80
Sticky Fingers
Dordon Working Mens Club
06/04/80
Ian, Derek, Bob leave 'Chalkie'
26/04/80
Sticky Fingers
Amington Liberal Club
10/05/80
Chalkie
Liverpool Boat Trip
25/05/80
Measham Working Mens Club
07/11/80
Mackadown Pub
Chelmsley Wood
1982:
1982
The Greet
23/11/82
Blacksmith's Arms
Stoneydelph Tamworth
Memories
In November 1971, while working at the Rover, Solihull, I met ex-Modernaires guitarist Tom Russell, he had formed a band called The Jacey Four. One Saturday morning I had a call from their manager asking if I could stand in for their singer. I had two hours rehearsal with Tom and did a Silver Slipper gig in Redditch. After four weeks the singer came back but the manager didn't want me to leave. The name changed to Barry John Combo until Barry left, then another change to Driftwood.
Gigs were mainly Birmingham and South Birmingham Austin Longbridge, Alans Cross W.M.C., T.A.C.S. W.M.C., Aston Social, Small Heath Amateur Gardening Club, Perry Common Social Club, Parkinson Cowen Club, Shard End Social Club.
Another name change to Karisma with member changes i.e. Roger Browne lead guitar ex-Raymond Froggett and Roger ??? ex-Moody Blues drums, Derrick bass, Ian rhythm guitar, John Pinner vocals. Gigs in Birmingham, Pelican in the Jewellery Quarter, Tyburn House, The Greet, Tyseley, Acocks Green W.M.C., Two Gates Club, Glascote Club, Wilnecote Club, Co-Op Club, Tavern in the Town, The Blacksmiths Arms, Punch & Judys, The Park Inn, Drayton Manor Foseco Club.
Recordings
"Nothing But The Sky"
Recorded at Rook Studios, Stourport-on-Severn
A-side of the single was a ballad the B-side a rock number, recorded May 4th and 5th at Pelsall Recording Studios. Recorded with the CBSO – four violinists, two cellos and French horn.
Songs:
Songs played by the band when they played in America included:
Everybody is Losin', Wild Mountain Thyme, Nothing Left But Sky, I Was Down, Shadown on the Wall.
These were the favourite numbers written by the band and Raymond Froggatt. "Everybody is Losin'" was given to John to sing as Raymond said he sang it well.
Thanks to: John and Julia Pinner

---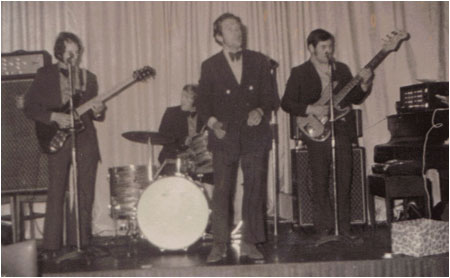 The Jacey Four, 1971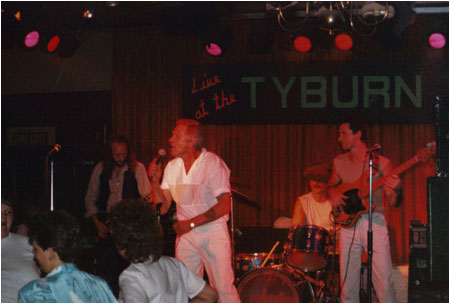 Sticky Fingers, Tyburn House : Roger Browne, John Pinner and Frank Walker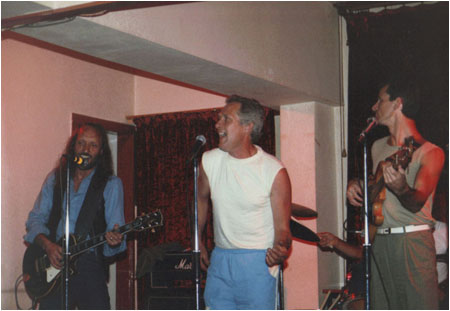 Sticky Fingers, Park Inn, Tamworth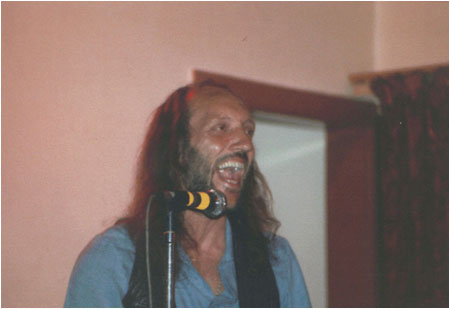 Roger Browne, Sticky Fingers Lead Guitarist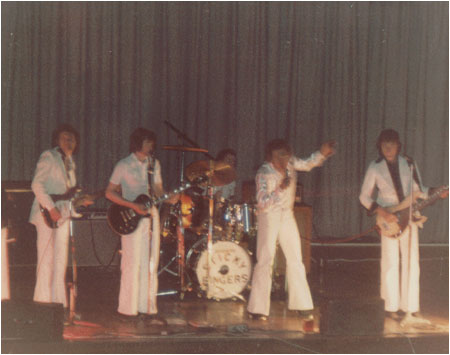 Sticky Fingers 1980, l to r: Dave, Ian, David Hooe, John, Derek Hughes.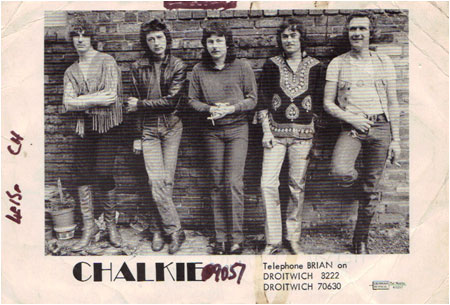 Chalkie, 1980, just befoore going to California. L to r: Jim, Derek, Bob, Ian and John.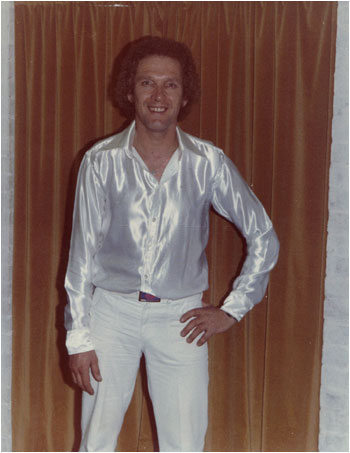 John Pinner, 1980 when the band played in California.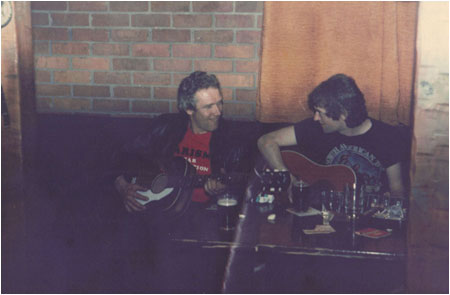 Chalkie, Blacksmiths Arms, Stoneydelph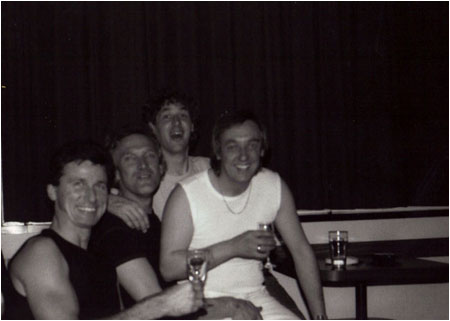 Chalkie, Glascote Club
l to r: Frank Walker, John Pinner, Jimmy Philips, Mick Curtis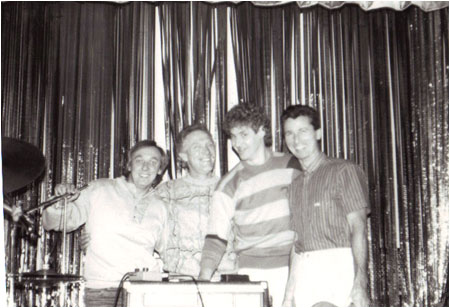 Chalkie, Belgrave Club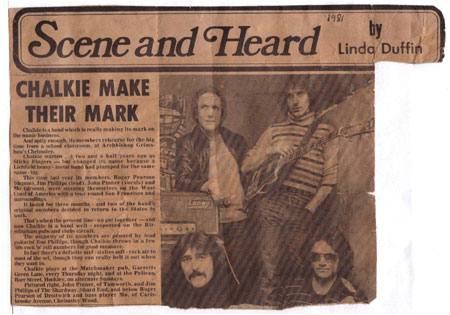 Scene and Heard 1981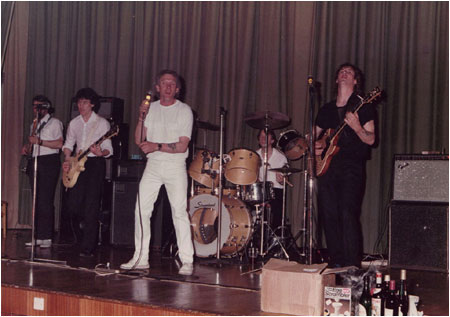 Chalkie, Glascote Club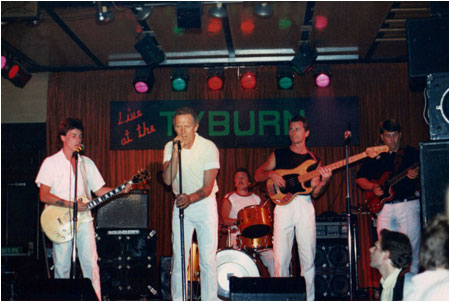 Chalkie, Tyburn House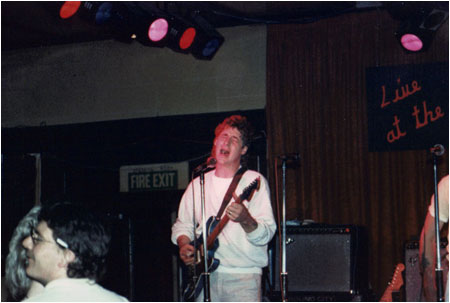 Chalkie, Tyburn House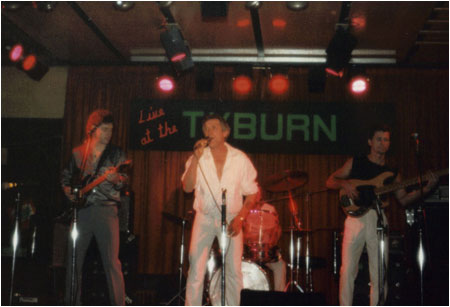 Chalkie, Tyburn House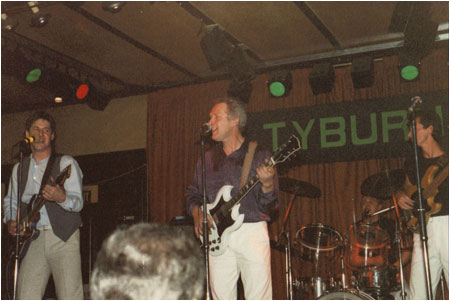 Chalkie, Tyburn House
Frank, Mick, John Pinner and Jimmy Philips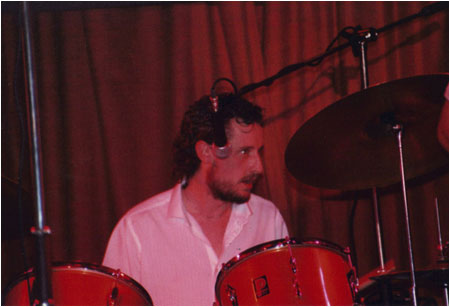 Chalkie, Tyburn House
Dave Hoe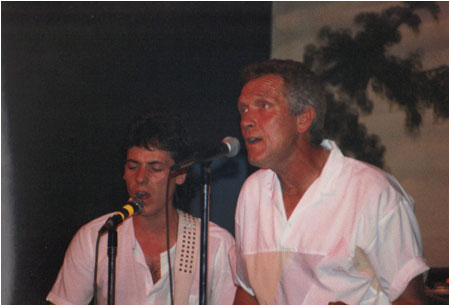 Chalkie, Jimmy Barratt and John Pinner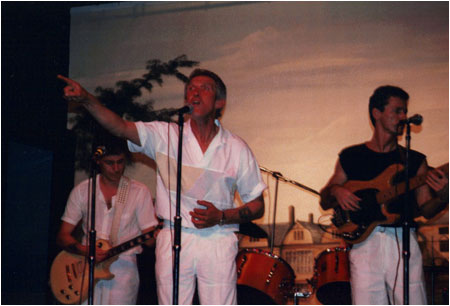 Chalkie, Jimmy Barratt, John Pinner and Frank Walker
Thanks to: John and Julia Pinner
If you have any further information about this band please email: info@tamworthbands.com