Terra Firma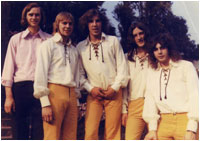 Terra Firma
Photograph courtesy: Phil Berrow

The Gallery
Musical Genre/Type: Rock/Pop
Formed: 1972 Split: 1974
Band Members:
Trevor Harper - Lead Vocals (The Leys)
Kevin Taylor - Lead Guitar/Backing Vocals (Leyfields)
Also in: Bistro
Ian High - Rhythm Guitar (Leyfields)
Rob Harper - Bass Guitar/Backing Vocals (The Leys)
Phil Berrow – Drums/Backing Vocals (Leyfields)
Also in: Bistro
Gigs:
Pub, clubs - 1972-74
Memories:
First band for all members, bass, lead, and drummer went on to perform with many other bands and all three ended up playing for a number of years with Pentad, together with Terry Harper (ex-Blackouts) and Trevor Pickering on lead.
Our finest hour was a gig at Barbarellas in Birmingham. The very steep stairs from the dressing room to the stage almost caused a disastrous entrance when Ian slipped and we almost entered the stage in a heap. The gig was a mind-blowing experience.

Rob Harper (bass) went on to join Hard Rain, and then Pentad. Phil Berrow went on to form Brewster, then Reunion comedy Showband, Bistro, and finally Pentad. Kevin Taylor went on to play with Reunion Showband, Bistro, and Pentad.
These were great times, life felt great, there was a good atmosphere and rivalry with other local bands in particular Purple Silk.
Thanks to: Phil Berrow
---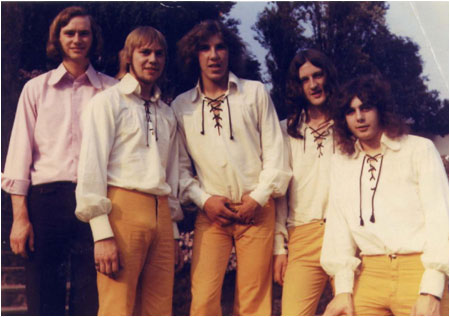 Terra Firma
If you have any further information about this band please email: info@tamworthbands.com