Titan
Musical Genre: Rock
Formed: 1976
Band Members:
Pete Johnson
Drums (Glascote Heath)
Martin Schell
Guitar (Sutton Coldfield)
Bob Shades
Vocals (Birmingham)
John (Barry) Floyd
Bass Guitar (Sutton Coldfield)
---
Gigs
11/10/80
Titan
Polesworth Working Mens Club
03/11/80
Titan
Polesworth Working Mens Club
13/11/80
Titan, Ice
Assembly Rooms
---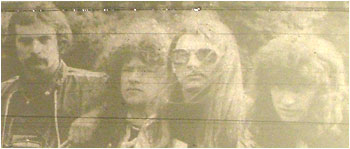 Tamworth Herald – 17/10/80
Musicbox – Metal men set to shine by Cathy Pettigrew
PLAYING the biscuit tin with his mother's knitting needles is one of the first memories that Tamworth drummer Pete Johnson has of wanting to get into the music business.
But those memories are a far cry from the reality of today – as Pete and fellow members of heavy metal band Titan, know.
The band, who are currently gigging around Tamworth believe they are poised for the top – ready to make it big – with their first single which is released at the end of the month.
"We have worked hard for this and we are going to make it," says Pete, reflecting the general opinion and determination of the band which was formed only 18 months ago as "Hoi Polloi."
Pete, from Glascote Heath and guitarist Martin Schell, from Sutton Coldfield formed the nucleus of the band. After extensive auditions the search ended with vocalist Bob Shades, from Birmingham and bassman John (Barry) Floyd from Sutton Coldfield, completing the line-up.
The band spent four months writing and rehearsing material for a set at a barn at Wishaw.
"It was out of the way so we could make as much noise as we wanted," said 28-year-old Pete.
The band made a name for themselves at venues like The Railway, Bogarts and Romeo and Juliets and guesting on local radio.
Six months ago they changed their name to Titan as their music developed in a stronger direction explained Pete.
Then a few more developments occurred. The band stopped gigging. They wrote a few more tracks and got a demo tape together. Hey decided to check out a few record companies – then bingo.
Wild Dog records signed up the lads for their single "Fast Wind" – masterminded by Martin with advice from the other three.
While the band are waiting for the single to be released they are on a tour round the small venues of the West Midlands.
Playing in Birmingham made them realise that a lot of their fans came from outside the city. So they decided to bring the music to the fans – with the hope of converting a few others along the way.
Polesworth Working Men's Club was the first stop. A back-up crew of 20 and four vans to cart the equipment and stage gear shows the sort of professional attitude the band take.
But don't they think that success will be hard to find with heavy metal music being long taken over by other sounds?
"Not at all, says Pete, convincingly, "We are good and we can do it."
"At some clubs we have appeared on punk nights. After a bit the punks have really go into our type of music. That must prove something."
Where were you?
Titan : Polesworth W.M.C.
TAMWORTH rockers – where are you?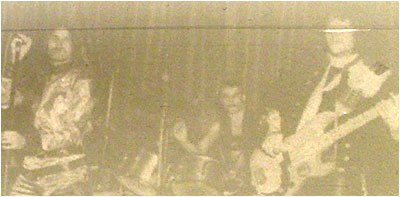 That was the question Birmingham-based heavy metal band Titan must have asked themselves as they played riveting rock to a 60-strong audience in a hall that would have held 600.
Titan – with Tamworth drummer Pete Johnson – were on their first "bring the music to the people" tour, instead of the people trekking to Brum. Titan trekked to Polesworth.
But Polesworth just wasn't ready for the band which will release it's first single in a month's time.
A lack of publicity for the gig along with a members only and correct dress rules at the club – must have had some bearing on the audience size.
But those headbangers who turned up got a display of raunchy high-powered rock from a band whose apparent energy and dynamism were second to none.
Titan happily rocked through a variety of their own well-written material – with the odd Deep Purple track thrown in to keep the rock stalwarts happy.
But the band who will be back at Polesworth WMC on Monday October 20 have a tight professional sound, which is refreshingly unusual to hear.
Titan take themselves and their music very seriously and the results show.
BRINGING POWER TO THE PEOPLE
TITAN : Titan Wild Dog Records
TITAN'S first-album will be on the streets at the end of the month and Musicbox reckons it will be a winner in heavy metal circles.
Called "Titan", it comprises five tracks, most of which form part of the band's live repertoire.
Titan, on record, like on stage, rely much on the traditional guitar/drums attack as the powerhouse of their sound, emphasising a debt to the likes of Black Sabbath.
The overall level of musicianship is controlled, yet powerful and each member of the playing section contesting forcefully throughout but being careful not to become or monotonous.
While on the other side of the coin, singer Bob Shades gives a gutsy vocal performance. In spite of the non-stop crash going on around him his voice never gets lost in a haze of guitar work like many other heavy bands.
Best tracks on this impressive debut from Titan are the up-and-coming single "Fast Wind" and its flipside "Losing the Fight".
Tamworth Herald – 31/10/80
Musicbox – Metal magnet
We've told you often enough…but now you've got to believe us…Musicbox Rules O.K.
Recently we brought you a major feature on heavy metal band Titan and their series of gigs at Polesworth Working Men's Club.
And within three days the next Titan gig at the venue was attended by an estimated crowd of 500. Not bad considering that the previous gig could only attract about 50.
And remember folks, Titan are back at Polesworth W.M.C. on Monday – be there!
Tamworth Herald – 07/11/80
Musicbox – Heavy date
ROCK fans everywhere make sure you're at the Assembly Rooms next Thursday night to witness a heavy metal blockbuster.
For town newcomers Titan and old favourites Ice are playing a special double-headed gig.
And both bands hope that this could lead to a series of gigs at the town centre venue.
Tamworth Herald – 21/11/80
Musicbox – Titan win the day…but Ice won't melt away
Ice/Titan – Assembly Rooms
THE long-awaited battle of the bands was fought at the Assembly Rooms last Thursday night in front of a crowd that should have been three or four times bigger.
Following Titan's three gigs at Polesworth "Top Club" where they played in front of audiences of more than 500, it was disappointing to see only about 100 people pass through the doors to watch their first double-headed gig with that other popular town band, Ice.
Maybe it was the admission fee. I don't know. But to charge £1.50 is a bit crazy anyway. As one kid said outside the hall: "I could have gone and seen Genesis for that".
I'm not blaming the organisers. They did a great to get a gig of that stature on in a town where good venues are hard to find. But if Titan and Ice are to return to the Assembly Rooms – and I hope so – then let's see that admission fee halved.
Anyway less of all that and more about the gig. Ice are first on stage and give us a set rich in variety and made up of almost completely original material.
The band have an excellent sound and each member impresses. But it's drummer Steve Sheldon who steals the show with an excellent performance including a no messin' solo towards the end.
Ice storm through their set playing powerful rhythmic songs that are becoming old favourites to some Tamworth rock fans. Numbers like "Ride", "Pool Room Brawl" and "The Gambler" are strident, forceful pieces with good lyrics to back them up.
But Ice don't use the stage as well as they could. Too often the band seem huddled together when ample room is available and this detracts from a stage presence which already lacks a bit of character.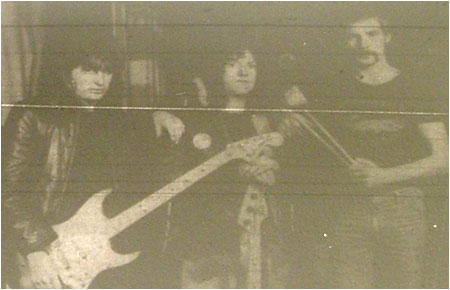 Caption: Titan…music with maximum impact. From left are Martin Schell, John Floyd and Pete Johnson
MELODY
Nevertheless they are warmly received and their act is leagues better than the kast time I saw them. As we've said in this column Ice are refreshing because they add touches of melody and harmony to what is basically a heavy metal sound.
Titan are altogether different in their approach and they win the day for an exciting performance and a perfect illustration of how to use a stage properly, putting over their music with maximum impact. Within minutes of the first riff the kids are on their feet headbanging in front of the stage.
Setting aside personal music tastes this band are something else! They've emerged over the last month or so and have quite literally taken the local music scene by the scruff of the neck and given in a good shake up.
Titan play without an ounce of compromise. Bassman John Floyd and guitarist Martin Schell run around stage forcefully playing their instruments and making the headbangers go wild.
Drummer Pete Johnson sits behind the drum kit thrashing out as powerful a beat as you're ever likely to hear. While Titan's amazing singer Bob S… runs around the stage looking like the original heavy metal demon, full of character and bags of energy.
Songs from their first album like "Easy Wind" and "Loosing the Fight" screech along full of guitar riffs and throbbing drum parts.
This set was the best I've ever seen from a band in this area. Titan are poised fir the success they deserve.
Tamworth Herald – 12/12/80
Musicbox – Time and Titan wait for no man
---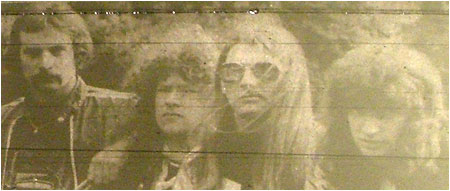 Titan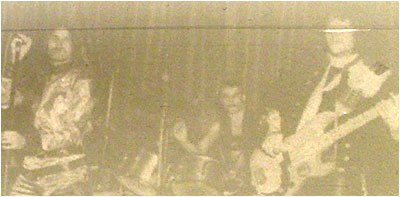 Caption: Titan on stage at Polesworth: "We've worked hard and we are going to make it."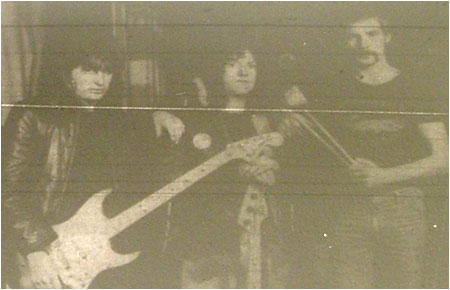 Caption: Titan…music with maximum impact. From left are Martin Schell, John Floyd and Pete Johnson
The full profile and history of Titan has yet to be added to TamworthBands.com Call back soon to read the full band details.
If you have any further information about this band please email: info@tamworthbands.com