Trojan
Musical Genre: Heavy Metal
Formed: 1981
Band Members:
Chris Pike - Guitar
Chris Kelt - Guitar
Robert Hamilton - Bass Guitar
Dylan Haddon - Lead Vocals
Jonathan Peat - Drums
Memories of Jonathan Peat:
Tim Whittington joined Sitting Pretty on bass, for either one or two gigs, after Pete Long left the band for the first time, whilst I was playing for them. Tim and I were in a band called Limpin' Spider with guitarist Pete Brooks of Birchmore. We never gigged though. Then I joined Trojan. I'm currently still playing in a band called 'Getfusioned' all band members / characters are here on this site, consisting of, Brad Riley, guitar and vocals. Paul Lewis, bass, Dave Mercer, chad, keyboards and vocals, and myself, Jonathan Peat, drums. Last gig we played, Dylan Haddon played guitar as Brad cut his finger really bad at work. Two Trojans back together again.

Jonathan Peat
Gigs
03/08/81
Trojan
Grendon WMC
09/08/81
Trojan
The Angel, Atherstone
28/09/81
Trojan
Qwark
Warton WMC
08/10/81
Trojan
Warton WMC
13/12/82
Trojent [sic.]
Polesworth Working Mens Club
Tamworth Herald – 10/07/81
Musicbox – The Trojans march on
ANOTHER heavy rock band are set to explode on to the local scene with a debut gig tomorrow (Saturday). Trojan…are to play at Warton WMC.
Guitarist Chris Kelt and Chis Pike have been trying to get a regular band together for two years now.
But they were unable to find a settled line-up until Robert Hamilton, bass, Dylan Haddon, vocals and Jonathan Peat, drums joined them about six weeks ago.
Since then the band have been getting songs together and rehearsing and are now anxious to start gigging.
Chris Kelt has established himself as the main composer with the band although Dylan has also chipped in with a few numbers
"Seven Rings", "For My Brain", "Never Too Late" and "Silver Dream" are among their self-penned numbers
Sabbath and Rush are the band's most potent influences although the one cover version they do is a Girl track.
So catch the strength of Trojan tomorrow night!
Tamworth Herald – 31/07/81
Musicbox – Dates
NORTH Warwickshire heavy metallers Trojan have announced four local gigs.
On Monday August 3 they will be at Grendon WMC, on Sunday August 9 The Angel in Atherstone, on Friday September 28 and Friday October 8 they return to the scene of their debut gig, Warton WMC.
Tamworth Herald – 02/10/81
Musicbox – Tuning in to the '60s
Trojan/Qwark: Warton WMC
THE hordes from Nuneaton had taken Warton club over to such an extent on Friday that it was difficult to find a familiar face in the fair-sized crowd.
Difficult, perhaps, but not impossible – for just a few people had motored over from Tamworth and Atherstone to check-out Qwark and monitor the progress of Trojan.
During Qwark's set, the room took on the atmosphere of one of those London clubs you see in TV documentaries about the late '60s.
Psychedelic lighting illuminated the ceiling, loud keyboards dominated the sound and the whole place seemed reluctant to acknowledge that the last 10 or 12 years had never happened.
That's not a criticism of Qwark though, for overall I enjoyed their set – despite sound difficulties.
What I would like to see the band do is write some more of their own material and try and move away from the Hawkwind sound a little.
Trojan were also dogged with sound problems which ruined their opening few numbers.
The sudden departure of rhythm guitarist Chris Price had also left them in an awkward position and versatile vocalist Dylan Haddon was forced to fill in.
But once they got over their early problems the band played a forceful and enjoyable set highlighted by some tasty lead guitar from Chris Kelt.
Trojan seem to have great ability as song writers in the HM vein and what they need to work on is making those good songs come together in a more dramatic, dynamic way.
They lack nothing in enthusiasm and ability. What they do lack is a little musical dexterity – I'm sure with a lot of hard work they can become a major force in the area.
Tamworth Herald – 10/12/82
Musicbox – Trojans return
TROJAN, kings of North Warwickshire heavy metal in 1981, are re-forming for a one-off gig.
The band's line up is Dylan Haddon, vocals and guitar; Chris Kelt, guitar; Chris Price, guitar and Rob Hamilton, bass. They are playing at Polesworth Top Club on Monday December 13.
Of the original band only drummer Jon Peat will be missing and the band have promised to dig up many of their old songs which became such favourites with local audiences.
The aim is to boost attendances at the club's Monday night gigs which have slipped recently.
---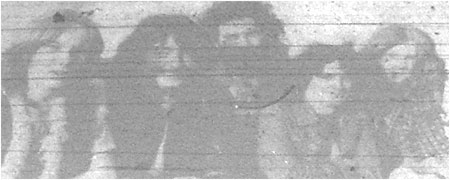 Trojan...new line-up
The full profile and history of Trojan has yet to be added to TamworthBands.com Call back soon to read the full band details.
If you have any further information about this band please email: info@tamworthbands.com